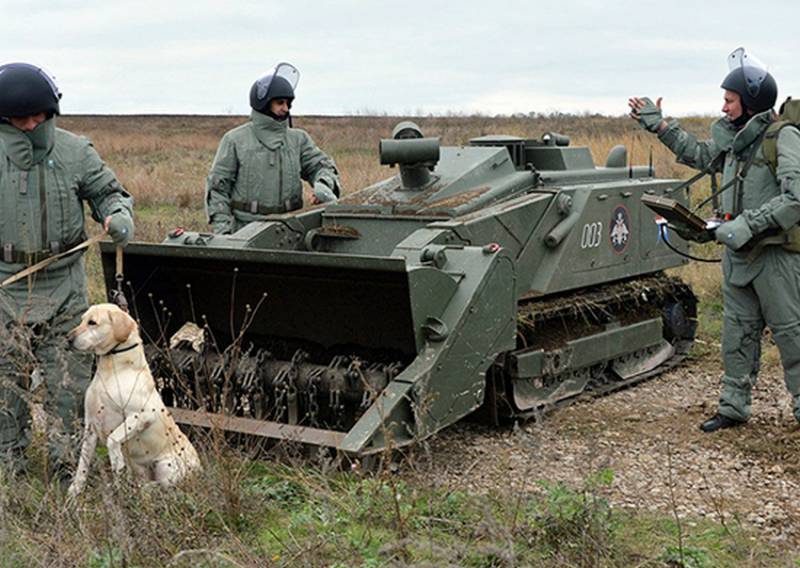 The Western Military District has received the Uran-6 robotic demining systems. This was reported by the press service of the Western Military District.
Two robotic complexes "Uran-6" received the district's engineering units. The message does not contain information on which parts the demining complexes were delivered to. It is noted that the operators of the Uran-6 complexes were previously trained at the anti-mine center of the RF Armed Forces. The development of new technology will begin in the near future.
Note that the supply of these demining systems began only last year, the first Uran-6 in early July 2020 was delivered for testing to the engineer regiment in the Voronezh region. The first batch of MRTK-R entered service with the 16th engineer regiment of the 20th Guards Army of the Western Military District (ZVO).
The Uran-6 multifunctional robotic demining complex (MRTK-R) is a basic tracked vehicle with attachments for installing various special equipment designed for making passages in minefields, as well as for area demining of territories. Depending on the cleared area, the machine can be equipped with a roller, striker or milling trawl, a bulldozer blade or a mechanical grapple.
The weight of the vehicle on a light tracked platform is about 6 tons, "Uran-6" can withstand undermining up to 60 kg in TNT equivalent. The equipment of the complex allows you to determine the type of detected explosive objects, after which the operator can choose the most effective and safe method of neutralization. The control is carried out by the operator at a distance of up to 1 km.
"Uran-6" is supplied with a platform for transportation, which is a KamAZ equipped with a "multi-lift" system and a platform for changing trawls. The complex was tested in Syria, after which it underwent modernization, taking into account the comments identified during its operation.