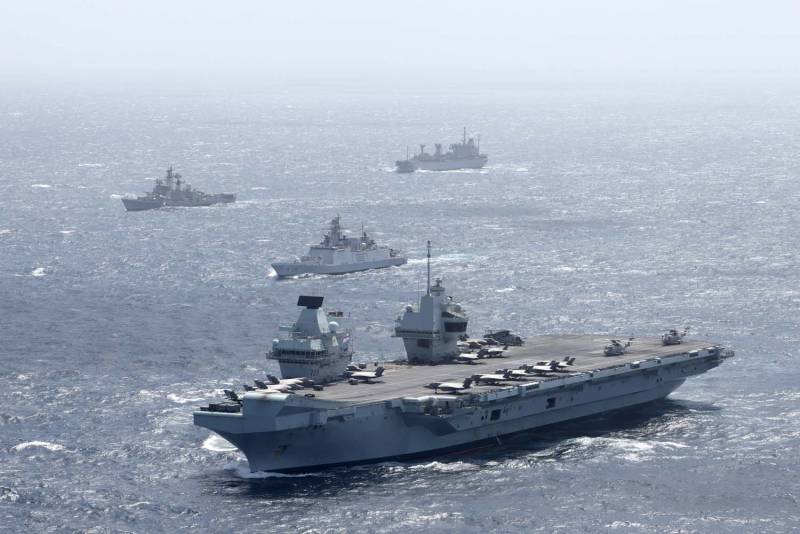 Long voyage of the Royal group
fleet
the Pacific Ocean is entering its culminating phase. The ships sent by London supplemented the numerous allied forces. With this flotilla, the flagship Queen Elizabeth entered the contested waters of Beijing.
The aircraft carrier brought warships from Great Britain, America, Canada, the Netherlands, Japan and New Zealand to the disputed South China Sea to defend the rights to freedom of navigation in the face of PRC claims to the region
- noted in the UK Defense Journal.
London took this step, despite China's warnings "about the inadmissibility of committing any illegal actions" in the waters that Beijing considers its own. The PLA is closely monitoring the movement of the British AUG and has brought the corresponding forces to a high degree of combat readiness.
The source of the militarization in the South China Sea comes from countries outside the region sending their warships thousands of miles from home to flex their muscles
- stated in the Ministry of Defense of the PRC.
However, London justifies its actions by the need to protect international order:
We are doing absolutely right, defending the right from Ukrainian territorial waters to the South China Sea
- said the British Foreign Office, explaining the constant provocations in various waters of the World Ocean.
The current AUG roster, led by HMS Queen Elizabeth:
HMS Queen Elizabeth
J.S.Ise
USS Ronald Reagan
USS Carl Vinson
JS Kirishima
JS Yamagiri
USS Shiloh
USS Lake Champlain
USS The Sullivans
USS Chafee
HMS Kent
Hms defender
RFA Fort Victoria
RFA Tidespring
HNLMS Evertsen
HMCS Winnipeg
HMNZS Te Kaha