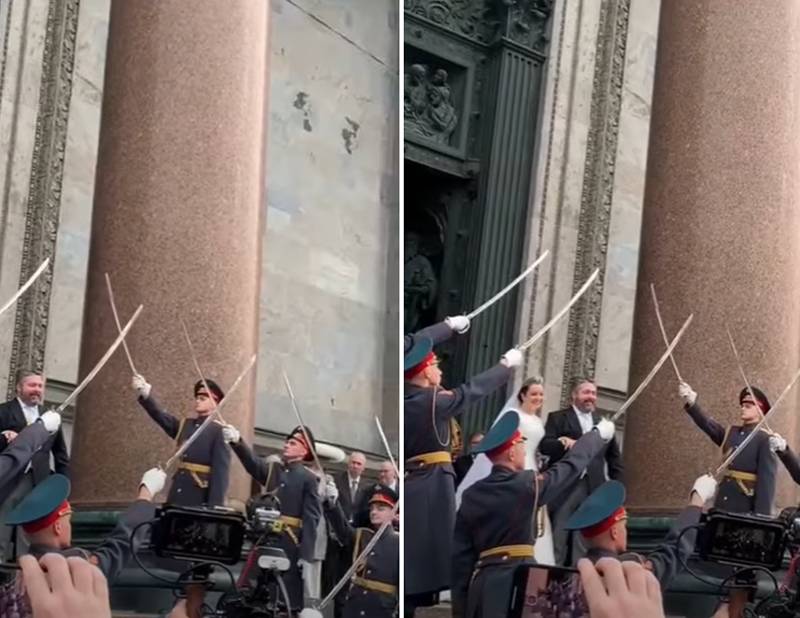 Information has been confirmed that regular servicemen of the RF Armed Forces took part in the wedding ceremony of the "descendant of the House of Romanov" in St. Isaac's Cathedral in St. Petersburg.
Recall that we are talking about attracting the guard of honor, saluting the "Grand Duke" George and his chosen one - Italian Rebecca Bettarini. The ceremony, we recall, took place on October 1 and caused a stir. One of the main questions that was asked was the question of whether a company of the guard of honor from the Russian Armed Forces was involved in the ceremony, or whether they were representatives of some "creative teams" - "reenactors".
It turned out that it was the regular military who stood at attention and saluted.
The Ministry of Defense of the Russian Federation announced that the head of the department, Sergei Shoigu, "brought disciplinary responsibility to the officials of the Western Military District," who made the decision to send the commandant's unit to a private event.
What exactly the announced prosecution was expressed, as well as who specifically made the decision to send the company of the guard of honor to the wedding of the "descendant of the Romanov dynasty" has not yet been reported.
It is stated that "the officials violated the regulations for the participation of the guard of honor in the events."
At the same time, attention is drawn to the fact that the unification of the descendants of the Romanovs does not recognize the so-called "imperial house of the Romanovs" (IDR) as any legitimate. In this regard, the participation of regular servicemen in the wedding ceremony of George and Rebecca in St. Petersburg raised questions even among those who recognize the legitimacy of the named association.