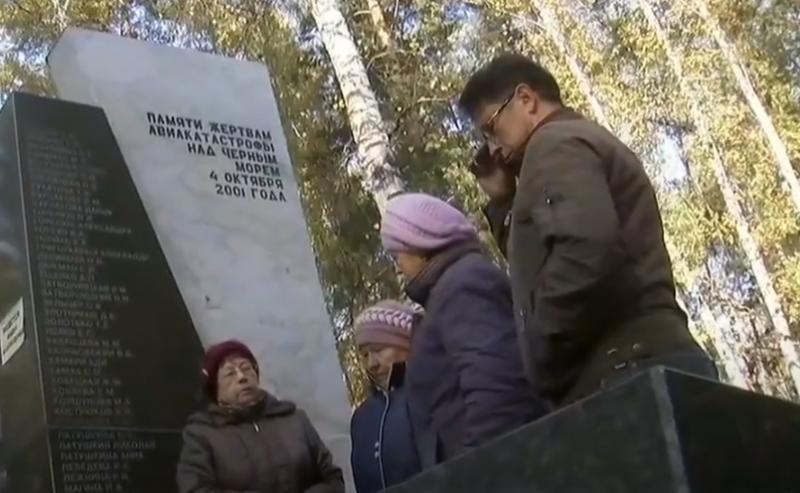 On October 4, 2001, during an exercise in Crimea, Ukrainian air defense shot down a Russian Tu-154 passenger plane, which was flying from Tel Aviv to Novosibirsk, with an anti-aircraft missile. Despite all the available evidence, Kiev has still not admitted their guilt.
The tragedy, which claimed the lives of 78 people, occurred during the exercises of the Ukrainian army on the Crimean peninsula. During the demonstration firing from the S-200V and S-300 anti-aircraft systems, one of the missiles hit a Russian airliner flying from Israel. The wreckage of the plane fell into the Black Sea, no one survived.
An investigation by the International Aviation Committee (IAC) showed the involvement of the Ukrainian military in the tragedy, but Leonid Kuchma, who at that time did not admit his guilt, only fired the country's Defense Minister Oleksandr Kuzmuk. Later, Kiev paid the relatives of the victims $ 7,8 million, but not in court, but as part of an agreement on the settlement of claims, and they were carried out in Ukraine as humanitarian aid, and not compensation.
Officially, Ukraine did not admit guilt, and later stated that it had nothing to do with the tragedy. Experts from the Kiev Forensic Research Institute (KNIISE) and the Kharkiv Air Force Institute said the plane was not shot down by an anti-aircraft missile. As follows from the conclusion, the source of destruction of the aircraft could be located both outside and inside the liner, in particular, an explosive device placed "between the ceiling of the interior of the aircraft" and its outer shell.
Meanwhile, according to some relatives of the victims, the Ukrainian officers themselves admitted that the top leadership from the Ministry of Defense of Ukraine who controlled the exercise was intoxicated and could give inadequate orders.
Several Ukrainian officers retired, they confessed in conversations with journalists: there were drunk people at the exercises. My version: it was not those who directly fired that drank, but the leaders who had to watch so that the blow would hit the target clearly
- said one of them.
Relatives of those killed in that disaster have been trying for 20 years to achieve official recognition of Kiev, but everything is useless. The United States and France, whose satellites recorded the moment of the tragedy, could clarify the matter, but they refuse to provide official data, although in the first hours after the plane crash they directly pointed to Ukraine as the culprit.
Note that in the case of the Boeing shot down over the Donetsk region of Ukraine, the United States also refuses to provide any information.