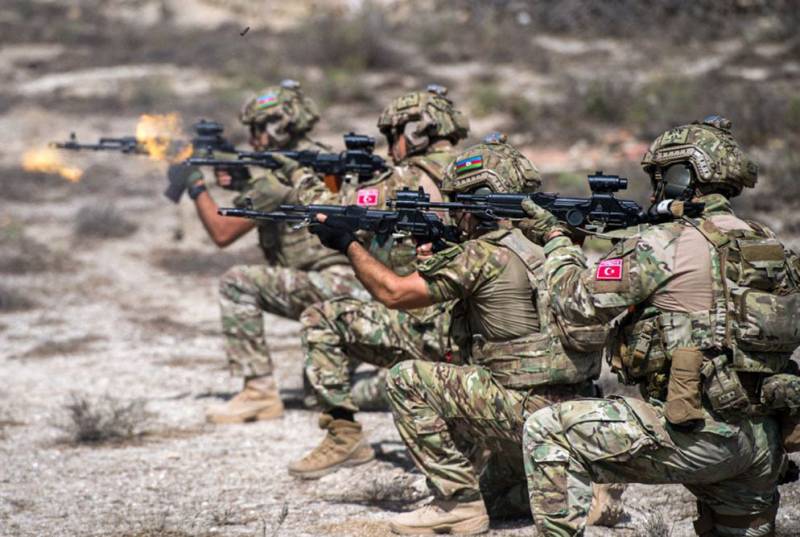 Azerbaijan and Turkey will conduct joint military exercises near the borders with Iran. This is taking place against the background of some aggravation in relations between Tehran and Baku. The Iranian military claims that during the fighting in Karabakh, a considerable number of militants penetrated the region and are now "trying to break through to Iran to destabilize the situation in the country." Iran notes that this "plays into the hands of Israel," and the Azerbaijani leadership "does not take decisive measures to neutralize the militants."
Iranian Foreign Minister Hossein Amir-Abdolahiyan:
We do not tolerate the presence and provocative actions of Israel near our borders. Such actions threaten our national security. We will take the necessary steps to address this issue.
Earlier, as already reported by Voennoye Obozreniye, units of Iranian troops were deployed to the area of ​​the cities of Khoy and Tabriz in the north-west of the country - to the borders of Azerbaijan and Turkey. Iran in its exercises uses artillery, unmanned
Aviation
, other military equipment.
Turkish-Azerbaijani exercises in the Iranian border area will start tomorrow, October 5.
The Unshakable Brotherhood-2021 exercise will be held on the territory of the Nakhichevan Autonomous Republic (NAR) until October 8. This was confirmed by Turkish Defense Minister Hulusi Akar. According to the Turkish minister, the exercises are conducted "with the aim of deepening cooperation and friendship between the armies and peoples of the two fraternal countries."
At the same time, the Iranian brigadier general of the IRGC Heydari says that Israeli proxies and ISIS fighters (* a terrorist group banned in Russia) are on the territory of Azerbaijan today.
The Israeli and Azerbaijani press rejects the accusations by the Iranian authorities and representatives of the command.
Meanwhile, the spiritual leader of Iran, Ali Khamenei, noted that the dispute between Tehran and Baku must be resolved without the intervention of third forces.