Tell me, how often do you have to explain to people that it is dark at night, that it can sometimes rain from the sky, and human life will end sooner or later?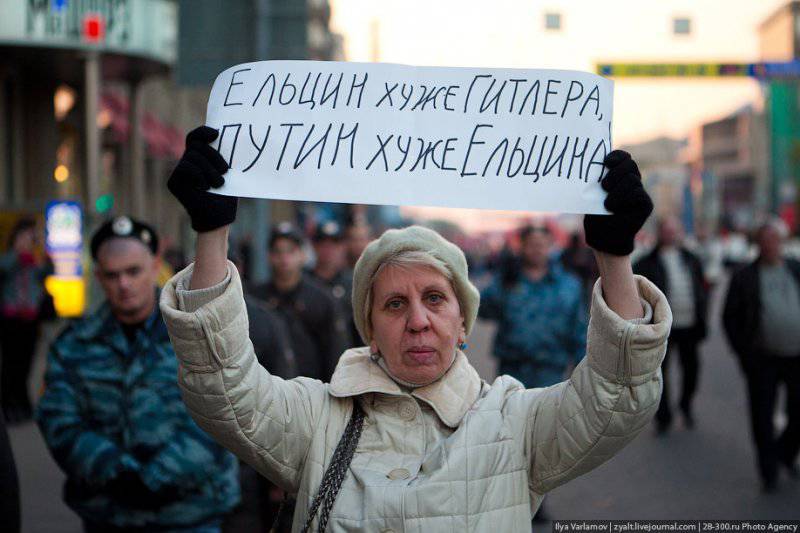 I suppose that it is not often, because things that are obvious in evidence do not need. It would seem so, but, alas, ah ...
As for me, I do this quite often. For example, not so long ago I explained to a friend that salary is better than not having it. That a black BMW with a flasher is bothering me less than a dozen jeeps with shaved bros and guns quietly smoking at McDonald's that 6-8% inflation is better than 600-800%. And you know, I had problems with arguments. Just from such a dispute sometimes you just get lost, not knowing what to say.
Probably everyone has already guessed that we are talking about Russia over the past two decades. I conditionally divide them into Russia Yeltsin and Putin's Russia.
Liberals unanimously say that it was better in Yeltsin, for example Artemy Lebedev was more cheerful, Novodvorskaya was freer, Nemtsov was richer, and Mr. Shenderovich had his own TV program and a large selection of mattresses. What was the rest of the citizens - the citizens, and so remember. At the same time, all liberal figures in one voice shout that the people were impoverished under Putin. I thought for a long time why this is so, because they speak sincerely and with a pure heart, because they didn't really survive out of their minds (although such an option is acceptable). ?
The answer was suggested to me by one of the articles of Ms. Latynina. The bottom line is that the people are liberals. All the others who are in uniform and go to work are cattle, lumpens and people cannot be called them. With this interpretation, everything becomes clearer. It's clear that Governor Nemtsov lived richer than Nemtsov-grant-eater ...
So how do we compare the two Russia and get an objective assessment? Where is better and where is worse?
If the people are bad and the liberals are bad, then the help of a third party is needed.
Let's put aside statistics on GDP growth and wages - it is completely "surkovskaya propaganda"
There we will send all the figures for revenues, for production growth, for the construction of new facilities, in general for all the good things that are so hated by the progressive public - because all these figures are drawn from nowhere by an insidious Kremlin for their cattle-voter ...
Let us give the floor to a person from the West who is kept by the cleverest even the most orthodox orange bogger.
So, two Russia. The word to Zbignev Brzezinski is that no one has ever suspected him of sympathy for Russia.
Let's support this statement with a demotivator.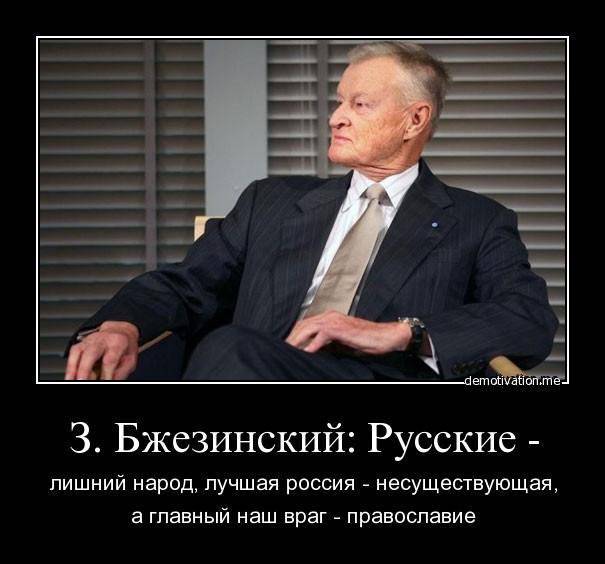 So read and do not say that you have not read.
Russia Yeltsin.
"Russia is a bankrupt in all respects country, which should plunge into chaos, poverty and continuous ethnic conflicts in the coming years. Russia is a "black hole" that does not have any geopolitical choice in its life, because in essence it is only about its physical survival in its purest form. Russia needs to be divided into parts, it will then consist of a loose confederation of European Russia, the Siberian Republic and the Far Eastern Republic, which, individually, would be much easier to establish close economic relations with Europe, the new Central Asian states and with the East. However, any integration of Russia into the expanded world order of the West is impossible, Russia is too backward a country, economically brought communism to poverty, and therefore it is unable to become a more or less suitable democratic partner for the USA. Russia is a defeated geopolitical rival, and takes the place of a weak, backward, problematic and surrounded on all sides of the country, which is denied the role of any respected geopolitical player. "Z. Brzezinski, "The Big Chessboard", 1997 g
The same author, only Russia is now Putin
"If the West fails to conclude a long-term strategic alliance with Russia, then this may turn into global isolation for it. This is all the more important given the current rapprochement between China and Russia. The global dominance of one single power - the United States in the world is no longer possible, no matter how strong or weak. This is especially true of the situation when new regional powers entered the world arena. The West can still avoid the fate of global isolation and international repression. But for this you need to breathe new, life-giving forces into it and develop a new strategy and plan of action. For the West, this New Strategy should consist in being able to integrate Russia and Turkey into the international system of the West. "Z. Brzezinski, "Strategic enlightenment", 2012 g
Here, strictly speaking, that's all. What is called feel the difference.