Russia from the carriage window
Your groves are good green
And simple flowers in the meadow ...
I keep looking, I keep looking out the carriage window,
I just can't look around!
"Morning Song" from the film "Merry Stars" (1954) I. Dunaevsky Lyrics: M. Matusovsky
Russia as it is. Autumn, the leaves turn yellow and fall off. It rains. It is getting cold, and somewhere there is already a pile of snow. And how nice it is to remember last summer, when it was warm, hot even when there was the sea and the sun. However, it is not interesting to remember just like that. It is interesting to remember with meaning. What did you see that was not there before, what thoughts you got from what you saw, in a word - you need to remember so that it would be of benefit to people. In this case, to the readers of the VO website, one of whom wrote to me so directly that your story about summer vacations in the summer, even if "in hot pursuit," would be out of place. Better - when it starts to get colder. And the facts will be postponed. And the time has passed, it has become colder and ... in my opinion, now is the time to write about what I saw in the summer. Moreover, on our site there are quite a few people who believe that no positive changes are taking place in today's Russia, "the people are starving and dying out," and all the most wonderful things were in the USSR. But is it really so?
To begin with, I started to ride trains a long time ago. Back in 1961, and, like all children, basically only did that by looking out the windows. And since I had to travel quite often towards our south, I soon learned the whole route very well. Rtishchevo, Balashov, Povorino, Liski, Rossosh, Millerovo, Rostov, Krasnodar - these are, so to speak, the usual "stages of the long journey" to the sea. And then there were trips to various other places. And for a long time it was so that our path was sharply demarcated by some invisible, but visible line: this is still our "north", but this is already the "south". They differed ... in houses. We have squalid huts of various sizes, covered with rusty iron or moldy slate, with rickety fences, courtyards cluttered to the point of disgrace, "necessary boards" piled up in heaps, and sorting booths. Everything is kind of "temporary", ridiculous, "bad". There are white stone fences, cozy front gardens with flowers, well-groomed stone houses. Under the tiles or the same slate. But only new. Fruit trees all around ... In a word - beauty!
When I asked why this is so, my mother told me that the south is richer, because the climate is better, and that was enough for me.
While studying at the graduate school of Kuibyshev State University from 1985 to 1988, I traveled so often along the Penza-Kuibyshev (today Samara) route that I learned it by heart. And it was a sad sight, I can tell you.
Sad villages wrapped in snow
There are trees over the roofs ...
Efforts to escape
They don't show ...
Sad Villages. Lyudmila Revenko
I remember that I kept thinking: "Why do they even live here. How do they live? What have they forgotten here? Yes, it will be better everywhere than here! " I thought it wouldn't get any worse. But it got worse in the 90s ... The train was approaching the platform, and there were no people on it at all. Peeling facades, dirty windows, broken glass, as if a war had just taken place here. Ready-made scenery for a horror movie or the consequences of a nuclear war. I am not even talking about dirty carriages with smelly, broken "sralniki" (I can't even call these cabins a toilet). A certain exception to this rule was our signature Penza train "Sura", which I used to travel to Moscow only then.
And it turned out that for some time we drove only on it to Moscow, and there either by plane - where to go, or again on a purely "soviet" (again, it was "soviet", not even Soviet, there is a difference !) by the Belarusian train to Brest, and then by bus and forth.
The first noticeable changes caught my eye exactly five years ago. For some reason, we could not go abroad on vacation in the summer and ... after a long search on the Internet, we opted for a private hostel 25 kilometers from Anapa. Judging by the photos and reviews of people vacationing there, it was not bad at all and ... that's exactly how it turned out. The view from the window itself began to change! New houses appeared (even in our northern territory) under metal-plastic roofs, it was clear that people were beginning to build. But everything - in my opinion, seen, nevertheless, was in some kind of unstable equilibrium. Here is a new house - next to a couple of huts. It's clean here - it's dirty here. It was clear in the carriage, but it was blowing from the window. An air conditioner appeared in the car, but it works poorly - and so literally in everything. We had a good rest then, and the junior suite itself turned out to be no worse than in the Spanish hotel "Planomar ***" in Malgrad de Mar (whoever wants, can see his photos on the Internet, and ... that's how it is there! ).
The kitchen ... well ... our dining room, but good. That is, what was supposed to be put in food, and no one took anything home. Your own beach, few people - this is not a city beach in Anapa, in a word, we rested very well then. However, "there" is still more interesting, so we did not go there anymore. Anyway, we have a rule not to go to the same place twice.
But ... "you suppose, but the devil disposes." The "era of covid" began, the foreign countries were closed, the ferry trip across Scandinavia was "covered with a copper basin," and again I had to think about where to rest. We searched the Internet and it turned out that there is a very good place to stay almost in the same place where we went last time, but only closer to the center. We especially liked the fact that at this new camp site you can live in "eco-houses" made of pine logs, and there is also a pool with sea water, that is, in case of bad weather, you don't have to go to the sea.
We boarded the Samara-Anapa train going through Penza and drove off. The changes were noticed immediately: a completely new and very clean carriage, in which everything worked exactly as it should. Already good. But the most important changes took place "outside the carriage window". There are much more new houses - and of which there are many! Chalups of Soviet times, if they remained, were no longer striking. The cities were also different: in each of them there were new high-rise buildings and many. In our Penza, for example, a new town "Sputnik" has grown up on the bank of the river, with very good living conditions and very beautiful, modern houses (apartments in which, by the way, are sold out like hot cakes!), And for a group houses and at the same time a kindergarten and a school, a state clinic or a medical center are being built. But I saw the same thing in other places. I also saw new elevators. Oh-oh-oh, this is an impressive sight. The old Soviet ones looked like rectangular towers, and they still function, although they have a very shabby appearance. The new ones are built of metal and look absolutely fantastic compared to the old ones. And again, there are not one or two, but many. Completely new settlements of typical houses also appeared, and the construction of many of them continued.
But what impressed me most was the fields. Who wrote there about the fields overgrown with weeds? Didn't see one. But I saw fields close to the swamp. Here wheat grows, and here there is already water! The slopes of the ravines have been plowed up, the strips along the railway have been plowed up ... Of course, there are many ravines, there are inconveniences, and grass grows there. But in general, everything that is possible has been plowed up and sown. Moreover, two crops dominate: wheat and sunflower. Although closer to Krasnodar and Anapa, fruit orchards and melons appeared. The feeling from what I saw was as if I found myself again in a distant childhood, when, in the same way, from the window of the carriage I saw the sown fields stretching to the horizon. By the way, they also exist next to my dacha: here is the road - and here are the fields sown with sunflowers, and they all stretch, stretch and stretch. We simply do not have fields overgrown with weeds ... They did not see each other even now, on the way to Anapa.
Sunflowers on a rather steep slope. How will they be removed? But, apparently, they are somehow removed ... By the way, among the cars in the "parking lot" below, 80% of foreign cars ...
And I was struck by ... the cows. There were a lot of them, mostly black and white, and they grazed, well, literally everywhere. Previously, a typical domestic animal of the 90s of the last century was a grazing goat. Goats graze now, but the number of cows has increased significantly. Rather, there are as many of them as there were before. "Everything is back to normal."
By the way, the difference in the houses still persisted. Closer to the sea - the buildings became ... "more magnificent", I would say, the number of storeys climbed up, and people also amused their "I" with decorations - there are all sorts of columns, stucco molding. No, there would be our neighbors Poles, about whose houses I once wrote here in the series of materials "Europe from the window of the bus." Yes, they would, and along with them the Germans, and the French, and the Italians, simply ... "would describe themselves with envy", looking at the mansions of our most ordinary "village workers" who grow peaches, watermelons, grapes for sale, in a word - "gifts south ", or renting their homes for the summer to holidaymakers from the north. Moreover, as in Poland, houses began to appear in our country, surrounded by fields. That is, this is my home, and this is my land. And everywhere there was construction going on. Excavators, cranes were standing and working, boards, beams and bricks were lying, concrete mixers were spinning. But immediately after the end of construction, or even earlier, people planted flowers, tree seedlings, watered the lawns in front of their houses in the morning. An obvious turning point has come. The chaos in the brain is finally over ...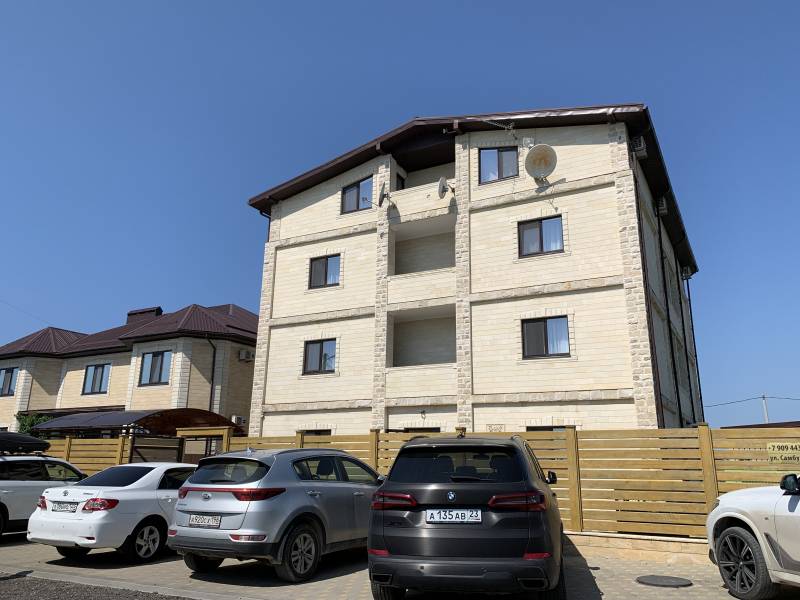 One of the private boarding houses, and there are now a lot of them. Come and move in. Its own wi-fi, the ability to cook, the ability to have a ready-made (!), Some have their own pool. And the prices are quite reasonable, especially if this house is located far from the sea. But for those who come in their own cars, this is not a problem at all!
Well, then the train came to the station "Anapa", and it was necessary to unload and go to the place of rest. However, this did not give us any problems, because the administration of the base sent us a transfer. Everything is for people, but what about ... Well, what I saw at the resting place will be told next time.
To be continued ...