Turkish official: Erdogan and Putin agreed to maintain the status quo in Syrian Idlib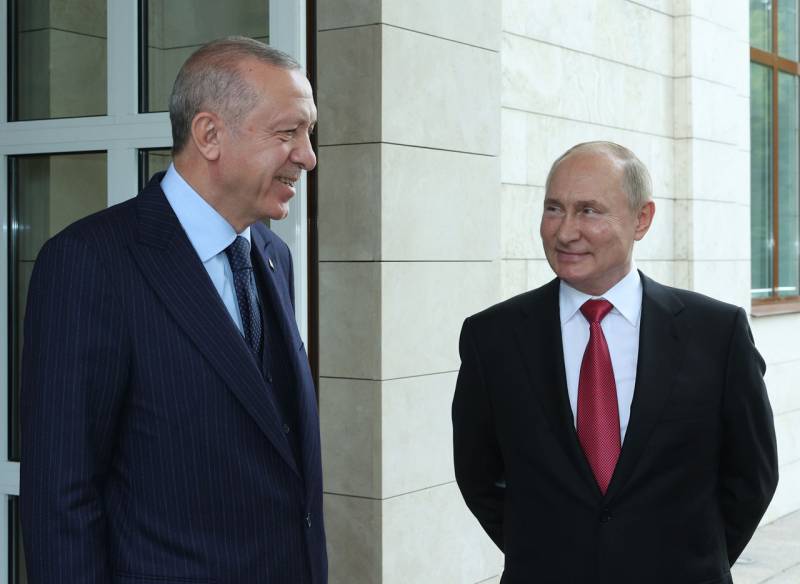 The Turkish press is discussing the visit of Recep Erdogan to Russia. Recall that Erdogan flew to Sochi for a dialogue with Vladimir Putin. At the same time, rather concise information has been published on the official website of the President of the Russian Federation - mainly about economic and humanitarian cooperation between Moscow and Ankara.
Meanwhile, Turkish officials from Erdogan's delegation say that one of the important topics for the talks was the Syrian issue. In particular, the theme of the Syrian Idlib. If you believe the statements of representatives of the Turkish authorities, then Recep Tayyip Erdogan and Vladimir Putin agreed "to maintain the status quo on Idlib."
It is noted that the Turkish servicemen "will continue to monitor the situation in Idlib at the previously established observation posts." A Turkish official, whose name the Turkish press does not name, said it was "an important agreement between the two presidents."
Earlier, we will remind, Vladimir Putin raised the issue of the illegitimate presence in Syria of a number of foreign military contingents. According to the President of the Russian Federation, contingents that do not have a UN mandate or were not invited by the official authorities of the SAR should leave Syrian territory as soon as possible.
Now, if you again believe the unnamed Turkish official, to whom Turkish reporters refer, the issue of the withdrawal of Turkish troops from the SAR, including from Idlib, is no longer on the agenda. It is worth noting that the Turkish troops to stay in Syria have neither a UN mandate nor an invitation from official Damascus, and therefore de jure are illegitimate in the SAR.
Against this background, the Syrian and Turkish press note that the day when the Russian and Turkish presidents met in Sochi, in the north and north-west of Syria, turned out to be the calmest in the past few months.
Facebook / Recep Tayyip Erdogan