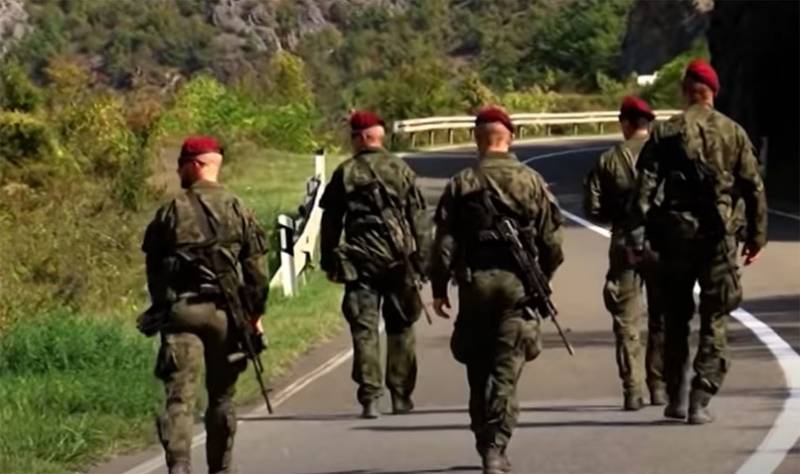 Additional KFOR (UN-mandated international peacekeeping force) patrols have been deployed to the north of Kosovo. The servicemen of this mission appeared in the area of ​​the Yarinje border crossing, which in Belgrade is called administrative, and in Pristina is considered an object of the state border. Let us remind you that the Serbian authorities do not recognize the independence of Kosovo.
At the same time, the KFOR servicemen are actually at the checkpoints together with the Kosovo police and special forces. Kosovo special forces were sent to the border after the Serb population of northern Kosovo blocked roads in protest against Pristina's decision on license plates. The authorities in Pristina ordered the Serbs to change their car license plates to "temporary" Kosovo ones after entering Kosovo territory. The Serbian population refused to do this and, declaring a violation of the agreements, decided to respond to Pristina by blocking the main highways in the north of the region. Kosovo police tried to unblock roads. It didn't work out.
Meanwhile, Belgrade notes that the international peacekeeping contingent "does not implement the principle of neutrality." This is not the first accusation of this kind on the part of Belgrade against the KFOR present in Kosovo.
There is no principle of neutrality, which is prescribed by the mandate.
At the same time, Belgrade notes that together with the Kosovar police in the Yarinje area, only KFOR servicemen from NATO are operating. American and Polish units were deployed there.
Meanwhile, the European press began to publish materials stating that Russia could allegedly try to take advantage of the situation and send its peacekeepers to the Balkans, like to Nagorno-Karabakh. In Germany, they say that it is necessary to make every effort to de-escalate, but they make it clear that it is more and more difficult to influence the Kosovo authorities lately. Readers of the Bulgarian media even declare that with such a development of the situation in the north of Kosovo, "Russian green men" may appear at the request of the official Belgrade to assist in the protection of the Serbian population.