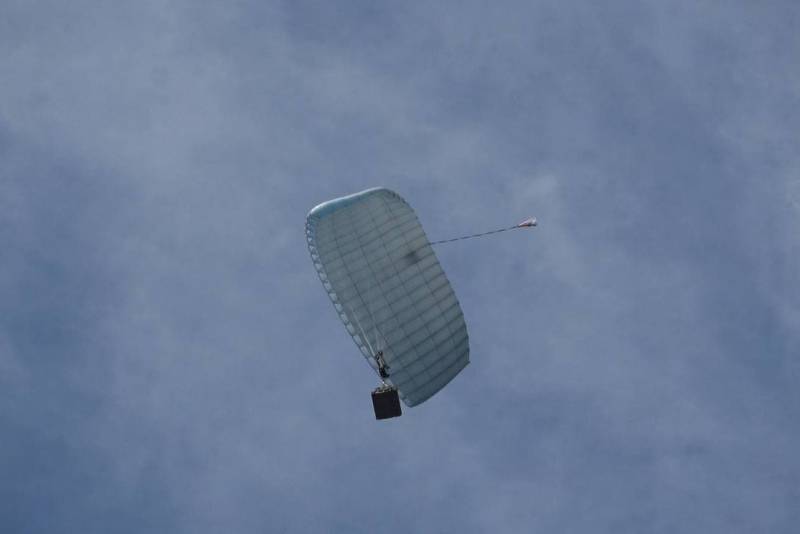 The Technodinamika holding, which is part of the Rostec state corporation, has created a cargo parachute, which is capable of descending from an aircraft to a strictly defined place using navigation equipment with great accuracy. This "smart" transport parachute system has recently been factory tested in Russia.
This information appeared on the official website of the Rostec State Corporation.
According to the head of the Tekhnodinamika holding Igor Nasenkov, the maximum carrying capacity of the parachute that participated in the tests is 250 kilograms. It can be used to drop
weapons
, ammunition, food and more. And a modification is already ready, capable of transporting a cargo that has twice its mass.
The system includes, in addition to the "wing" type parachute itself, a platform for transportation, as well as special equipment. She is controlled from the ground in a remote mode (using coordinates according to the coordinates of GLONASS / GPS), or she can follow another parachutist, performing the function of "leader". When dropped from a height of four kilometers, the landing accuracy is less than 100 meters. This is a high accuracy with such altitude parameters.
The system has been tested for six months. It has shown its reliability and effectiveness. The parachute was checked in the central regions of Russia and in the Crimea. In the future, the transport system is awaiting flight design tests, which are scheduled to be completed early next year.
It is assumed that the development will significantly increase the combat capabilities of the Airborne Forces and units of special operations forces.