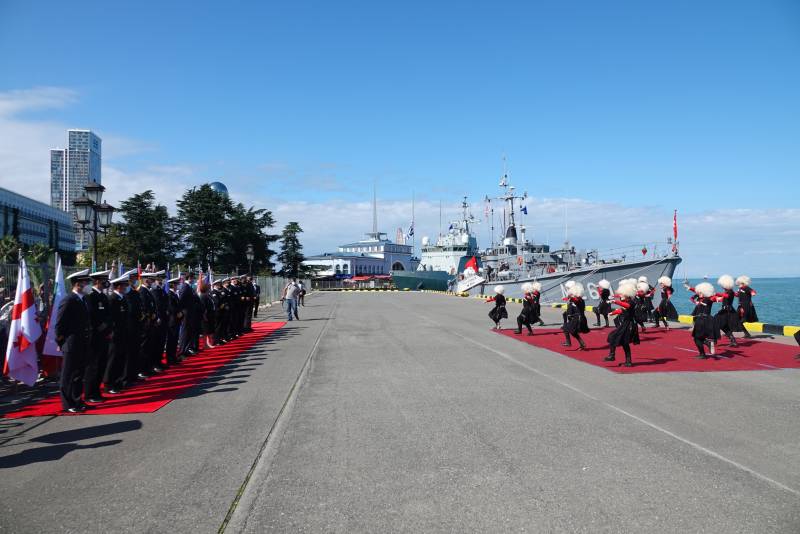 The ships of NATO's second permanent mine action group (SNMCMG2) arrived in Georgia. The ceremonial meeting was organized in the port of Batumi. This was reported by the press service of the Ministry of Internal Affairs of the republic.
Five SNMCMG2 ships entered the port of Batumi at once. At the moment, the group, whose composition is periodically changing, includes ships from Spain (flagship), Italy, Bulgaria, Romania and Turkey. The group commander is Captain XNUMXst Rank Javier Nunez de Prado.
A solemn meeting was organized in the port of Batumi, it was attended by the leadership of Adjara, the coast guard of the border police and even the Polish ambassador to Georgia. It is emphasized that with their visit, NATO ships have demonstrated support for Georgia's course of joining the alliance.
It is not reported how long NATO ships will stay in the port of Batumi, it is known that further joint exercises of the Georgian Coast Guard ships and NATO ships are planned, which will take place in the Black Sea. The aim of the exercise is to increase the compatibility and defense capability of Georgia. In addition, the boarding team of the Georgian Coast Guard will pass tests for the NATO Level 2 (NEL-XNUMX) certificate.
Earlier, the Black Sea Fleet reported the capture of the Spanish Navy patrol ship Rayo and the Italian Navy minesweeper Viareggio, which are part of SNMCMG2, under surveillance. The ships entered the Black Sea on September 23.