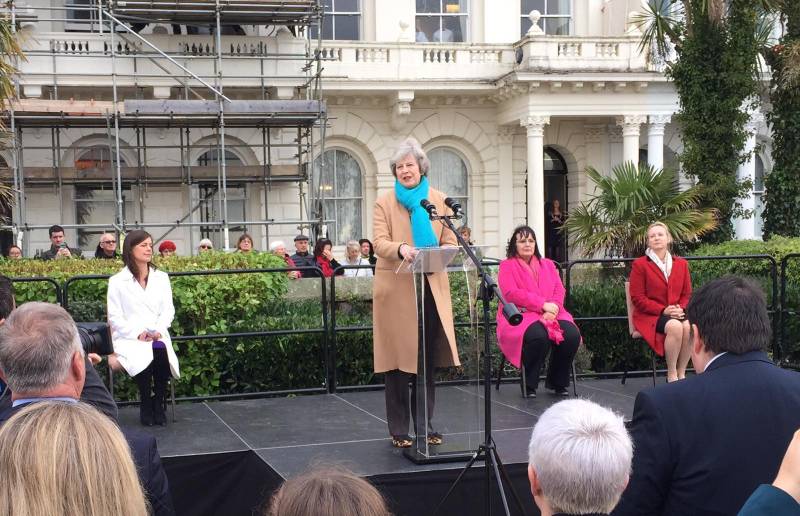 Theresa May could have run for the post of NATO Secretary General, but recent events have put an end to the career of the ex-Prime Minister of Great Britain, writes the British edition of the Daily Mail.
The former prime minister of the British government could have taken the very prestigious post of head of the North Atlantic Alliance, which will be vacated next year, but the French put a spoke in the wheel to May's wish. As the newspaper writes, the French MPs have already said that the British woman "has no chance."
The reason is trivial and lies in the new defensive alliance AUKUS, which was concluded by Great Britain, the USA and Australia. As you know, the first consequences of the conclusion of the alliance was the breaking of a multibillion-dollar contract between Australia and France for the construction of a series of submarines. The French were offended and promised consequences that were not long in coming. The thing is that France is one of the four decisive votes in NATO, and according to anonymous sources, it will definitely not support the candidate from Great Britain, the newspaper writes.
For our part, we add that in 2022 the powers of the current NATO Secretary General Jens Stoltenberg will expire and the member countries of the alliance will elect a new head. Interestingly, for the first time in
stories
A woman aspires to the NATO Secretary General's chair. In addition to Teresa May from Great Britain, among the applicants are: ex-President of Lithuania Dalia Grybauskaite, ex-President of Estonia Kersti Kaljulaid and ex-President of Croatia Kolinda Grabar-Kitarovic. It is possible that there are other candidates, but so far we do not know.