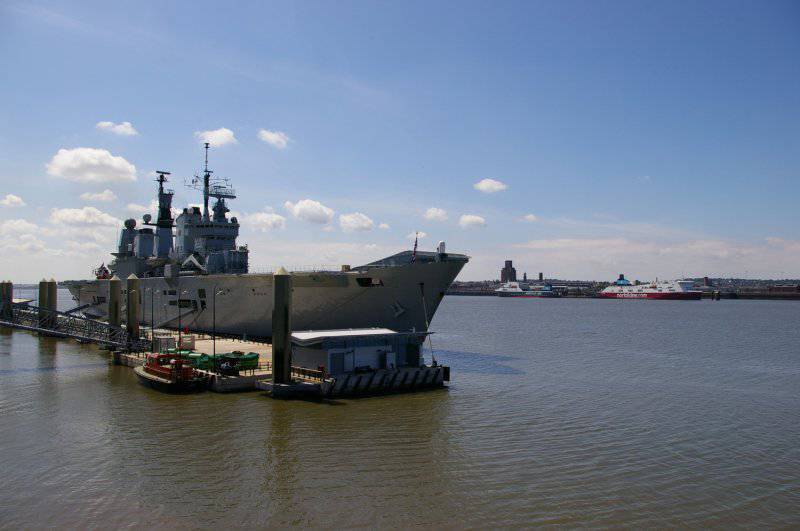 The retired aircraft carrier Ark Royal was sold for scrap to a Turkish company for 2,9 million pounds to replenish the defense budget, the British Ministry of Defense reported.
The aircraft carrier Ark Royal was decommissioned in 2011 year as part of the program to reform the British Armed Forces - five years ahead of schedule, which saved up to £ 105 million pounds. From the moment of decommissioning, he was at the Portsmouth naval base.
The lead aircraft carrier of the R05 "Invisible" series was built in 1980 at the Vickers Shipbuilding shipyard in Barrow-in-Furness. Aircraft carriers R06 "Illuststries" and R07 "Arc Royal" class "Invisible" were built by "Swan Hunter" and became part of the British Navy in 1982 and 1985, respectively.
The aircraft carrier Ark Royal has a length of 209 m, width - 36 m and full displacement 20600 t. Dimensions of the flight deck: length - 167,8 m, width - 13,5 m.
The aircraft carrier R05 "Invisible" was decommissioned in 2005 and the year and in 2012 year sold for scrap of the Turkish company "Layal". Ark Royal was put up for sale on the Department of Defense website edisposals.com and sold to the same Turkish company. After the preparatory work it is planned to send it to Turkey, where it will be disposed of.
The funds received from the sale will be directed by the Ministry of Defense for the purchase of military hardware and other equipment.
The last of the aircraft carriers of the Illustries series should be decommissioned by the British Navy in 2014. The MoD of Great Britain has announced its intention to conduct a search for an organization interested in preserving this aircraft carrier as a museum piece.
In order to replace the decommissioned aircraft carriers in 2008, the British Defense Authority signed with BVT Surfite Fleet, a joint venture between BA Systems and VT Group, and the Carrier Manufacturers Alliance, the initial contracts for the construction of two new CVF 65000 aircraft carriers of the project Queen Elizabeth and Prince of Wells. The lead aircraft carrier is scheduled for use in the 2017 year.