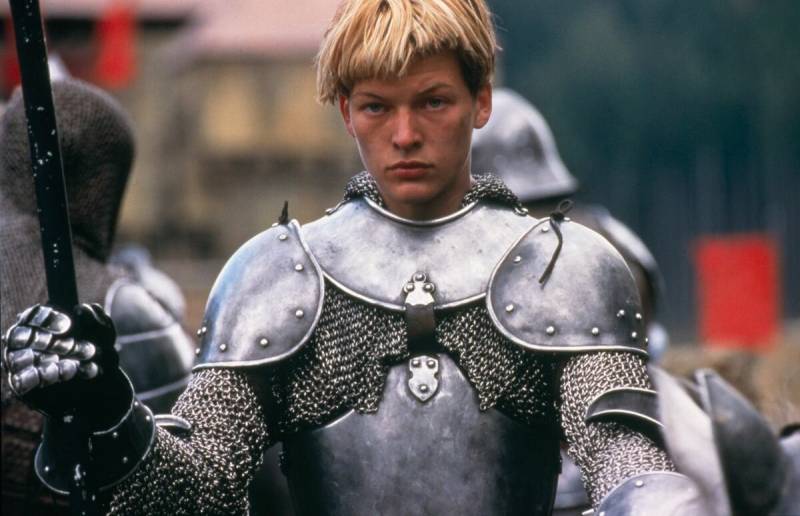 Zhanna - Milla Jovovich is probably the best and most memorable among all the others shown to us on the movie screen
... and recruit yourself as many troops,
how much have you fallen
and horses, how many horses were,
and chariots as there were chariots;
and fight them on the plain,
and then we will surely overcome them.
And he listened to their voice and did so.
Third Book of Kings 20:25
Puzzles stories.
So much has been written about Jeanne d'Arc that it is just right to open the topic of "Jeanne studies".
There is historical research, there are novels, there is a book from the ZhZL series, published in our country in the era of the USSR, there is a lot of things. AND…
Despite everything that has been written about her, no one even came a step closer to solving her secret.
Who is Gilles de Rais?
And this is the Marshal of France - her associate, and then the sorcerer, sodomite and criminal, killed by a court sentence. His fate is as mysterious and enigmatic as the fate of Jeanne herself. His trial raises as many questions as that of Jeanne herself, if not more. However, his secret also remains a mystery ...
Well, today we will try to tell VO readers (at the request of many of them) about some interesting points of view on the fate of these two historical characters at once.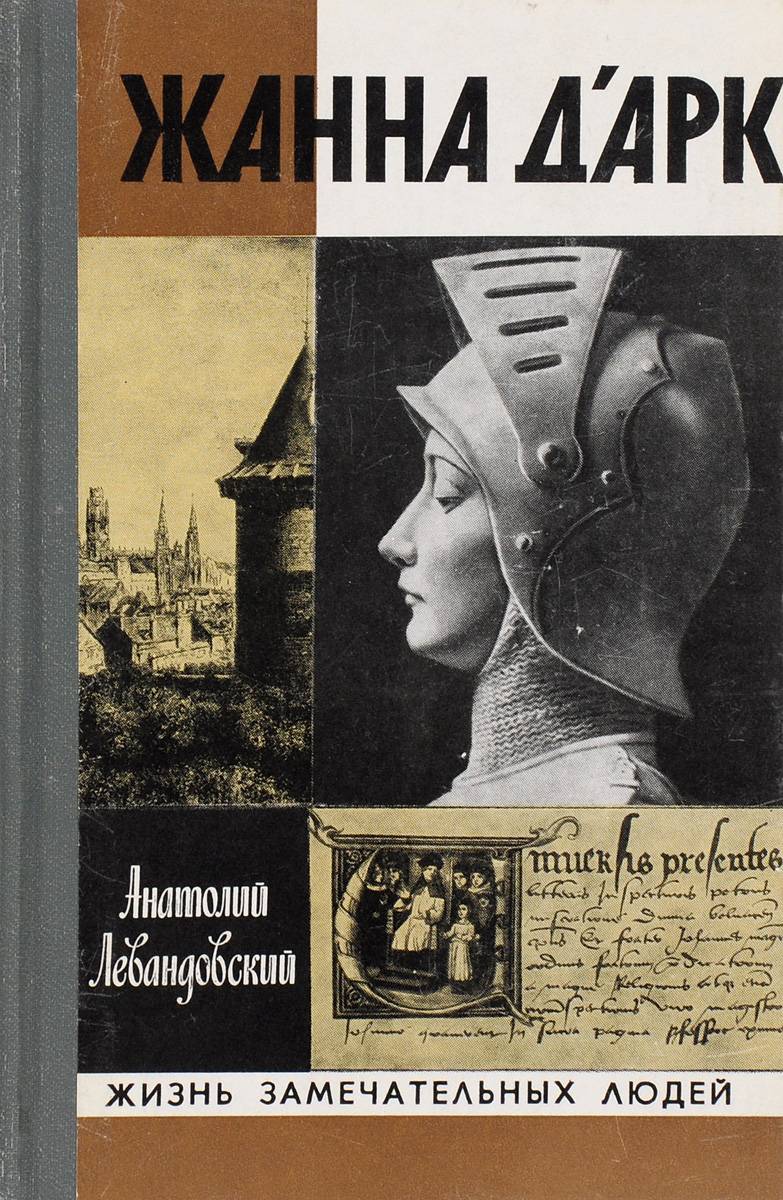 Perhaps the most accessible book about Jeanne for our reader will be this edition from the series "The Life of Remarkable People" by Anatoly Lewandovsky
We will start with the story of Joan of Arc, but we will not repeat it, since it is described in sufficient detail on Wikipedia.
Many prominent historians and writers were engaged in it, looked at it from different points of view, and could not say anything new until two prominent Russian PR specialists looked at it from their own angle: A.N. Chumikov and M.P. Bocharov.
We looked and concluded that it looks like the most real PR-project. Moreover, there is a huge number of biographical chronicles describing her life, but in fact, as before, there was no real information about who the girl Zhanna was, and now there is no, although documents have been sought for more than one century.
And something no one dares to fake them, as some would-be history buffs and sofa connoisseurs on VO like to write about it.
Well, there is no theme more fertile than the story of the heroine of the French people. After all, you only need to find one document - a certificate of baptism. But no, with all the perfect technique of forgeries, no one dared to take such a step in the past and does not dare today.
This means that not everything is simple with this.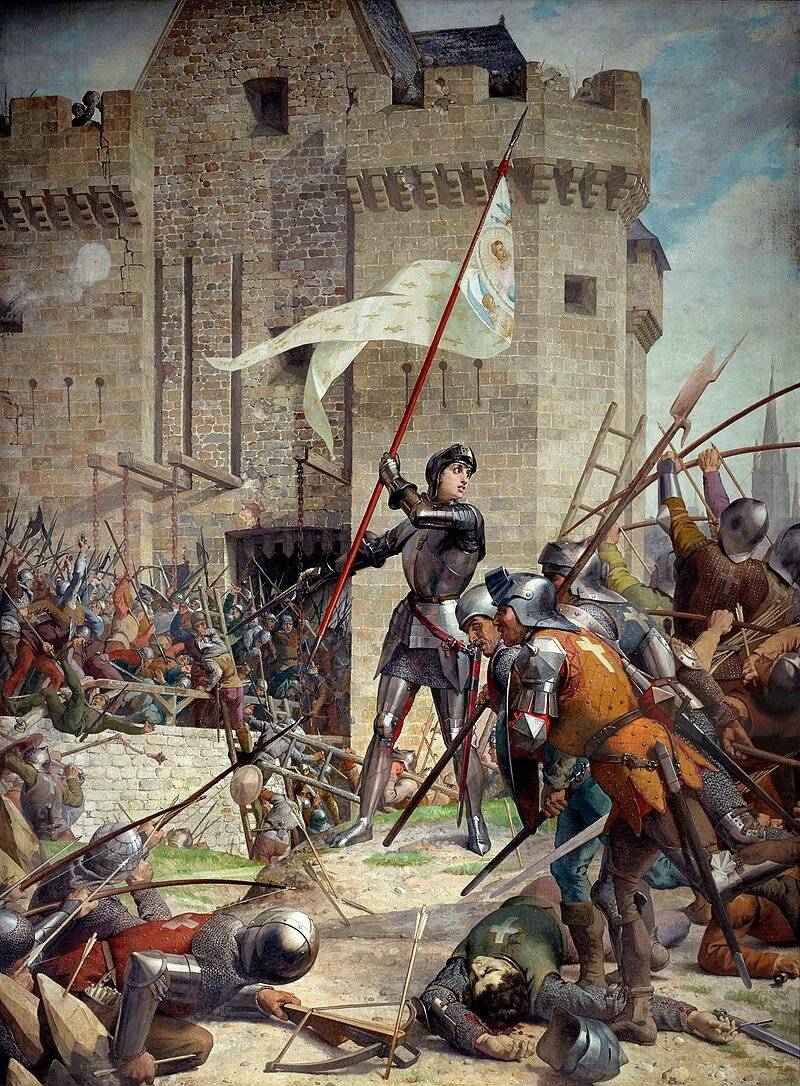 Many artists have captured Jeanne on their canvases. For example, the painting "Jeanne at the Siege of Orleans" by Jules Eugene Lenepwe (1819-1898)
What is simple, and what have historians been doing for hundreds of years?
And they read what has already been written. And the more they read, the more absurdities and inconsistencies they find in documents and chronicles.
For example, it turned out that as many as nine poets and 22 royal chroniclers, that is, almost all chroniclers and troubadours who described the life of Joan, served with King Charles VII. These were his nine court poets and as many as 22 royal chroniclers.
So we will not talk about the fact that she was the illegitimate sister of Charles VII, a pupil of the Franciscan order, and even a canonical shepherdess from the village of Domremi, who, as a child, was moved by her mind on the basis of religious ecstasy.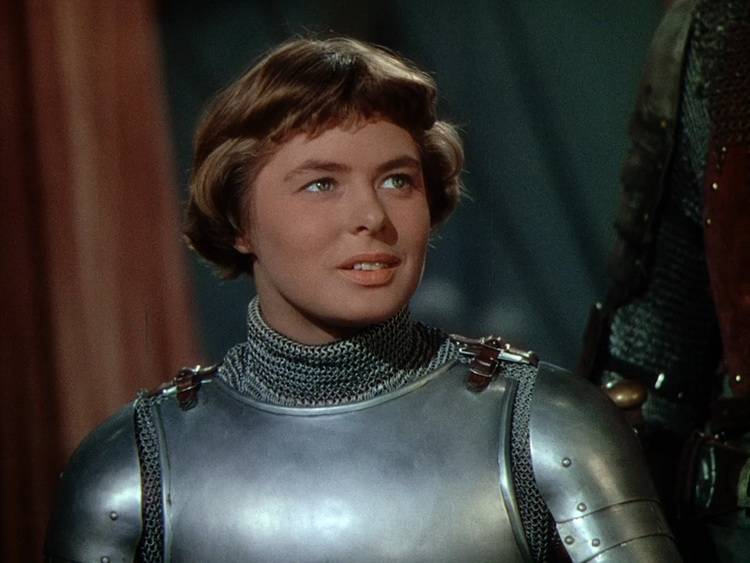 Jeanne in the cinema. This is how the filmmakers of the 1948 American film saw her. Ingrid Bergman as Joan of Arc
All this could well have been.
Another thing is important: for some reason, the Great Virgin of France was captivated by Baron Gilles de Re, heir to the old and noble families from the west of France - Craon and Montmorency. Of course, barons are attracted to shepherdesses if they are young, handsome, have lovely bulges and are not deprived of intelligence, however, there was clearly something else here.
The question is - what exactly ?!
But before we try to answer him, let's see in what capacity he met her.
So, he married Catherine de Troir, from whose marriage he received a dowry of more than two million livres. That is, he was a very rich man. Not just rich, but very much!
With that kind of money, Gilles de Rais was quickly able to gain favor with the Dauphin Charles and get a place in his retinue. He lent the Dauphin with money and made him completely dependent on himself.
Recall that it was in those years that the Hundred Years War was going on, in which the French and British fiercely fought for the French throne, deciding who - whether the English kings descended from the maternal line of the descendants of Hugo Capeet, or the French representatives of the Valois dynasty, should sit on it ...
However, only the fighting itself was fiercely fought, but the war went on rather sluggishly. As they say - "nobody wanted to die." And you could rightfully serve the overlord only 40 days a year, or until you ran out of provisions.
That is why no more than a dozen major battles took place during the entire war, which together took no more than a week in duration.
But on the other hand, the position of the knightly nobility was very favorable: after all, any Frenchman, only because of his personal self-interest, could well declare that he recognized as king either the Dauphin - the son of Valois, or the king of England, the descendant of Queen Margaret of France and the legitimate daughter of Philip the Fair.
And many did so, and "went to bed as supporters of the Dauphin Charles, and woke up as subjects of King Edward."
Both vied with each other to offer tax benefits to the nobles, just to win them over to their side. Well, the French nobility simply blackmailed the Valois dynasty (it was nevertheless closer): and received land, loans, and high-profile titles for loyalty.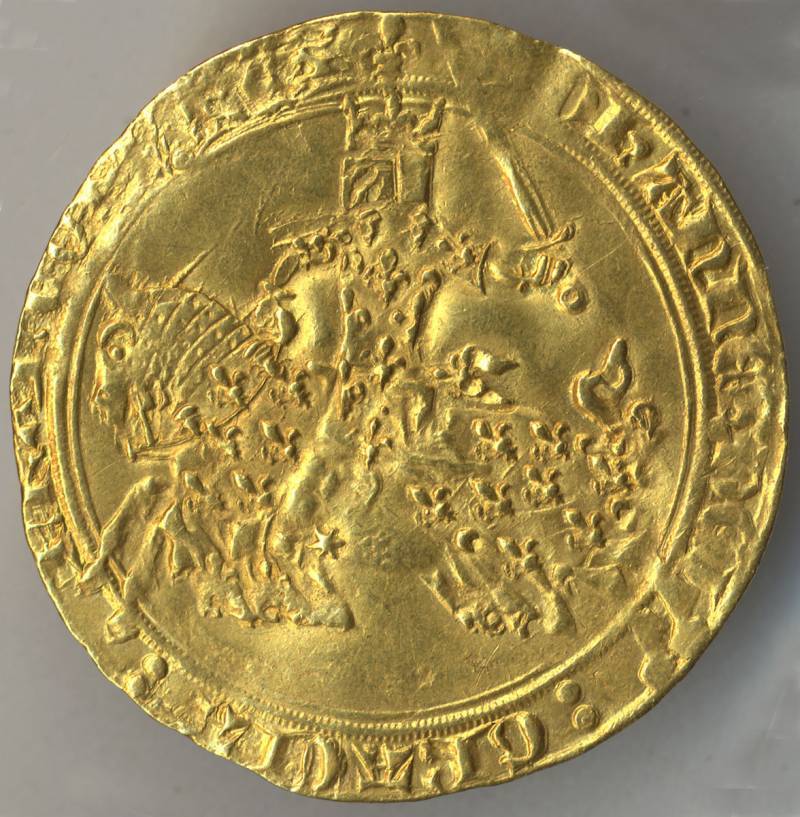 Gold franc of the French king John the Good, approx. 1350-1364 Obverse. Made in Poitiers, France (Metropolitan Museum, New York)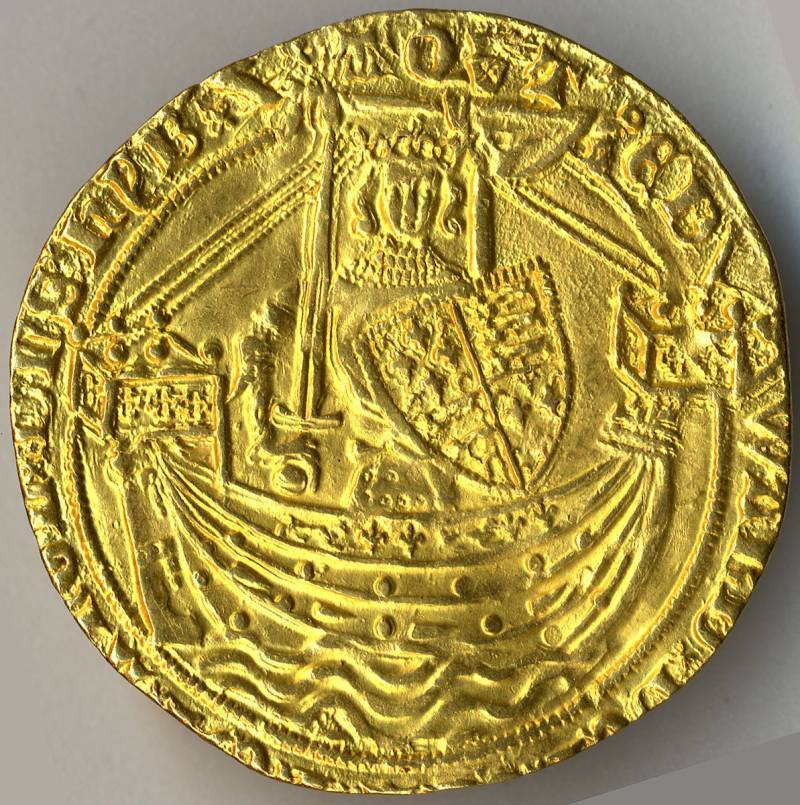 Gold Noble of King Edward III of England, c. 1361-1369 Obverse (Metropolitan Museum of Art, New York)
Interestingly, the English economy at that time was somewhat more developed than the French one. In addition, by the beginning of the XNUMXth century, almost all the nobility turned away from the Valois dynasty. Dauphin Karl had to make the most real predatory raids on his own cities or simply rich lords, who had been set aside from his power, in order at least in this way to get food or money for his usual way of life.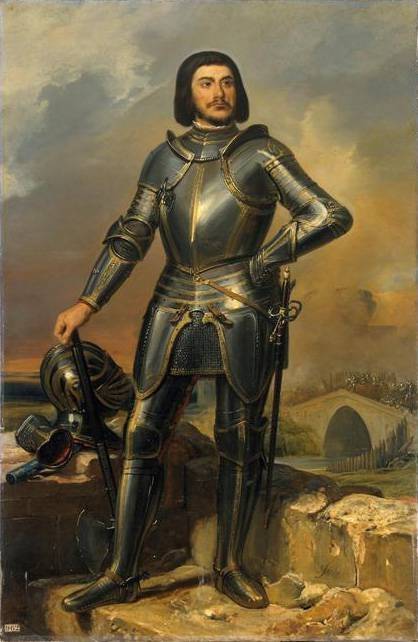 Here he is - Baron Gilles de Rais, the future "Bluebeard". Painting by Gule de Naval, 1835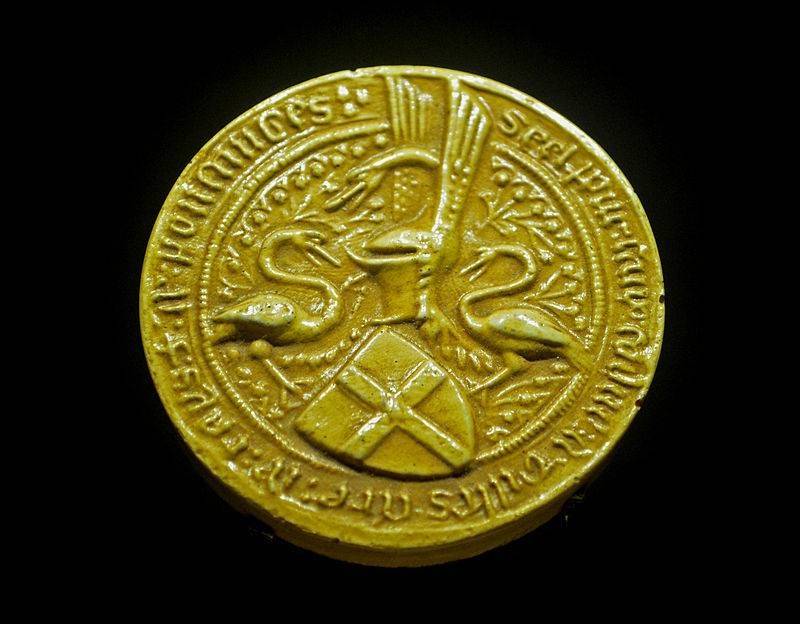 Seal with the coat of arms of Gilles de Rais, 1429 Vendée Museum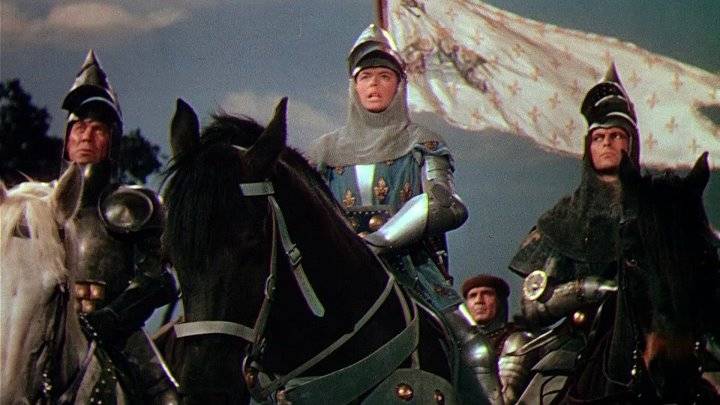 American film 1948. Pay attention to the helmets - just class, real bascinets - "dog muzzles"! And the banner - everything is for sure!
And this is where the events known to us take place.
The girl Jeanne comes to the Dauphin, for some reason he takes her word for it and gives a detachment of soldiers with whom she goes to free Orleans, and Gilles de Rais becomes her right hand.
Question: who paid for these soldiers?
Professionals are expensive, and they were there. It was only later that all and sundry began to run into her detachment. And again, money was required to arm and feed all this "people".
But what if it was Gilles de Rais who made such an offer to Charles: to finance at his own expense or with the money that he would lend to the king, create a militia and recruit an army of professional soldiers?
But the most important thing is that a simple country girl will have to come to the Dauphin, who will prophesy that France will again become happy and prosperous as soon as the Dauphin Charles becomes her rightful king.
The army of Gilles de Rais strikes at those French lords who pay taxes to the British, and for everyone else it will be a lesson.
Well, the girl who hears the voices of the saints will be among the soldiers, the commoners like this, and they will gladly join such a militia, because there is simply no other paid job for them in the country.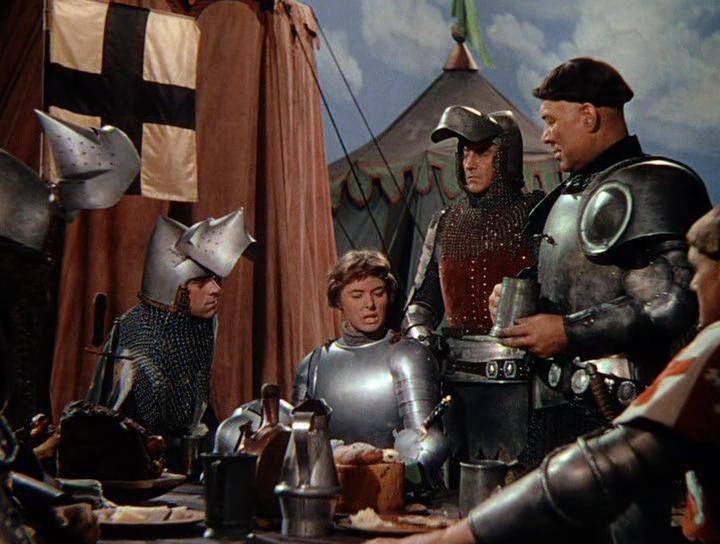 And here you see a black cross on a golden background on the left? This is Gilles de Ré's field badge! These are the little things that the creators of this film paid attention to! 1948 American film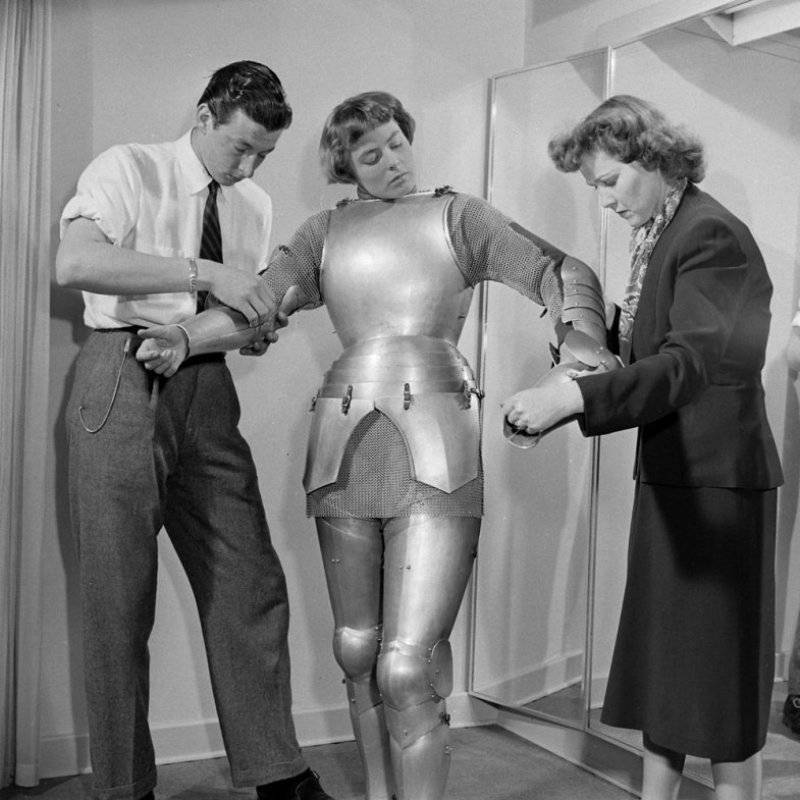 Before filming, Innu is dressed in armor. By the way, her armor exactly corresponds to the era!
But the most important thing in this undertaking will be that the ever-memorable Jacqueria ended not very long ago, the memory of the rebellious "Jacques" in the memory of the French nobility is still fresh, and no one wants a repetition of this horror. Therefore, she will have to choose: either go against the "holy girl" and the Dauphin, that is, choose the side of the British. Or the horrors of Jaqueria will be repeated, but the know this time will be manageable!
The fact that some such plan took place is confirmed by the fact that the church also supported it.
Soldiers are robbing monasteries, fear of God is no longer terrible, tithing is not paid? What's good about all this?
And then it turns out that there is a solution to this issue, and there is a person who will take this work upon himself?
To judge that there was a plan, and the church took an active part in it, helps us to look at the events that took place. After all, it was she who became the very source of information that spread the news about the Virgin throughout France!
Beggar monks, from whom there was nothing to take, carried letters in their robes, or even verbally passed orders to dioceses - to say in a sermon about this and that. And now from all the pulpits of the Kingdom of France sounded: "Rejoice, brothers and sisters of the good news! For the virgin virgin appeared and was given her power from the Lord, and she performed miracles, and she came to the Dauphin, and said that God had revealed to her ... "And so on and so forth, everyone can further prolong this speech. The main thing here is that it was so, and besides, at the same time, almost all over France!
True, the question remains about the "voices" that Jeanne heard.
But what if she was given ordinary doping (Gilles de Ré was an alchemist, after all), and she just dreamed of all her saints and voices?
By the way, he also has an analgesic effect. And then you can not be surprised that Jeanne, wounded by an arrow, even if she did not reach the easy one, got up the very next day and appeared in front of the troops. "Witch, witch!" - Then the British shouted, realizing that an ordinary person is not capable of this.
Of course, one can say that "love for the Motherland prevails over everything"!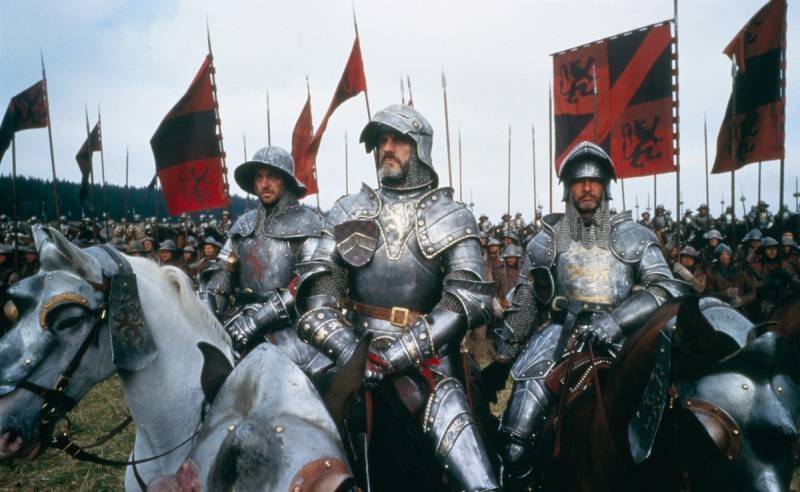 Luc Besson's film: the scene of the Battle of Path. The armor of the British is shown very well ...
In short, this plan was accepted. And it began to be fulfilled: the villans (peasants) and the urban poor with joy in their hearts went into the militia, and the troops of Gilles de Rey defeated several French feudal lords, pro-English, and even liberated several provinces from the British.
Thanks to this, a year later it was possible to crown Charles in Reims, and it is not clear for what Gilles de Rais received the high rank of Marshal of France and already officially became the commander-in-chief of the French army.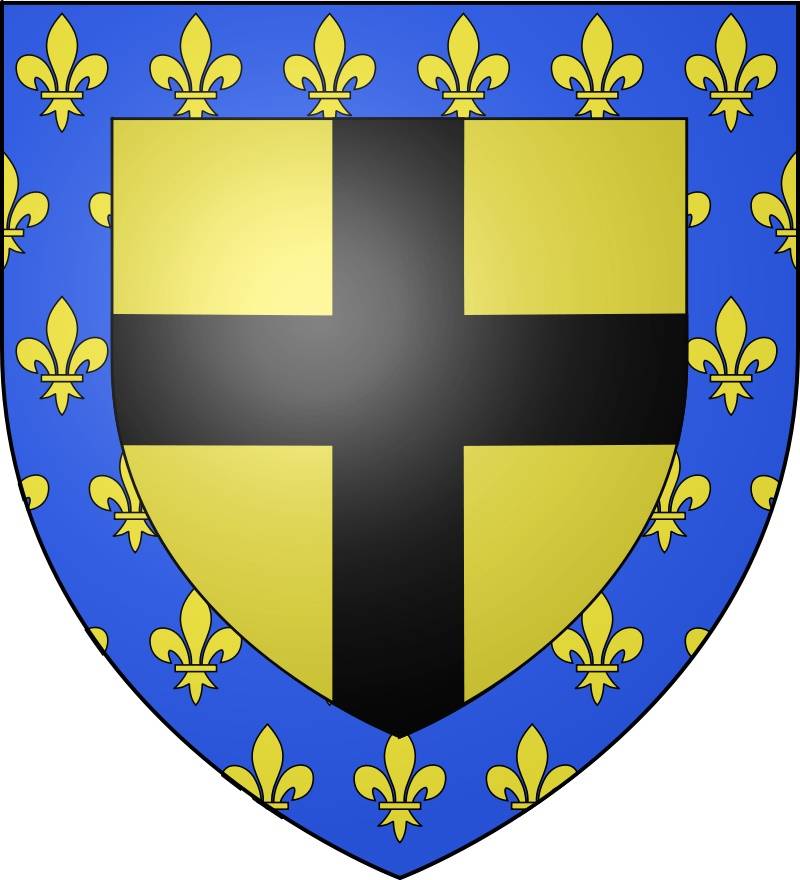 Coat of arms of Gilles de Rais after the royal award of the border with lilies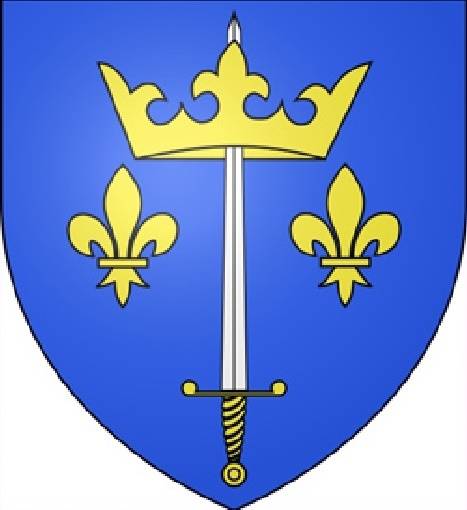 Coat of arms of Joan of Arc
And after the siege of Orleans was lifted, de Re received the right to add to his coat of arms - a black straight cross on a golden shield, royal heraldic lilies on an azure border - an honor that was awarded only to princes of the blood.
The patent letters authorizing this acquisition referred to his "lofty and meritorious services", the "great dangers and dangers" he faced, and "many other brave deeds."
But this was all Jeanne did?
She, however, was also given a coat of arms ...
So, in theory, all the participants in this "action" should have been satisfied.
Well, all of this really frightened the various dukes and counts there, and they joined the queue to kiss the monarch's hand, for they immediately felt its power.
The end of the war became a matter of time, and it was then that the king realized that he no longer needed both Marshal Gilles de Rais and his simple shepherdess (whoever she was).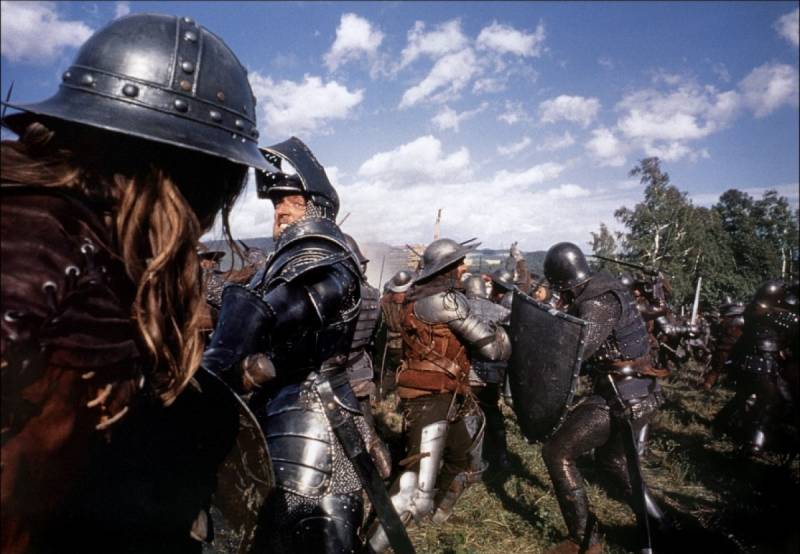 Well, the fury of the contractions in his film is also shown perfectly!
The king simply did not want to repay debts, but he owed a lot.
And here again the church came to his aid. All over France, and it was the priests who suddenly started talking about the fact that God turned away from Jeanne and punished for her pride, after which Jeanne died for real, and she died, from the point of view of the king, very timely and successfully.
When the traitorous Burgundians took her prisoner and sold to the British for 10 thousand pounds, Gilles made great efforts to save his idol, gathered an army of mercenaries and moved to Rouen.
However, he was late: Jeanne had already been executed. Moreover, Henry VI, in order to cast a shadow on the newly made French king, ordered to burn her exactly as a witch, in order to say - "it was from the hands of a witch that he got the throne."
But he, too, was late, and it no longer played any role.
Interestingly, there is evidence that after the execution, Jeanne "resurrected" at least one more time, and it was Marshal Gilles de Rais who introduced a certain Jeanne d'Armoise as the "real Jeanne", who then also commanded a small military detachment.
For some reason, Jeanne's companions recognized her as real, but on the way to Paris she was detained by the soldiers of the king, who brought her to parliament. There she was tried for imposture, sentenced to punishment at the pillory, but for some reason they immediately released her when she confessed to imposture, after which she left for the estate to her husband.
That is, there was both an estate and a husband who was sitting at home, while his wife was leading the troops on the battlefield.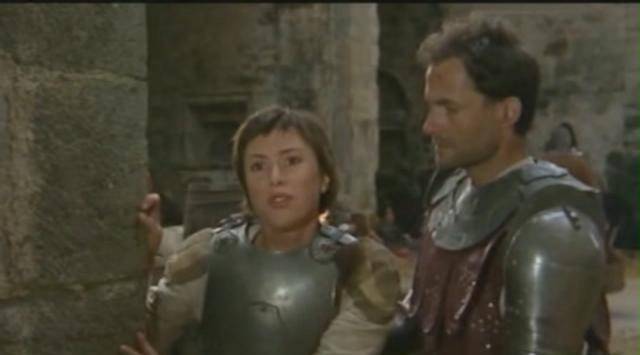 1989 French serial: "Joan of Arc. Power and Innocence. " Not impressive. Much more could have been expected from Jeanne's homeland!
After an unsuccessful attempt to slip a new "Jeanne" to the king, Gilles de Re went to the remote castle of Tiffauge, where he took up theatrical performances of Jeanne, and spent the rest of the time surrounded by alchemists and magicians, including the famous master of black magic Francesco Prelati.
It was this circumstance that was used by the Duke of Brittany, John V, who clearly lacked his land. Of course, it was dangerous to encroach on the hero who fought hand in hand with the "Deva". However, he apparently knew about the king's debts and understood that anyone who helped the monarch to free himself from the obligation to pay them would receive whatever he wanted, as long as only at someone else's expense!
And that's how it turned out!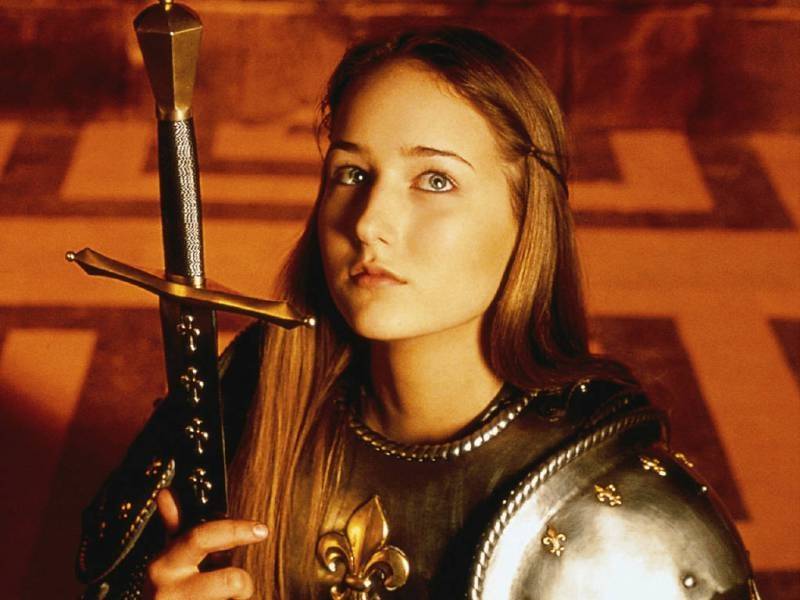 1999 Canadian film. Starring Lily Sobieski. But somehow she is too ... feminine and tender. And long hair, by the way, was the only one she had. In other films, Jeanne was cut short.
In general, the duke created a real PR-group headed by the bishop of Nantes, Jean Maltrois.
Rumors began to spread about the missing children, whom Gilles de Rais had stabbed to death. There were complaints from the parents, although at first they were not given a move. And in the end, Gilles de René was arrested and even tortured (this is a Marshal of France), and he said under torture that he had killed 800 children, although only 150 were incriminated to him.
Well, then on October 26, 1440, by the verdict of the episcopal tribunal of Brittany, they first strangled him, then they kept him at the stake for a while and only after that he was given to relatives for burial.
But he was accused of only two counts - practicing alchemy and insulting a clergyman.
And for this at that time, it seems, did not burn?
After all, they did not burn one of the main witnesses for the accusation of the magician and sorcerer Francesco Prelati, and he got off with church repentance on bread and water, and also had to memorize the prayer to the Holy Virgin.
However, if the king himself was behind all this (and he should have known about such a process, he could not have known), then everything was possible.
And most importantly, everyone in Nantes was sincerely convinced that he killed exactly peasant children. That is, he was an "enemy of the people." And the unfortunate Bretons so sunk into their heads that later their descendants frightened their children.
True, when Charles Perrault at the beginning of the XNUMXth century came to Brittany for folklore, for some reason already murdered wives appeared in the stories of the peasants, and for some reason the baron himself was rewarded by a violent folk fantasy with a blue beard.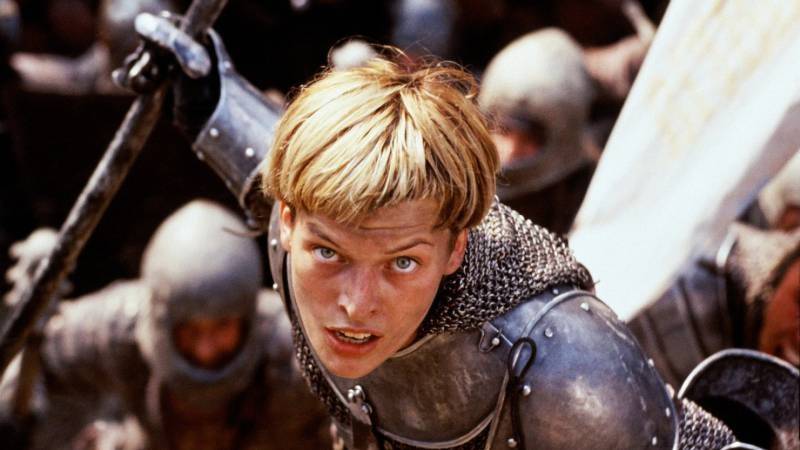 Perhaps the role of Jeanne Mille Jovovich was a success as well as possible!
Already in our time, in 1992, at the initiative of the writer-historian Gilbert Prutaud, a repeated trial was held in the case of Gilles de Rais, in which his good name was completely restored.
A study of the archives showed that there were no tortured peasant children and he was not engaged in bloody experiments. But not everyone accepted this new verdict, and most importantly, it is believed that this court was incompetent to reconsider the case of the XNUMXth century.
Now, let's think about this: it is not true that PR (or in Russian - "public relations") is only a product of our industrial era.
The first time this term was used back in 1807 in the United States by American President T. Jefferson in one of his messages to Congress. But "PR" itself was known long before that and manifested itself in announcements on the walls, and in the construction of majestic pyramids, palaces and temples, in the clothes of the pharaohs and medieval nobility, in the manner of communication, customs and traditions. After all, the essence of this "action" is to achieve "good word of mouth" about something or someone and to change the behavior of those around them by means of this very "good word".
Execution of Gilles de Rais. Manuscript with illustrations. National Library of France, Paris
It has been proven that in order to provide informational impact on society, it is necessary:
- creation of organizations capable of leading mass companies and uniting people with a single impulse;
- the use of emotional symbols and catchy, catchy slogans;
- carrying out actions that have a strong emotional impact on ordinary people;
- getting ahead of your opponents in a favorable interpretation for yourself, because the one who said the first is right;
- influencing the opinion of large masses of people through various activities.
All this is theory, as outlined in modern textbooks.
But if we turn our eyes to a whole series of historical events, then, undoubtedly, we will see that all of them in fact are nothing more than well thought out and conducted PR campaigns. So Jeanne d'Arc was one of the tools of this thoughtful PR company, and Gilles de Rey was its organizer, inspirer and sponsor. That's why they were both killed!