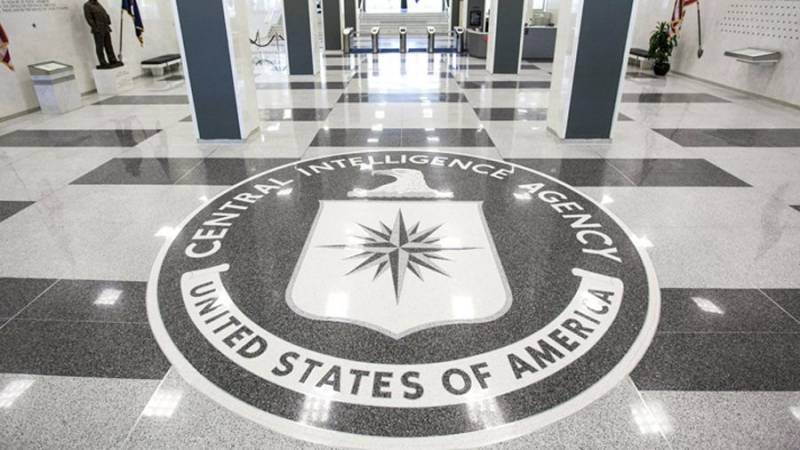 The United States proclaims its monopoly on the truth, but often hides its covert operations and technologies to obtain it.
MKUltra
- a rare case when one of such operations was almost completely disclosed: thousands of documents were published, dozens of scientific articles were written and compensation was paid to the victims ...
But, thanks to this project, a new leap has been made right now in the management of human consciousness, both for peaceful and military purposes.
Science-like prelude
Non-therapeutic applications of behavioral neuroscience methods could change this paradigm and allow the use of
weapon
influence with unprecedented efficiency.
Hacking the biological basis of behavior can potentially lead to the same effect as the traditional weapon of influence - the creation of emotions that cause a change in the reaction or perception of the problem, but in a standard and predictable way.
Claims about the potential use of behavioral neuroscience would seem almost farce were it not for the long and dark
story
US government-sponsored attempts to achieve mind control.
Most notoriously, CIA MKUltra Mind Control Program, which operated from the early 1950s to the mid-1970s, focused on developing emotional manipulation techniques to make a person more susceptible to intelligence analysis, brainwashing, or coercion to act in the interests of the United States.
We fall to the official primary sources.
Quote:
"We need a program of psychosurgery and political control over our society.

The goal is physical mind control. Anyone who deviates from this norm can be disfigured by surgery.

"A person may think that the most important reality is his own existence, but this is only his personal point of view. It lacks a historical perspective. "

"A person has no right to develop his mind. This liberal orientation is very attractive. We have to electrically control the brain. Someday armies and generals will be controlled by electrical brain stimulation. "
________________________________________
Dr. Jose Delgado - Director of Neuropsychiatry, Yale University School of Medicine (MKUltra experimenter who demonstrated a radio-controlled bull on CNN in 1985.)

Congressional Record No. 26, vol. 118, February 24, 1974.
Truth serum
The search for a serum of truth by the US intelligence community began at least in the 1950s.
From the early 1950s to the early 1970s, the US government funded millions of dollars in LSD research, including the notorious CIA MKUltra program, which sometimes tested LSD on unsuspecting participants and investigated the possibility of using the drug as a "truth serum" against spies.
Detection.
In 1977, as required by the Freedom of Information Act, a cache of 20 documents related to the MKUltra project was made public, leading to a Senate hearing later that year.
In July 2001, some of the remaining information about MKUltra was declassified.
History.
Project MKUltra, sometimes referred to as the CIA's Mind Control Program, was the code name for an illegal human experimentation program designed and implemented by the United States Central Intelligence Agency (CIA).
Human experiments were designed to uncover the effects and development of drugs, alcohol, and procedures to be used during interrogation and torture to weaken a person and force him to confess to wrongdoing through mind control.
The project, organized by the CIA's Scientific Intelligence Division, was coordinated with the United States Army's Chemical Corps Special Operations Division.
The program began in the early 1950s
, was officially sanctioned in 1953, scaled down in 1964, then phased out in 1967 and officially stopped in 1973.
1953 year. The agency is launching one of its most dubious secret programs, turning unsuspecting people into guinea pigs to research mind-altering drugs. "
- says the report, which mentions that the then Central Intelligence Agency director Allen Dulles authorized the program.
The program was involved in many illegal activities, in particular, it was applied to unsuspecting citizens of the United States and Canada.
MKUltra has used numerous methodologies to manipulate people's mental states and alter brain function, including covert injections of drugs (especially LSD) and other chemicals, hypnosis, sensory deprivation, isolation, verbal and sexual abuse, and various forms of torture.
The scope of the MKUltra project was broad: research was conducted in 80 institutions, including 44 colleges and universities, as well as in hospitals, prisons and pharmaceutical companies. The CIA acted through these agencies, using front organizations, although at times the top officials of these agencies were aware of the CIA's involvement.
MKUltra 1
- the name given to the CIA's mind control program focuses on the effects of alcohol and behavioral drugs on interrogation, unconventional communication through telepathy or psychic communication, hypnosis to force another to do something against his or her will, counter-torture and anti-flushing methods brains ", the production of selective amnesia and the covert administration of mind-blowing drugs such as heroin, marijuana and, worst of all," truth serum "and LSD.
While many of the more unconventional and bizarre projects covered by MKUltra, such as remote surveillance, psychic interrogation, or hypnosis, were judged to have a low likelihood of operational success, the CIA discovered the use of psychedelic drugs such as hallucinogenic mushrooms, marijuana, heroin, LSD and truth serum to alter consciousness to selectively make someone remember something or forget a memory or event.
Through this program, as well as the information it gained about Soviet / Russian and Chinese programs, the CIA learned a lot about human behavior and how to manipulate it.
1994 Report.
The original source, of course, is available, so it is impossible to doubt everything stated below, even if it is very unusual (besides, considering another 20 available documents and hundreds of witnesses and victims).
The Central Accounting Office of the United States published a report on September 28, 1994, which states that between 1940 and 1974, the Department of Defense and other national security agencies studied thousands of human subjects in tests and experiments involving hazardous substances.
Quote from research:
Working with the CIA, the Department of Defense provided hallucinogenic drugs to thousands of volunteer soldiers in the 1950s and 1960s.
In addition to LSD, the army also tested quinuclidinyl benzylate, a hallucinogen codenamed BZ.
Many of these tests were conducted as part of the so-called MKUltra program, designed to counter alleged Soviet and Chinese advances in brainwashing techniques.
Between 1953 and 1964, the program consisted of 149 projects involving drug testing as well as other studies on unsuspecting people.
The scale of the project.
One of the 1955 MKUltra documents states the size and range of forces. This refers to the study of an assortment of mind-altering substances, described as follows:
1. Substances that will contribute to illogical thinking and impulsivity to the point that the recipient is publicly discredited.
2. Substances that increase the efficiency of thinking and perception.
3. Materials that will prevent or neutralize the intoxicating effect of alcohol.
4. Materials contributing to the intoxicating effect of alcohol.
5. Materials that reversibly induce signs and symptoms of recognized diseases so that they can be used for simulations, etc.
6. Materials that will facilitate the introduction of hypnosis or otherwise increase its usefulness.
7. Substances that increase the ability of people to resist deprivation, torture and coercion during interrogation and so-called "brainwashing".
8. Materials and physical methods causing amnesia for events preceding and during their use.
9. Physical methods of creating shock and confusion over extended periods of time that can be secretly used.
10. Substances that cause physical disability, eg paralysis of the legs, acute anemia, etc.
11. Substances that cause "pure" euphoria without subsequent weakening.
12. Substances that change the structure of the personality in such a way that the recipient's tendency to become dependent on another person is enhanced.
13. Material that will cause mental confusion of a type that makes it difficult for a person under its influence to maintain fabrication during interrogation.
14. Substances that reduce the ambition and overall performance of men, when administered in undetectable amounts.
15. Substances causing weakness or impairment of vision or hearing, preferably without constant exposure.
16. A knockout pill that can be secretly injected into drinks, food, cigarettes, aerosols, etc. It will be safe to use, will provide maximum amnesia and will be suitable for use by various types of agents on an ad hoc basis.
17. Material that can be secretly introduced by the above methods and which in very small quantities will make it impossible for a person to be physically active.
Experiments on Americans
Early CIA efforts focused on LSD-25, which later became dominant in many MKUltra programs.
The CIA wanted to know if they could force Soviet spies to desert against their will and if the Soviets could do the same with their own CIA operatives.
When the MKUltra project began in April 1953, experiments included injecting LSD into mentally ill people, prisoners, drug addicts, and sex workers — "people who couldn't resist," as one agency employee put it.
They also injected LSD into CIA personnel, military personnel, doctors, other government agents, and members of the public to study their reactions. LSD and other drugs were often administered without the knowledge or "informed consent" of the subject.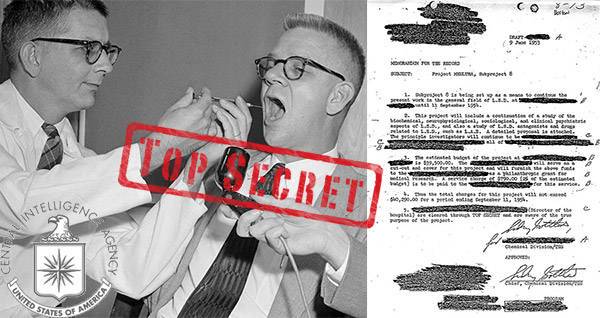 Dr. Harry L. Williams and Karl Kurt Pfeiffer, M.D., Ph.D., who conducted behavior control experiments for the CIA
The purpose of this was to find drugs that could induce deep confessions or erase the subject's consciousness to a blank slate and program it as "Robot-agent". CIA opened several brothels in Operation Midnight Climax
at agency buildings in San Francisco to select men for follow-up experiments "who would be too embarrassed to talk about the circumstances and consequences of sexual encounters with wives." Men were injected with LSD, brothels were equipped with one-way mirrors, and sessions were filmed for later viewing and study.
(These materials are also available, but VO is not a porn site to display them to confirm the "criminal designs of the American military").
In other experiments, when people were given LSD without their knowledge, they were interrogated in bright light, while doctors in the background took notes. They told the subjects that they would prolong the agony if they refused to reveal their secrets.
The people subjected to such interrogations were CIA personnel, US military personnel, and agents suspected of working on the other side during the Cold War. This resulted in long-term malnutrition and several deaths.
The Security Directorate used LSD in interrogations, but
Dr. Sydney Gottlieb
, the chemist who ran MKUltra had other ideas: he thought it could be used in covert operations.
Since its effect was temporary, he believed that it could be transferred to high-ranking officials and thus influence the course of important meetings, speeches and other clandestine operations.
He initiated a series of experiments in which LSD was given to people under "normal" conditions without warning.
His subordinates were also "worthy" people.
An agent named George White wrote to Gottlieb in 1971:
"Of course, I was a very insignificant missionary, in fact a heretic, but I worked with all my heart in the vineyards, because it was fun, fun, fun. Where else could a red-blooded American boy lie, kill and deceive, steal, rape and rob with the sanction and blessing of the Almighty? "
Initially, all of the project's technical support staff tried LSD. A typical experiment involved two people in a room where they watched each other for hours and took notes.
As the experiments progressed, the moment came when they were drugged without any explanation, and such actions became something of a professional risk for CIA operatives.
Adverse reactions were common, such as an operative who took a drug in his morning coffee, became psychotic and "ran through Washington, seeing a monster in every car passing by."
He knew too much.
The experiments continued even after Frank Olson, an army chemist who never took LSD but received a covert dose from his CIA superior and threw himself out of a 13th-floor window of a New York hotel room nine days later, presumably as a result deep depression caused by the drug.
The investigation also revealed other circumstances related to his secret work.
He just knew too much.
Days before his death, Frank Olson resigned his position as acting chief of special operations in Detrick, Maryland (later Fort Detrick), "due to a severe moral crisis over the nature of his biological weapons research."
Olson's concerns included the development of assassination materials used by the CIA, the CIA's use of biological weapons materials in covert operations, experiments with biological weapons in populated areas, collaboration with former scientists in Operation Paperclip, LSD mind control research, and the use of psychoactive substances. during "final" interrogations under a program codenamed Project Artichoke.
Some of the subjects participated in the experiment by mutual consent.
and in these cases, they seem to have been chosen for even more extreme experiments. In one case, seven volunteers in Kentucky were given LSD for seventy-seven consecutive days.
Later, MKUltra researchers dismissed LSD as too unpredictable in its results. They abandoned the notion that LSD was "the secret that would open up the universe," but it still had a place in the arsenal of cloaks and daggers.
However, by 1962, the CIA and the military had developed a series of superhallucinogens such as the highly publicized
BZ
, which was considered more promising as a mind control weapon.
This led to the withdrawal of support from many scientists and private researchers, and LSD research in general became less of a priority.
Veterans
One of the dark spots on the reputation of American democracy is the way the United States has treated some of the country's military veterans.
Programmable killers.
The agency also wanted to develop methods and drugs - such as "amnesia pills" - to create CIA super agents (as the original said) that would be immune to the intruders' mind control attempts.
The creation of so-called Manchu candidates - essentially programmable assassins - was also the goal of the program.
The report says that, in addition to experimenting with drugs and chemicals, the program included use of radiological implants, hypnosis and subconscious persuasion, electroshock therapy and isolation techniques.
The document mentions that many of the experiments were carried out at military facilities at Edgewood Arsenal and Fort Detrick, Maryland. Some veterans have had to deal with debilitating health problems for decades to come. Worse, veterans say the government did not provide follow-up medical care to mitigate the damage.
Some soldiers died as a result of the trials, while others suffered from physical and mental illnesses, including seizures and paranoia, as noted in an earlier order in the case.
A group of veterans succeeded in obtaining a court ruling, forcing the US Department of Veterans Affairs to hand over many documents detailing alleged drug experiments on Vietnam veterans.
Project "Paperclips"
According to court documents, US Justice of the Peace Jacqueline Scott Corley of Oakland, California stated in her order that
the documents requested by the veteran plaintiffs "have a direct bearing on" their allegations that the government did not notify the veterans of the chemicals they were deliberately exposed to during the experiments, and, perhaps more importantly, the consequences of this exposure. have on their physical and mental health.
The details of this unfortunate episode were contained in the 2009 class action lawsuit.
In a lawsuit filed by America's veterans in Vietnam and individual soldiers, the U.S. Army and Central Intelligence Agency
, backed by former Nazi scientists, are accused of using at least 7 veterans as guinea pigs to test the effects of as many as 800 different types of drugs and chemicals.
They included:
• mescaline (psychedelic alkaloid),
• LSD (psychedelic drug),
• amphetamines,
• barbiturates,
• nerve agents,
• mustard gas.
The lawsuit also says the government worked to hide the testing and nature of its experiments, which began in the 1950s under exotic codenames such as Bluebird, Artichoke and MKUltra.
The lawsuit alleges that the government launched the Paperclip project. It was an all-out attempt by the army and the CIA to allegedly hire former Nazi scientists to test various psychochemicals and develop a new "truth serum."
According to Colin A. Ross, a psychiatrist and author of CIA Doctors, he studied more than 15 documents he received from the country's top spy agency detailing the "mind control" operations he said were carried out. from 000 to 1950 "at many leading universities, including Harvard, Yale, Cornell, Johns Hopkins and Stanford"
.
The goal is just mind control.
The report, published on the website of the International Commission on Human Rights, noted:
"The MKUltra project and its associated programs have several overlapping goals."
"One was buying mind control drugs from vendors.
The other was in establishing relationships with researchers who could later be used as consultants on top secret level ".
The next one is to learn how to improve interrogations, erase and insert memories, and create and launch Manchu candidates.
The broader goal of mind control experiments is to control human behavior:
• make enemy combatants open up during interrogation,
• protect classified information by erasing memories,
• make spies more resistant to interrogation,
• make people more prone to influence, social control and suggestion.
All of this is documented "clearly and unambiguously" in declassified CIA documents.Claims.
"Subjects were not informed of the real purpose of the experiments, they did not give informed consent, did not receive an outside consultant, and did not receive meaningful follow-up."
CIA and military disclosures have prompted a number of survivors or their relatives to file lawsuits against the federal government for conducting experiments without informed consent.
While the government has persistently, and sometimes successfully, sought to avoid legal liability, several plaintiffs have received compensation through judicial, settlement, or congressional acts.
Frank Olson's family received $ 750 by a special act of Congress. President Ford and CIA Director William Colby met with the Olson family to publicly apologize.
All lawsuits related to the project contained conclusions:
• Mind control experiments and operational programs violate basic human rights and all codes of medical ethics.

• The government should never use American citizens or other people for any kind of experimentation, at least without prior consent.
The official version of events states that MKUltra has been shut down and attempts at mind control have ceased.
Why did MKUltra program end?
Despite new insights into the dark sides of human emotion, the MKUltra project was ultimately deemed unsuccessful.
The CIA completed the program in the early 70s, assessing that
Behavioral drugs are operationally useless in altering pre-existing attitudes or coercing potential intelligence sources to cooperate.
However, new pharmaceuticals seem to be changing this dynamic.
To understand the threat posed by new drugs that can change behavior, it is helpful to assess the factors that led to the abandonment of MKUltra.
The effects of interrogation drugs, which are the central and most significant focus of the MKUltra program, were too unpredictable and inconsistent.
Moreover, the use of drugs during interrogation required a high level of operational security, with the result that intelligence officers felt their use was too much of a problem, given the little benefit they seemed to bring.
Aside from practical considerations, the two most heavily researched interrogation drugs, Truth Serum and LSD, were found to be more harmful than beneficial to the interrogation process.
For example, the
preparations of "truth"
, primarily scopolamine and barbiturates, such as sodium pentothal and sodium amythal, are depressants of the central nervous system that do not force a person to tell the truth, but are akin to a state of intoxication, make a person less depressed, more talkative (but not the fact that truthful).
Scopolamine, after extensive trials, was disqualified by the CIA as a truth medicine due to a number of side effects: hallucinations, impaired perception, drowsiness, headaches, blurred vision, and excessive dry mouth to such an extent that it was impossible to speak.
With barbiturates, things aren't much better. But if the client was interesting only as a source of information, and his life did not matter, in the history of the CIA, these substances were shown for use.
In order to avoid the claims of Roskomnadzor and accusations of promoting drugs and non-excise American alcohol, the author completes the topic.
Conclusion
Although science is far from fully understanding the brain and all its functions, practitioners are beginning to understand how biochemical and electrical signals (which are interconnected) transmitted between neurons form closed circuits and cause feelings of fear, anxiety, trust, and even love, and even the latter can be used for military purposes.
The Pentagon officially acknowledged that in the 1990s, work was underway on the so-called "gay bomb" - a non-lethal chemical weapon, which was supposed to cause at least sexual arousal among enemy soldiers, and at most - homosexual behavior.
However, the developers of the gay bomb made a serious miscalculation, as a result, overexcited soldiers with tenfold assertiveness went to the enemy ...
In addition, gay activist organizations were outraged by the suggestion that homosexual soldiers were less capable of fighting.
This is not the best example of gender-selective chemical weapons, but even for such projects, the United States finds money.
MKUltra is mainly about biochemistry.
It is one of the methods of behavioral neuroscience, which studies the biological mechanisms that govern the aspects that make us human, our emotions, memories and cognitive processes, and how they can go awry and cause mental illness.
This method is far from the only one.
In the next article, we will review the military applications of other more advanced technologies, both the effect on individual combatants and on group targets.
PS
The book by S. G. Kara-Murza "Manipulation of Consciousness" tells about the forms and methods of "manipulation of consciousness".
By this term, the author understands the programming of the opinions and aspirations of individuals and the masses, their moods and even their mental state in order to ensure their behavior that is needed by those who own the means of manipulation.
Manipulation
- this is a hidden influence, the fact of which should not be noticed by the object of manipulation.
Professor of the University of California G. Schiller, one of the leading experts on American media, notes:
"To be successful, manipulation must remain invisible. The success of manipulation is guaranteed when the manipulated person believes that everything that happens is natural and inevitable. "
Although this is also the case,
this article is not about that at all.
We consider only technical, chemical, neurobiological methods and ways of modifying human consciousness, mainly for military purposes.
You can see the consequences!
Perhaps the "Havana syndrome" that we discussed in the previous article is a symptom of this effect.
Despite claims by the US CIA and other government officials, attempts at mind control using technologies such as add-ons to classics continue to this day, albeit in more innocuous applications such as advertising and electoral technology.
These assumptions are exacerbated by many, not only Americans, during the election campaign.
If you believe that your mind is not being controlled, or at least not influenced, you are simply not well informed.
The latter assumption is solely the personal opinion of the author.
To be continued ...