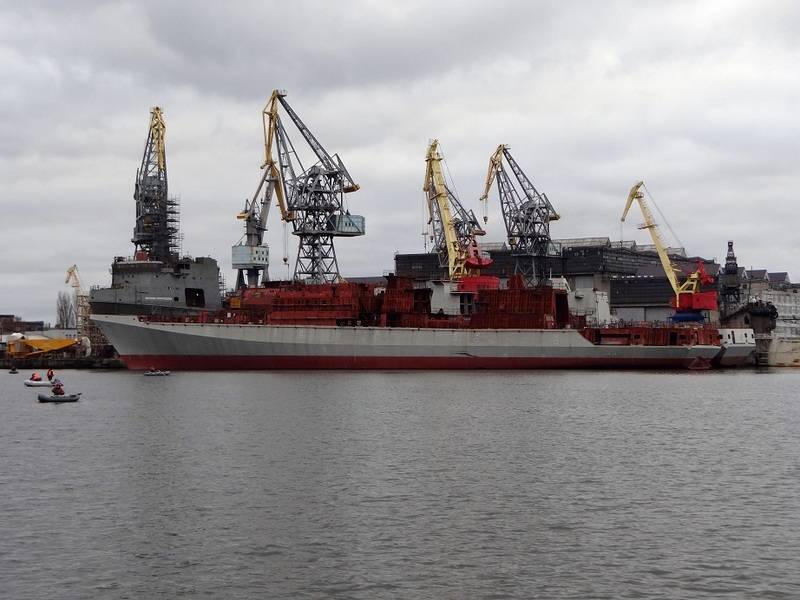 The hull of one of the unfinished frigates of project 11356 on "Yantar" 2018
The United Shipbuilding Corporation has decided on the fate of the last frigate of Project 11356, which remained unfinished at the Yantar shipyard in Kaliningrad. According to the head of the USC Alexei Rakhmanov, the ship will be sold abroad.
According to Rakhmanov, foreign customers are showing interest in the ship, so it was decided to sell it abroad. True, the head of the USC did not clarify whether the frigate will be completed or will be sold in the form in which it is now. In addition, he did not name the potential buyers of the ship.
The ships of this project have shown themselves in real work, and foreign customers are showing a serious interest in them. I am sure that we will agree with them on the fate of the frigate
- he said in an interview
RIA News
.
Recall that the "admiral" series of frigates of project 11356 provided for the construction of six ships, but was limited to only three. The Russian fleet managed to get into service with three frigates: "Admiral Grigorovich", "Admiral Essen" and "Admiral Makarov", three more were left without a power plant after the break in relations with Ukraine. The hulls of the ships "stuck", as to finish building for the Russian
fleet
nobody was going to them.
In 2018, Russia signed a contract with India for the construction of four Project 11356 frigates for the Indian Navy, with the condition that two of them will be built at the Kaliningrad Yantar, and two more at the Indian shipyard. Thus, the hulls of two unfinished Project 11356 frigates, Admiral Butakov and Admiral Istomin, went into completion, while Admiral Kornilov remained on Yantar, the Indians preferred to build from scratch.