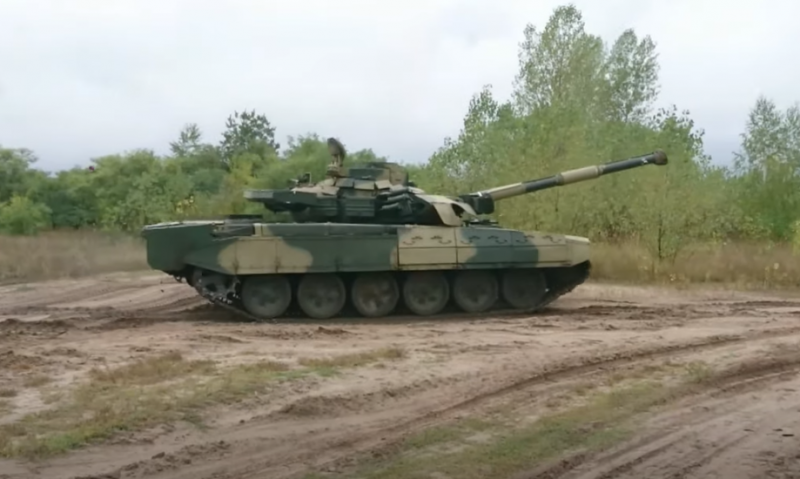 Ukraine decided to revive the project
tank
T-72MP, developed in Kharkov in the mid-90s of the last century as an option for the modernization of the Ural T-72. A video of the testing of the tank appeared on You-Tube.
In the 90s, sovereign Ukraine received a large number of T-72 tanks left over from the Soviet army. Most of them were sold out, some were used as suppliers of spare parts. In those years, many Soviet tanks were still in service with the countries of the former Warsaw Pact, so Ukraine intended to participate in the program of their modernization. This is how the project of the T-72MP tank appeared.
The Kharkov Mechanical Engineering Design Bureau decided to cooperate with foreign partners, in particular French. The French installed the SAVAN 15 fire control system on the tank. The gunner's automated sight, stabilized in two planes, ensured the detection and identification of targets during the day at a distance of up to 5 km. At night, using a thermal imaging channel, at ranges of up to 3 km.
The tank commander received a panoramic two-plane stabilized sight VS580. On the monitor mounted in front of him, the image from the thermal imager of the gunner's sight was broadcast. The armament remained the same - a 125 mm cannon and a 7,62 mm coaxial machine gun.
A 6TD-1 diesel engine with a capacity of 1000 hp was installed on the tank, and the transmission was modified. The T-72MP received built-in reactive armor and a complex of optical-electronic countermeasures.
However, there were no customers for the tank and the project was forgotten for a long time. According to "Rossiyskaya Gazeta", the only instance of the tank stood all this time in the sump of the proving ground testing section of the experimental workshop 190 of the Kharkov KBM.
What is hidden behind the withdrawal of the tank for testing is still unknown, any options are possible.