The timing of the start of sea trials of an oceanographic vessel for the GUGI of the Ministry of Defense has been announced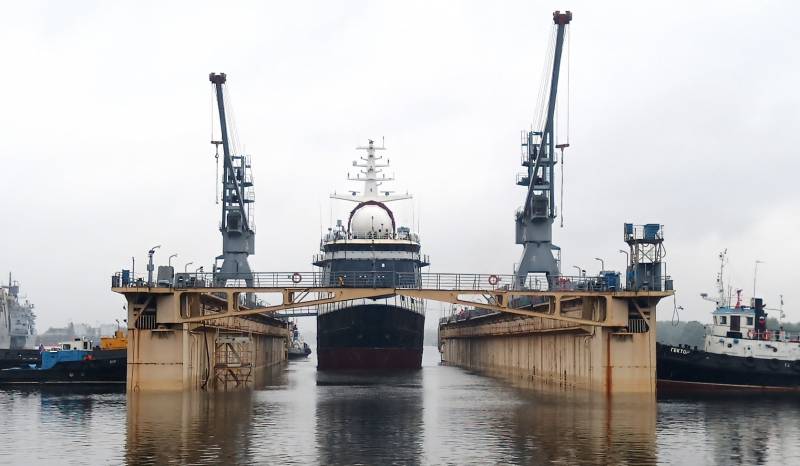 Oceanographic research vessel (OIS) "Evgeny Goriglezhan" of project 02670, being built at the Baltic shipyard "Yantar" in Kaliningrad, will enter the stage of sea trials at the end of October this year. This is stated on the company's website.
The vessel was reportedly taken out of dock last week and is currently being demagnetized. Mooring tests, which began in June this year, continue. The beginning of the factory tests was announced in October, or rather, its end, nothing was reported about the state tests, but the company plans to hand over the ship to the customer by the end of the year.
OIS "Evgeny Gorigledzhan" of project 02670 is actually being rebuilt from the sea tug MB-305 of project B-92 of Polish construction in 1983, the main task of the rebuilt vessel will be "carrying out underwater technical work." The formal laying (actually re-laying) of the vessel took place on March 19, 2016.
In 2018, construction was stopped and resumed only in February 2020 after the contract with the Ministry of Defense was renegotiated. The launching of the vessel took place at the end of December last year.
Displacement of the vessel - 4 thousand tons, length - 81 m, width - 16 m, autonomy - 30 days, crew - 32 people and 25 members of the expedition. The main purpose is "carrying out underwater technical works". The OIS is capable of taking on board underwater and rescue vehicles.
The vessel is named after Evgeny Alekseevich Goriglejan, a Soviet and Russian design engineer, general designer of special-purpose nuclear submarines at the Rubin Central Marine Design Bureau.