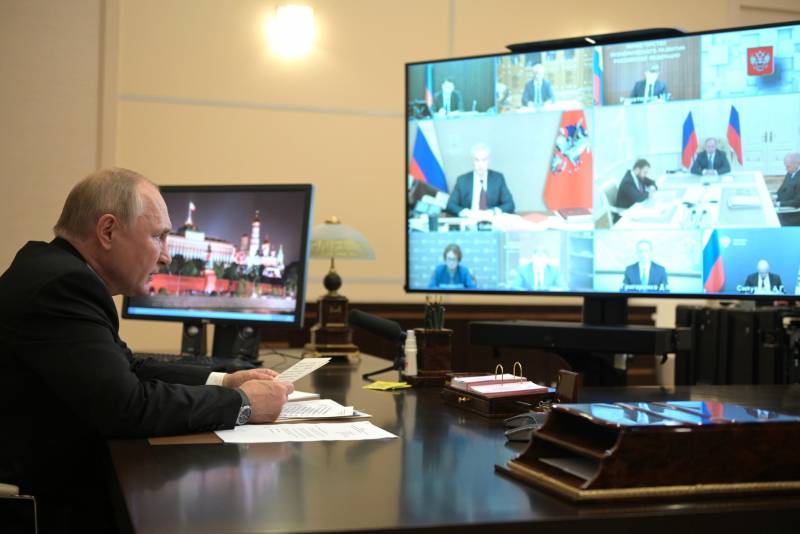 President of the Russian Federation Vladimir Putin called today a meeting on economic issues, which was held by videoconference. The event was attended by senior government officials and the leadership of the Central Bank.
This was reported by the Kremlin press service.
The President said at the meeting that Russia has overcome the economic crisis that began due to the coronavirus pandemic. According to him, the decline in the Russian economy has stopped, and we can confidently speak of its complete recovery.
Despite the general unstable situation in the global economy, the Russian economy has recovered
- the head of state approves.
Putin said that Russia's GDP has reached a level that was observed before the onset of the crisis associated with the COVID-19 pandemic. The volume of industrial production in the country increased by 4,4 percent.
Certain successes have also been achieved in overcoming unemployment. And although employment rates are now at the 2019 level, there is high unemployment among young people and people with disabilities.
Putin also touched upon other topics, in particular, the average life expectancy in the country, the fight against poverty and environmental problems.
Earlier, fresh forecasts for the dynamics of GDP and inflation in 2021 were published. The Ministry of Economic Development believes that by the end of the year inflation rates in the country will be 5,8%, and economic growth - 4,2%. And the Organization for Economic Cooperation and Development (OECD) has different forecasts. The OECD believes that the Russian economy will add only 2,7% by the end of this year. At the same time, the growth of the world economy in 2021, according to the experts of the organization, will be about 4,4%.