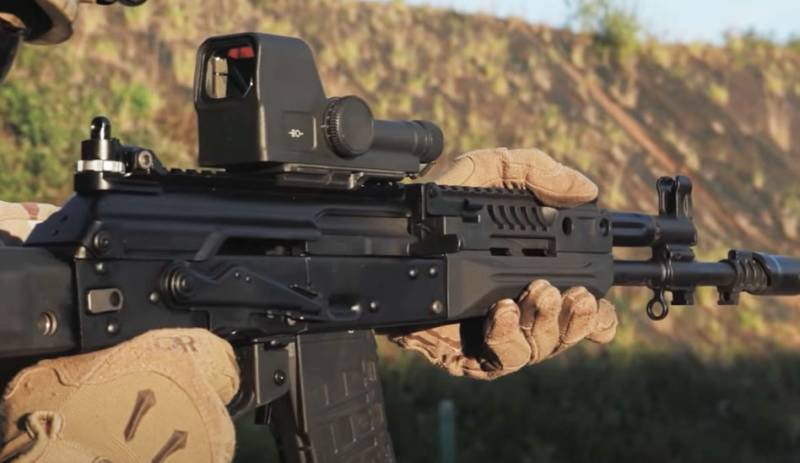 The Chinese press is discussing the renewal of the rifle
weapons
in the Russian army. The observer of the Sohu information resource is considering the phased rearmament of the Russian Armed Forces from the AK-74 assault rifle to the AK-12 assault rifle. At the same time, the Chinese journalist writes that today, speaking about the Russian army, the issue of hypersonic missiles and the modernization of the nuclear arsenal is most often raised, but at the same time "modernization, which can radically affect the actions of infantry units on the battlefield, is overlooked."
Chinese Sohu:
The AK-12 assault rifle is a full-fledged update of the Kalashnikov assault rifle line. In many of its characteristics and ease of use, it surpasses the AK-74 assault rifle. The assault rifle received a pistol grip, a modular multi-position buttstock, and Picatinny rails.
At the same time, the Chinese author draws attention to the fact that the AK-12 has many options, including chambered for the NATO caliber - 5,56x45 mm. According to the author of the article in the Sohu material, this can provide opportunities not only for the supply of such weapons to those countries where they previously preferred NATO-type weapons, but also for the use of captured ammunition on the battlefield.
The Chinese author notes that the new assault rifle is now being supplied "to both conventional infantry units" and to special forces, which clearly speaks of its versatility and effectiveness. Also, the emphasis is on the fact that such small arms were created and modified taking into account the best combat experience - in the Syrian Arab Republic.
Sohu:
The AK-12 outperforms its predecessor, the AK-74, in a number of parameters, including such important as firing accuracy.
In Chinese media:
Everyone talks about Russia's hypersonic weapons, but few remember that the Russian infantrymen had an AK-12 assault rifle. And this is an important update.
The Chinese press notes that if earlier in relation to machine guns for infantry in Russia (USSR), when they were designed, "sniper" accuracy was, to put it mildly, not in the first place, now "even an ordinary infantryman has a weapon that is not only reliable, but and significantly more accurate than the previous versions. "