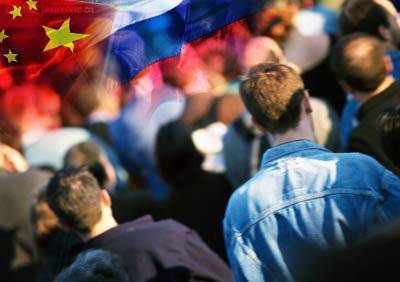 In the PRC
enjoys
Internet 538 million, or about 40% of the population (data of the end of June 2012 of the year). At the same time, in China there are officially 300 million bloggers whose freedom of speech cannot be stopped by any laws on the control of the "world wide web" or government censorship. Those who wish to take the Chinese Internet under the hood are simply not able to control all the forums, social networks and private sites.
Due to the growing military, economic and geo-strategic position of China in the world, and also due to some informational closeness of this state in the world, interest in the political opinions of Chinese bloggers, representing a relatively free assessment of a particular event, has increased, the mass expression of attitudes towards specific people ( to Hillary Clinton, who recently visited Beijing), or even a whole fantastic story about life abroad (for example, about Russian life). We, Russians, are not indifferent to what ordinary Chinese think about us, how they relate to events taking place in Russia, and how the current government policy is evaluated. The Chinese tell, comment, wonder, "shake on the mustache" and compare. Reading their comments and notes on the Internet, we see ourselves as if in a Chinese mirror (often not the best quality, it must be admitted, or a mirror curve). However, how accurately the Chinese mirror conveys us is one question. Another, much more important, is how deeply this "curvature" has taken root in Chinese society. We can declare that our "portrait" to the Chinese has failed; they can only grin in response.
* * *
"Bearded men are completely mired in corruption"
In Chinese "Twitter", that is, "Sina Weibo", there are millions of comments on various topics, including "Russians". A month ago there
появились
Chinese reviews of the achievements of the Russian team at the London Olympics. What do Chinese bloggers admire and criticize?
First, they believe that the Russian team is far from the Soviet teams, which at one time achieved significant Olympic success:
# Russian team at the London Olympics #
"The Russian national team is bending down, not a trace is left of the glory of the Soviet national team."
"The performance of the Russian national team is a bit lethargic, nothing to say, everything is falling into decay."
"I think this is very shameful. Previously, the Russian national team took at least the place in the team standings of 3, what happened to them this year? "
"It seems that Russia is in scrap to participate in the Olympics!"
"Something at this Olympics, Russia dropped slightly from the list of the major sports powers of the world."
"Russia, what happened to you this year? Guys, are you boycotting the Olympics, or what? Even the British crawled to 3 places like cool. "
"The number of medals from Russia scares me. Apparently, the bearded completely mired in corruption. Russia took medals in judo while tsar Putin was sitting in the hall, otherwise, maybe they wouldn't have taken anything at all. "
At the same time, Chinese women admire the Russian boys and the "ornamentals" on the Olympic uniform of the Russian national team:
"Who knows where you can buy the same uniform as the Russian team?" I like these patterns so much, romantic! "
"What beautiful boys in the Russian national team!" I want to go to Russia! "
Secondly, it seems to other bloggers that Westerners "condemn" the Chinese at the Olympics:
# Russian gymnast Aliya Mustafina won the gold medal of the Olympics-2012, winning the competition on the uneven bars. Second place - gymnast from China He Kexin #
"It's not fair!"
"He Kexin performed great, she was sued. There are no words! Here it is, the nature of the power of Western people! Just want you to fail. There is no justice in the world. All stand out from a position of strength. "
"The Russian gymnast performed really very beautifully. I don't think the judges were biased. "
"Here is a shame! The final marks made me mad! "
"He Kexin! The real champion is you! "
"Damn judges! We must appeal! "
"Why is everyone so unfair to China?"
Even the Chinese were disappointed that our Isinbayeva took only bronze at the Olympics, showed a warm attitude towards Sharapova, and some blogger said: "Russia took gold in judo. This is definitely related to Putin! "
"Bearded men", "corruption", "Tsar Putin", judo, which Putin, specifically for medals, came to hurt, - these opinions of Chinese bloggers show their attitude to present-day Russia, which, in essence, is no different from that of Western man in the street.
"This country is hopeless"
About
Pussy Riot Process
The views of the Chinese in Sina Weibo were divided into two groups: the first against the PR, the second, obviously the largest, in favor.
First group:
"If this happened in China, then the reaction to the religious theme would also be very sensitive."
"In China, they were most likely assigned" labor education ", law enforcement agencies would not start a lawsuit, but would immediately take away their personal freedom."
"Of course, you need to cut out the poison."
"Being a Chinese, I don't really know much about this, because here we are talking about blasphemy, and I have nothing to say. However, if I had begun to shout and insult the Buddha in Shaolin, or if I would have called the Buddha with a different name, the result would have been the same. "
"The fact that these girls went against the leadership is nothing, but why did they make a fuss in a sacred place? For this, you must punish. "
"Only hooligans are against Putin."
The second group:
"Have some pevichek decided to go against Putin? They should be immediately missed. "
"The way the Russian judicial system is handling this sensitive case shows how much Putin and the Russian government are confident in themselves."
"But how is it possible, ahhhh ??? Such a cool band.
"If they are imprisoned for hooliganism, then this just proves that Putin's government is a government of hooligans. This is the analogy. "
"Apparently ... Russia is equal to some countries, Putin plays a little with fire."
"I support the sisters! And though I can not help, but I must say that we oppose the restoration of the monarchy headed by Putin. puting = pussy! "
"Fight girls! On behalf of the Chinese people, I express your support. I hope that someday in the House of People's Assemblies will also sound "down". And also - pay attention, what beauties are these girls. Bravery, toughness, beauty - these words are not divided by gender. "
"I watched the video again. These girls are really very brave! Come to the temple and do this? Yes, not bad. Chinese angry youth and not standing next to. Who among them has the courage to come to the mausoleum of Mao Zedong or Sun Yat-sen and do this? What, in Mao's mausoleum, is some kind of especially strict guard? Then you can go to his home village. And with Sun Yatsen's mausoleum, everything is quite simple, I have already helped to explore the area, hehe. "
"The day will come, and Russia will appreciate them justly, they are real heroines!"
And - a special opinion: "If this behavior is considered a manifestation of feminism and freedom, and many still approve of it, then this country is hopeless."
Everything is free!
In the Internet
You can find
reviews about Russia of one Chinese, who visited our guest more than once. Moreover, having spent the last time (2009) in Russia 7 days and visiting St. Petersburg, Moscow, Smolensk and Voronezh, this Chinese, speaking of Russia and China, compares the two countries not in favor of their homeland.
According to this comrade, Russia is a very clean country. Even the shoes do not need to be cleaned. No specks of dust or mote.
Student residences in Russia are like hotels with three stars, even better. The room for two students has an area of ​​50 square. m. And students in such large rooms not only live for free, but the light never turn off. It burns as long as the light bulb serves: "There is no such thing as a" accommodation fee ". Water, electricity, heating are free, for many students the lights are on for 5-6 years - they are not turned off for a minute, because they are free. Water, that hot, that cold - 24 hours a day. "
The Russians themselves do not understand their happiness: "... water is free, electricity is very cheap (a kilowatt hour costs about a few fans), gas in many places is also free, in winter there is almost no charge for heating." And also - benefits: "To all elderly Russians who have worked in a real job, the government issues a summer cottage for rest ..."
Plus - free medicine. Oh, and education: you don't have to pay for it in Russia either.
Russian friendly policemen have only one drawback: they do not speak English.
It seems that this Chinese described a transitional stage from developed socialism to communism. Given that his opinion relates to the 2009 year, then communism in Russia should already be on the way. Togo and look, consciousness will reach that high degree, which Marx broadcast, the state will die off along with the monetary system, and the Russian people are confronted with the Chinese, defying borders and visas. And the first people fraternize climb Chinese people.
Tatars, that is, Slavs, that is, slaves
Leading Researcher of the Institute
stories
FEB RAS Boris Tkachenko a couple of years ago got into the hands of the brochure "Penetrating Russia", published in the total number of 135 copies. It collected translations of excerpts from Chinese books and newspaper publications. Its author set out to understand Russian.
According to the Chinese
, the Russian people because of the long period of life in slavery do not have the traditions of democracy, but there is a desire for extreme individualism. And the Russians are so contradictory that, with their individualism, they also differ in their slavish obedience. "Russians forever fluctuate between these two extremes. Having received freedom, they know no boundaries, they are ready to destroy everything. "
The Russian people are not capable of anything without foreigners: "... Russia's achievements have always been associated with foreigners. As soon as the Russians themselves got down to business, everything quickly collapsed. The reason was their inability to self-control, self-management. In Russia, they always bowed to the West. "
Russians are patient people; they don't know how to protest, and if they protest, it's soft and little. As an example, life is given under Yeltsin: "Under Yeltsin, the standard of living of ordinary people fell catastrophically, they were robbed and deceived as much as they could, but the people only a little spoiled it. In 2002, about 80% of the population was below the poverty line. There are many dissatisfied, but there is no organized protest. The Russian people once again demonstrate tremendous patience and tolerance towards power. This is the main tradition inherited from the slave past. "
Russian people constantly fought, so they became tolerant of cruelty.
They also consider themselves superior to other nations: "Russians consider themselves superior to others. This is reflected in the theory of the superiority of the Slavic race. Russians look with a contemptuous look not only at the backward East and South, but also at the more developed West. They always want to be the first, to be the leaders. The idea of ​​seniority penetrated deep into the psychology of the Russians. " Russia's foreign policy is built on hegemonism: "... Even now, when it cannot be considered even a second-rate country, it is difficult for it to hide its hegemonic psychology."
Further we read: "No matter how hard the Russians tried to Europeanize, however, they are not similar to Europeans. In many ways, they are more similar to the Tatars. More precisely, for formal reasons, this is a civilized society, but inside it is a purely Russian filling. For external decency, the true coarse nature is easily visible. Russians are Slavs. "Slavs" in Latin means "slaves".
Morality among Russians is inverted: "Russians have a disregard for traditional morality. Inconsistency and became a feature of the Russian nation: on the one hand - Eastern submissiveness and servility, on the other, promiscuity, licentiousness; on the one hand - the fear of authority, on the other - the contempt for tradition, the rejection of generally accepted principles of morality and ethics. This leads to the fact that they take rudeness for valor, laxity and chaos for democracy, servility for virtue. "
Russians do not know how to value their history, as if they deny the historical memory itself: "... Their attitude to history is also extremely radical. For example, they believe that everything old should be rejected, no continuity is needed. All traces of the past should be washed away, erased overnight. And not only in form, but in essence. Perhaps the most ridiculous is their desire to change the names of cities, streets and squares, to demolish monuments, as if in their history there were no events that deserve memory. "
In Russia, a terrible bureaucracy thrives, to the officials - long queues. "It doesn't matter how many people will wait in the queue, - 10 or 100 - employees will work as usual: without haste, being distracted by conversations and not forgetting to drink tea. Nothing will force them to change their regulations, no cataclysms. "
Since the Russians only did that they fought, they had no time to improve their native language: "... the well-known expression of the English poet Johnson" Patriotism is the last refuge of a scoundrel "translated into Russian looks like this:" Not everything was lost even by the missing person, rejected by friends society, if in his soul there is a sense of Homeland, in it is his last hope and salvation. " Russian had no time to engage in the improvement of their language - they fought and fought more. Even culturally educated people can argue endlessly about writing a simple word or sentence. And even many Russians could not pass the exam for obtaining Russian citizenship. "
In Russia, there is no love, but there is a cult of sex, which replaces love. The most attractive profession Russian schoolgirls, of course, consider prostitution; society condones this. Newspapers openly print ads for hiring girls to provide sex services. Russian society in general does not understand what is good and what is bad.
As for politicians, they "not only are not afraid to dampen their reputation on this basis, but, on the contrary, use sex as an instrument to achieve their goals. Many of them, including members of parliament and governors, openly contain several mistresses, the Zhirinovsky party proposes to open brothels. "
All this is a historical reality. Pushkin, the Chinese write, loved to brag about sexual abilities, and Catherine II didn't need to brag.
We go further.
Russian people can not drink. "You can not eat, but you can not not drink - this is another bright feature of the Russian people. Vodka has become an important part of the culture of Russian society. Alcohol is something without which Russians cannot and do not want. If in other countries they say: "Whoever gets up early, earns bread", then you can say about Russians: "Whoever gets up early, he will have something to drink." The Chinese are reminded that Yeltsin was an alcoholic.
Shame on the Russian people is not a drop. "The most surprising thing is that they never feel shame, no matter what they do. On the contrary, they always find justifications for all. " In Russia, deception is rampant at all levels.
Russians live in constant fear. All around for them - the enemies. In Russia, an atmosphere of universal suspicion reigns. The role of the FSB is still great. "Almost all telephone conversations are tapped, and if desired, the special services can always present compromising information on you."
In another material, "Comparison of China and Russia," the Chinese conducted a direct comparative analysis of the two countries. If the wise China, according to the authors, followed Japan and South Korea, adopted the Western model, then Russia moved along the African path, or, better, the Latin American one.
The following material, "Opening the Map of Russia," describes the character of the Russian people from the point of view of the Chinese.
According to analysts, the Russian nation is completely thieves, cowards, robbers; The main traits of their character are anger, greed, and worship of violence. The authors summarize: "The greatness" of the Russian nation on 30% consists of theft and on 70% - of banditry ".
The main Chinese enemies
Lin Haihun, a famous Chinese blogger, is also considered to be an expert on Russian in China (professional translator). In addition to translation, he considers himself an expert in international relations.
On the geopolitical issue with Russia to Comrade Haihun, everything is very clear: Russia is the same as America. "Difficult political relations between China and America," in Russian
пишет
The blogger, as well as the difference of cultural systems, made a very important reason for the decision to build an automatic system to ban reactionary words, phrases, and so on, which means that China's main enemy, like Russia, is also America, which seeks China's separativity. " (Quoted without editing, as the author insists on this).
Well, and what, actually, comrade Haykhun expected from the nation "thieves and gangsters"? Of course, Moscow, in collaboration with Washington, is carrying out secret separatist plans to divide China. Russian thieves, gangsters and officials are always ready to unite with American gangsters and congressmen. In Shanghai, lived and sang Vertinsky? Well, everything: Russia has historical rights to this city.
* * *
So, the Chinese represent the character of the Russian people as a tight tangle of contradictions. Cowardly servile, ever drunk, tongue-tied and despising all the gangster people, constantly leading the war, recognizing only the right of force and cultivating sex instead of love - an incredible schizophrenic hybrid that I personally can not imagine. The Chinese "analytics" in blogs and media, alas, turned out to be of even lower quality than Chinese consumer goods. The knowledge of a professional translator of the Russian language (I would have said nothing, do not insist that Haykhun himself is at his high level) and I do not want to comment at all. One shamelessness in half with rice vodka, honestly.
Observed Oleg Chuvakin
- especially for topwar.ru