The Ministry of Defense made a decision on the additional purchase of robotic combat systems "Nerekhta"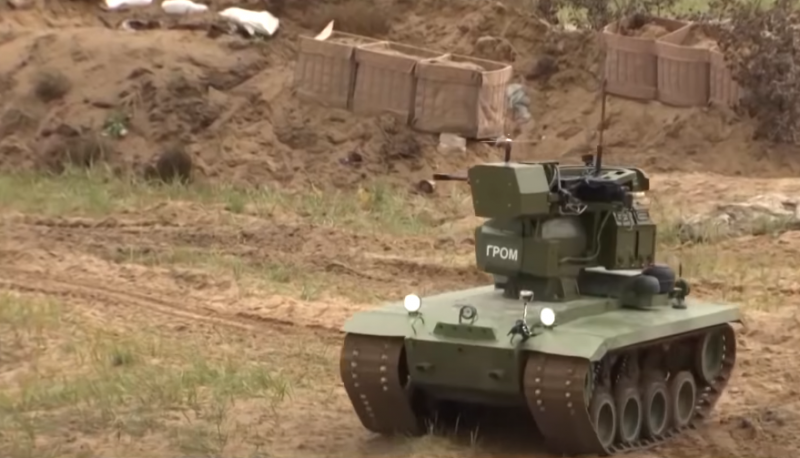 Combat robotic complexes "Nerekhta" will be involved in the protection of strategic facilities. Usage decision
robots
already accepted as guards.
The Ministry of Defense has decided to additionally purchase Nerekhta combat robots. The military intends to use this platform as a means of protecting strategic facilities. The relatively small robot, 2,5 meters long and 1,5 meters wide, is capable of carrying a 12,7 mm heavy machine gun and a 30 mm automatic grenade launcher. At the same time, he is able to detect violators at a great distance and fight small
drones
.
As they say
"News"
With reference to military sources, the decision to purchase additional robots "Nerekhta" was not made from scratch. These complexes have already been tested in the Strategic Missile Forces, and successful, and now a decision has been made to expand the area of ​​their application.
In addition, "Nerekhta" was tested in the framework of the strategic exercises "West-2021" at the "Mulino" training ground during the drawing of the main scenario. The combat systems were used together with the Uran-9 robots directly in the combat formations of the subunits. According to the Ministry of Defense, "Nerekhta" provided direct fire support.
The robotic complex "Nerekhta" has an electric motor that accelerates the car up to 32 km / h. Currently, there are several options for armament of the complex, including machine guns 12,7 and 7,62 mm, as well as a 30 mm grenade launcher. "Nerekhta" is equipped with optoelectronic equipment, a thermal imager, a laser range finder and other means that allow observation, target acquisition and tracking. Operator controlled.