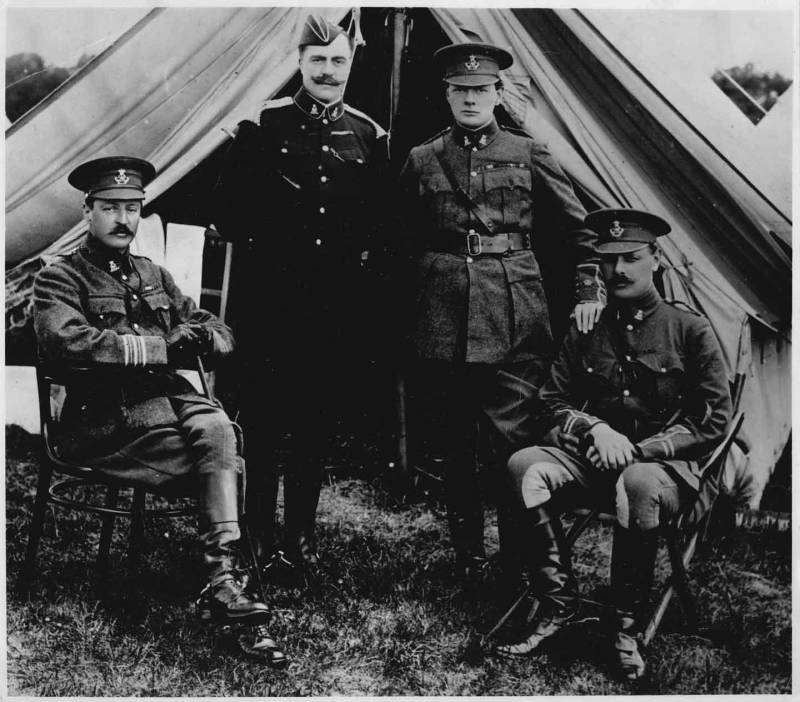 Introduction
Winston Churchill was voted "The Greatest British of All Time" in a nationwide British television poll in 2002, and even many years after his death, not a day goes by in Britain without some television or radio program, magazine or newspaper praising him. outstanding qualities of a statesman, orator, great military strategist. He is one of the most famous figures in the British
stories
.
The purpose of this article is to throw away the veil of myths and legends that many historians and obsequious fans have spread around him, and take a look at the real Winston Leonard Spencer Churchill.
Ambitions
John Churchill, 1st Duke of Marlborough and ancestor of Winston, was a man driven by ambition and self-interest. In the War of the Spanish Succession, he was made commander-in-chief of the British forces and captain-general of the allied armies.
A charismatic figure with great diplomatic ability, he was also a "born" general, whose ability was recognized even in his youth, when he commanded a British regiment, which was then under the command of the French. Later, his aggressive military talent brought him victories at Blenheim, Ramillis, Oudenaard and Malplach; it also earned him the duchy and the grand palace of Blenheim, which has remained the home of Marlborough ever since. When he died in 1722, almost all of his descendants were dominated by his shadow.
Winston Churchill was not ready to live in the shadow of anyone, not even in the shadow of his famous ancestor, whom he admired and wanted to imitate. Born at Blenheim Palace in 1874, the son of Lord Randolph Churchill and American Jenny Jerome, Churchill was the personification of personal ambition. He had a fierce, insatiable desire to become world famous as a journalist, writer, politician and, above all, a military leader. He was eager to prove to the whole world that he is also a great military genius, another Marlboro. But when it came to the art of war, the facts showed that he was nothing more than an arrogant self-righteous dilettante.
There were no signs of genius in his early years. He did poorly at Harrow and was only able to enter Sandhurst on his third try, but even then he needed special training to help him pass the exam in 1893. After Sandhurst, his mother used the help of her many influential friends and lovers to secure his enrollment in the 4th Hussars, and then was able to persuade him to leave wherever he pleased in order to realize his ambitions as a writer and journalist.
During his four-year tenure as a junior cavalry officer, he traveled to Cuba, joined the Malakand field forces on the northwestern border of India, the Sudanese army, and participated in the cavalry attack at Omdurman. At the beginning of his military career, he was more of a poseur than a soldier, writing more than fighting.
He then decided to try his hand at being a war correspondent in South Africa, which proved to be a good boost to his career. Accompanied by his personal valet and 70 bottles of fine wine, he arrived in Cape Town in November, only to be captured by the Boers a month later. He soon escaped from the poorly guarded POW camp in Pretoria and arrived in Durham on December 23rd, where he was greeted as a hero. It was at a time when the British forces, considered "invincible", suffered several demoralizing defeats at the hands of the Boers, so it was a small morale for the British. The press has written extensively about his escape: he made headlines throughout the English-speaking world. Now, at last, he had the glory he longed for.
The Boer War exposed appalling living conditions, widespread poverty and the poor health of an impoverished working class, from which the British government tried to recruit new recruits into the army. This was a cause for concern for the entire British establishment, but not because of any philanthropic concern for the welfare of the proletariat.
It occurred to the ruling class that man would work more efficiently in a factory and more effectively fight on the battlefield if he ate well enough. Therefore, it was necessary to make concessions to the workers if the authorities wanted to protect and expand the British Empire.
Thus, in the postwar years, Churchill (who had by then decided to go into politics and joined the Tory party) and Lloyd George (with whom Churchill had a certain political friendship) supported welfare reforms solely out of pragmatism, not benevolence.
Meanwhile, Churchill's first stay with the Tories was short-lived: in 1904 he left the party.
After the 1906 general election, Churchill was rewarded for leaving the Tories with a job as Undersecretary for Colonial Affairs, which was a relatively new position.
Churchill's political narrow-mindedness is evidenced by the fact that in 1908-1909 he tried to reduce military spending, and also opposed Reginald McKenna, the first Lord of the Admiralty, who advocated an increase in naval
fleet
... Churchill contemptuously stated that there was a military threat from Germany. But when he himself became the first Lord of the Admiralty in 1911, he immediately changed his position; now that the navy was in his charge, he decided that it still needed to be expanded.
As Lloyd George put it,
As usual, he views the office he currently runs as the center of the universe.
Churchill's reputation as a great orator is also exaggerated. He was undoubtedly a master of the English language, and his pompous, melodramatic writing style was effective in the House of Commons and well suited to radio.
Anevrin Bevan, who was a much more prominent speaker, said of him:
The mediocrity of his thinking is hidden by the greatness of his language.
In 1910-1911, Churchill, who by this time became the Minister of the Interior, showed his true attitude towards the ordinary working people of Britain.
On November 8, he sent troops to the Rhondda Valley to suppress the miners' strike. He planned to set up a military cordon around the Welsh valleys in order to force the miners to submit or starve to death. It is unlikely that this was the act of a "great statesman". This highlighted the crude class interests for which Churchill stood and showed the extent to which he would go to suppress the unrest of the working class.
"Oh, this delightful war!"
Winston Churchill had, so to speak, especially warm feelings for the war.
He even once said:
I think I must be cursed because I love this war. I know this is crushing and destroying the lives of thousands of people every moment - and yet I can't help myself - I enjoy every second of it.
Of course, he did not love the war for its own sake - he loved it "for his own sake."
The path through the blood-soaked, corpse-strewn battlefields in Europe was his road to personal glory, a chance to become another Marlboro and indelibly inscribe his name in the pages of world history.
It meant nothing to him that millions of people would die on the dirty, bloody battlefields before even reaching adolescence; it didn't matter that across the continent of Europe, the land would be filled with grieving widows and orphaned children whose hearts would forever be weighed down by grief as a result of the merciless massacre.
What did all this matter when compared to the even greater glorification of Winston Churchill's name?
It was the perverse and repulsive thinking of a man, driven by an all-consuming selfishness. His selfishness stemmed from an unshakable belief that he was born above all others and had a divine right to rule over the "rabble" that made up the majority of society.
In early October, Prime Minister Herbert Asquith received an astonishing telegram from Churchill asking him to leave his post and take command of an army sent to help Belgium. How generous of him - this former lieutenant, who managed to enter Sandhurst only on the third attempt, was going to issue orders to generals, colonels and other officers with years of experience behind him. Well, at least in those dark times, it gave his fellow ministers something to laugh at.
Churchill's problem was that the correct British naval strategy was obvious but boring: keeping the German fleet locked up in their ports, blocking Germany and preventing her from trading abroad. An important task, but hardly one that would bring him the fame and recognition he so longed for.
If he didn't have an army to play with, he would just have to do something impressive with the fleet.
He did so, but not quite as planned.
Dardanelles
Frederick the Great once said that if you must draw your sword to defend the state, you must see that the enemy is struck by both thunder and lightning. In other words, combined surgeries are essential for success. Every general knew this fundamental truth. But the rules of war did not apply to our "master of modern warfare": he was too impatient to demonstrate his military genius. He insisted on a campaign in the Dardanelles, which was highly impractical in the first place, but in which both the army and the navy had to participate (the air force was only in its infancy at the time).
Churchill did not wait for sufficient forces to appear; he gave the go-ahead for a disastrous naval attack on March 18, 1915. As a result, three ships of the Royal Navy were sunk, and four more were disabled.
This unsuccessful operation also alerted Turkish forces to the danger of further attacks, so on 25 April, when the second attack was launched, this time involving 400 troops, they were ready. As a result, the losses of the allies amounted to 000 people.
Thus, the navy and the British army suffered irreparable losses. And all because the egoist wanted to create for himself a reputation as a genius in the art of war.
His apologists will tell you that this was not Churchill's fault.
So who was to blame for this? Who was so determined to carry out this unfinished plan of attack?
Who foolishly decided to start a campaign without troops? Who was the main commander?
Churchill!
But it wasn't his fault?
I can't believe it.
The combination of this and the Dardanelles fiasco meant that Churchill, who angered the Tories when he left them in 1904, had to be fired from his post as First Lord of the Admiralty. He tried desperately to hold on to his post: he fought, he pleaded, but in the end he was fired. He was even more humiliated when he received the post of Chancellor of the Duchy of Lancaster.
To top his humiliation, Asquith expelled him from his newly formed, streamlined Military Committee: this was his final insult. He gave his resignation speech in the House of Commons on November 15, 1915, and on the 18th he crossed over to France and entered military service. The commander of the British Expeditionary Force, Sir John French, gave him an amazing promise that he would soon be given command of an infantry brigade: thus, a former lieutenant of the 4th Hussars was to become a brigadier general thanks to the patronage of another former cavalry officer.
This would probably be the fastest promotion in military history since the time when the aristocracy could buy positions for themselves. However, the War Office refused to allow such an idiotic promotion (Churchill actually wanted to be the commander-in-chief in East Africa). Instead, much to his disgust, he was "only" given command of an infantry battalion that was sent to Belgium on 16 January. It's good that this battalion took part in a relatively small number of hostilities.
Life in the trenches was somewhat less comfortable than life on benches. His heroic deed when he volunteered for military service was just for show. He knew that even with his connections, he would not become a field marshal, so in May 1916 he was allowed to leave the army on the condition that he promised not to try to return again.
Back in London and eager to walk through the corridors of power again, he intrigued Lloyd George and others to force Asquith to resign. Of course, this was "for the good of the country," not to mention the good of Churchill himself, for, undoubtedly, as soon as his former colleague Lloyd George takes over as prime minister, he himself will be given a high post.
However, when Lloyd George succeeded Asquith as prime minister in December, he refused to oppose other members of his coalition government without including Churchill in the cabinet.
But Lloyd George acknowledged that Churchill had been a staunch ally in the early years of their political partnership, and in July 1917 he felt in a position strong enough to offer him the post of Minister of Munitions. Churchill agreed, despite the fact that he was not going to be included in the War Cabinet.