Pushkin. Another duel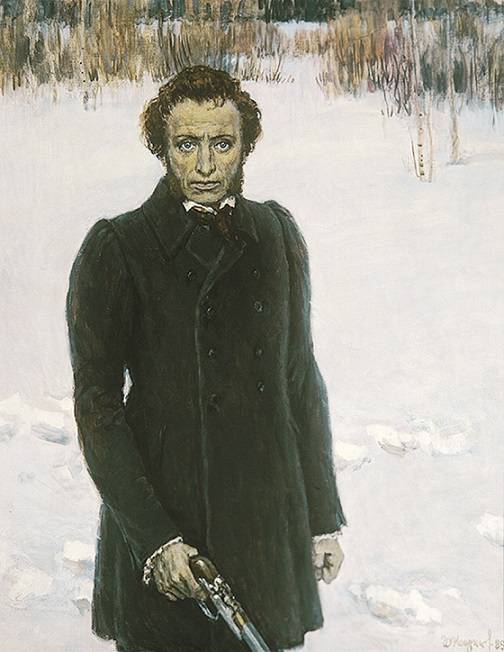 Yu. Neprintsev "Last Minute".
The famous Tsarskoye Selo Lyceum Pushkin graduated in 1817. In the general report card of twenty-nine graduates, he was in twenty-sixth place, showing success only "in Russian and French literature, as well as in fencing."Duel No. 18, 1826. Pushkin challenged Nikolai Turgenev, one of the leaders of the Union of Welfare, and a member of the Northern Society, to a duel. Reason: Turgenev scolded the poet's poems, in particular, his epigrams. Outcome: the duel was canceled.
Such advertising came across on TV, I don't know what they were trying to advertise there, but the point is that the bright image of the great Russian poet was used, so to speak, for quite utilitarian purposes. And, it means, one moment sank into my head: trying to portray a certain "brutality" of Alexander Sergeevich, the actor who portrays him in the video, scrolls a pistol in a cowboy way on his finger. And then it clicked in my head. But, in fact, the creators of the video tried to "paint the grass with green paint".
For some reason, it is customary for the general public to portray Pushkin as a kind of harmless scribbled paper, whom some evil forces (tsarist gendarmes?) Are almost forcibly pulled into a duel, where he tragically dies from Dantes' bullet. For reasons far from poetry, a difficult political "atmosphere" was wound around this event, angry poems were written, accusations were thrown, given the incredible significance of Pushkin for the Russian
stories
and literature. However, if you look at this story with an open mind, things look a little different.
Military career
First of all, it should be remembered that A.S. Pushkin was not quite a commoner. He was a nobleman of the first half of the XNUMXth century. What does it mean? Well, first of all, the fact that the first career path prepared for him by the then society was the military. Exactly so - and nothing else! Much later, already in the middle of the XNUMXth century, Tsar Nicholas I even canceled admission to the university for some time. Cause? And so that young nobles go to serve in the army. Help His Majesty about the welfare of the state ...
And a military career, the path of an officer in the victorious Russian army presupposed the ability to wield cold and firearms.
weapons
, as well as the ability to ride a horse. Yes, and the social life of that time quite imagined an invitation for a nobleman to hunt in a neighboring estate. And that means ... Right! Horseback riding and firearms, cold (there is nothing more dangerous than a wounded animal) weapons. Somehow it is not very customary for us to think about this, for some reason this "weapon" moment is perceived separately.
For us, the very noble landowner is more often than not a comic, harmless character (from Dead Souls, for example). More than enough has been written about hunting, duels, and service "in the rank of staff captain" - this is a constant background, but for some reason it is pushed aside to the periphery of consciousness. But due to the fact of his social status, a Russian nobleman of the first half of the XNUMXth century simply had to be a very good fighter. There is no other way: hunting, war, duels ... They will not understand otherwise, sir.
"In the first half of the XNUMXth century in Russia, for a military man, refusal from a duel actually meant retirement, for a secular person - excommunication from high society."
And all this happened not in the immemorial times of the legendary Cardinal Richelieu, but much later, in fact, quite recently. In general, even Leo Tolstoy, who was perceived in the XX century almost as a modern writer, managed to catch that "happy era".
What was, what was. To be a nobleman was very likely to mean being an officer. And being an officer meant a very high level of personal training. Moreover, they began to cook from a very tender age, using methods that are often quite harsh. Where are your uncouth cowboys.
This interesting and often archaic feature of Russian society is reflected, for example, in Turgenev's story "Spring Waters". At that moment when, in fact, a Russian tourist who is loitering around Germany, absolutely without hesitation or reflection, summons a German officer to a duel, "having hurt the honor" of his companion, thereby making an indelible impression on her. The mother of the young lady throws an "accusation" in his face: "You are free to do this, you are all Russians - nobles, officers ...". Moreover, according to the book, the main character is not a hero, and so - one name, but he knows how to hold a pistol in his hands.
That is, for Europe, such a ubiquitous presence of "crypto-Dartanians" has long been a thing of the past by the middle of the XNUMXth century. The bulk of "quite decent" and very well-to-do citizens practically did not own weapons, and a "challenge to a duel" for them was something out of the ordinary and even impossible. Not like in Russia.
In the Russian version, barriers - any object, sword, cloak - were placed at 10-15 steps, this is 7-10 meters. The opponents were separated by 20-30 steps. It is believed that Russian duels were particularly bloody - in Europe, barriers were usually placed at 30 paces, and for satisfaction it was enough to shoot towards the enemy. In Russia, fights were often fought until one of the duelists was killed or seriously wounded.
These Russians, in general, were terrible barbarians - the so-called "duel through a scarf" was practiced: from a distance of an unfolded scarf, the ends of which were held by the duelists with their hands. In 1824, the future Decembrist Ryleev fired at Prince Konstantin Shakhovsky from three steps, because of the close range, the bullets hit the opponents' pistols twice. And your fictional James Bond is smoking quietly on the sidelines. They don't know how to make good historical films here, but it's a pity ...
Again. It all looks somehow strange: the Russian culture of the XNUMXth century is widely known and studied in detail, but for some reason this very "weapon" moment somehow remains behind the scenes. But then wars were going on almost constantly. Nonstop. And the fact that both Pushkin and Lermontov were killed in duels (especially given their "difficult" nature) is more commonplace than anything out of the ordinary. And, by the way, Lermontov, who, in general, served in the Caucasus ...
It is quite strange to look for something criminal here, some intrigues of the Russian authorities. It's just that already in the middle of the XNUMXth century, it was very difficult to understand the realities of the middle of the XNUMXth century. Therefore, it was customary to present the situation in a rather peculiar way: "the sun of Russian poetry" writes to itself, that means, poetry, creates ... And then bang, duel, tragedy ... "Both to the right and to the left - arms at the seams - gendarme's breasts and faces."
That is, from the fact that the authorities (and personally the crown bearer) seemed to dislike A. Pushkin, the possibility of "liquidation" does not follow categorically. Here we again begin to think in terms of the XNUMXth century. Nicholas I had a lot of shortcomings,
but
he was a nobleman, and the concept of "honor" was not an empty abstraction for him. It is absolutely impossible to imagine him giving the order (even hinting at "who will deliver me from this rebellious poetry"). That is, just in the XNUMXth century it is perceived normally, but that was already a different era ...
In the end, Dantes came to Russia to pursue a career, not to shoot in duels. He did not need it in a foreign country for him. To start some kind of duels. Superfluous. That is, in fact, quite by historical standards, recently (in 1814) the Russian imperial army visited Paris on a "friendly visit." This is quite recent. And now a French by birth (and even Dutch by adoption) nobleman and officer goes to that very Russia "to make a career", as they said then. Which fully characterizes him as a very, very pragmatic and prudent person. And not prone to sentimentality. Or to rash actions.
But after the "successful duel" he was deprived of ranks and all career types and was forced to leave Russia in a hurry. "To catch happiness and ranks?" You know how strange he did it. Somehow clumsy. Struggling to build a career in "barbaric Russia"? And then so once - and on the way out ... And what was the point of going to the northern snows? This is somehow illogical.
«Private Heckeren, if not a Russian citizen, should be sent abroad with the gendarme, having taken the officer's patents "
- decision of Nicholas I.
Mr. Dantes has had an interesting career in Russia.
But at home in France, he made a brilliant political career. And he was not eager to shoot at anyone there. He became a senator for life. So, not everything is completely clear with these very "Pushkin duels". Not everything is so simple. In any case, it is necessary to evaluate this very duel on the basis of the realities of that time and the estate to which the poet belonged, because this applies very little to the realities of the life of an "office plankton".
And yes, if A.S. Pushkin were a different person (simpler and more sociable), he certainly would not have died in a duel. But he would not have done what he did in literature. Disadvantages are a continuation of our merits. And Pushkin, unfortunately, was not a "kind children's storyteller".