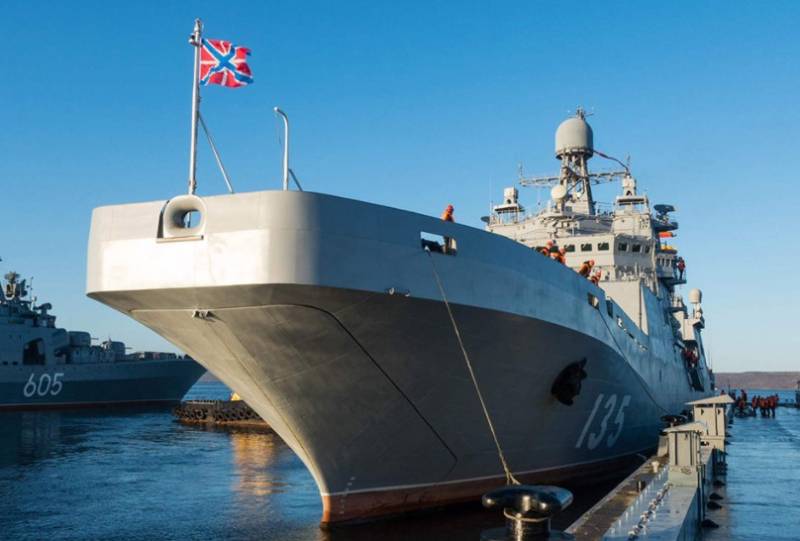 The Northern Fleet must confirm its ability to operate in the Arctic in any weather, day or night. Therefore, Russia will soon conduct exercises to protect the Northern Sea Route.
About it
сообщает
Izvestia newspaper, citing sources in the Russian Ministry of Defense.
A large group of ships from the Northern
fleet
Russian Navy, including the newest large landing ship (BDK) "Ivan Gren". The scenario of the exercise provides for the landing on the unequipped coast of several regions of the Far North of units of the marines and arctic motorized riflemen. It is assumed that the maneuvers will last for a long time, so the ships in the process of combat training activities will have to repeatedly replenish their supplies and refuel.
The exercises will begin after the completion of the state tests of the large landing craft "Ivan Gren". And although the exact date of their start has not been determined, it is known that they will take place in autumn and winter, that is, at the most difficult time for shipping. At the same time, areas with difficult ice conditions are selected to practice tasks.
Due to global warming, the NSR is becoming an increasingly attractive sea route connecting Europe and Asia. Therefore, its protection becomes an urgent task.
Large landing craft "Ivan Gren" is the first ship of project 11711 and is intended for operations in conditions of increased ice hazard. It can take on board up to 300 fighters, 13
tanks
or 36 units of lighter armored vehicles.