Russian military specialists visit Yerevan to discuss the modernization of the armed forces of Armenia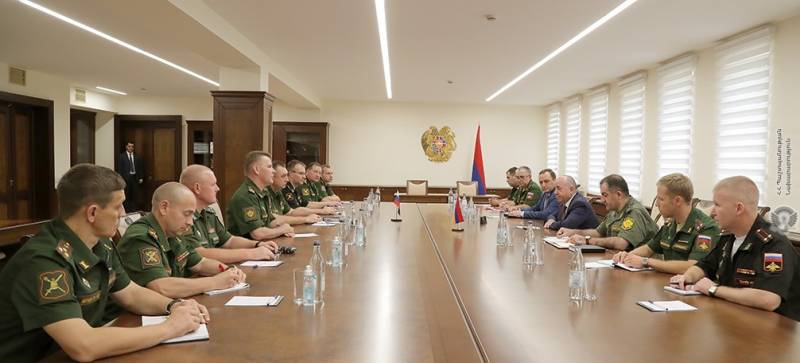 Another Russian military delegation is on a visit to Armenia. Moscow regularly interacts with Yerevan's military department to provide more defense and security assistance to its main regional ally. The delegation from the Ministry of Defense of the Russian Federation was headed by Major General Valery Zhilan.
The Armenian Defense Ministry reported:
A group of Russian military specialists arrived in the capital of Armenia for bilateral talks
The ministry issued a statement stating that V. Zhilan informed Arshak Karapetyan, the head of the Armenian Defense Ministry, in which direction the cooperation would move, and also noted the forthcoming volume of work. In turn, Karapetyan outlined a range of issues that are of primary interest to the Armenians.
Yerevan has deepened its already close cooperation with the Russian Federation after a ceasefire in Nagorno-Karabakh was reached with the mediation of Russia last year.
Since then, Moscow has deployed troops to the Syunik region of Armenia, which borders areas southwest of Karabakh that Azerbaijan has taken under control during and after hostilities.
In May of this year, Yerevan requested additional deployment of Russian army servicemen (as well as border guards) along the Armenian-Azerbaijani border.
Russian-Armenian discussions are aimed at assisting our country in the early reform and modernization of the armed forces of Armenia
- noted the former Minister of Defense of Armenia Vagharshak Harutyunyan.
Earlier, Sergei Shoigu assured Karapetyan of further assistance to Armenia from Moscow. It was also about the supply of Russian
weapons
Armenian army.
Defense contracts were signed between Armenia and Russia within the framework of the Army-2021 exhibition
- said Dmitry Shugaev, Director of the Federal Service of Russia for Military-Technical Cooperation
There is also information about the ongoing discussion of a new Russian-Armenian agreement on a joint air defense system. The joint air defense system has existed since the late 1990s, and it underwent modernization in 2015.
Earlier in Azerbaijan, some individuals heard accusations against the Russian Federation that Russia was selling weapons to Armenia. The logic is strange. After all, Azerbaijan is not content with weapons exclusively of its own production, but actively purchases them abroad, including in Turkey and Israel.
Twitter / Ministry of Defense of Armenia