Insurgents allegedly ambush Taliban in Panjshir gorge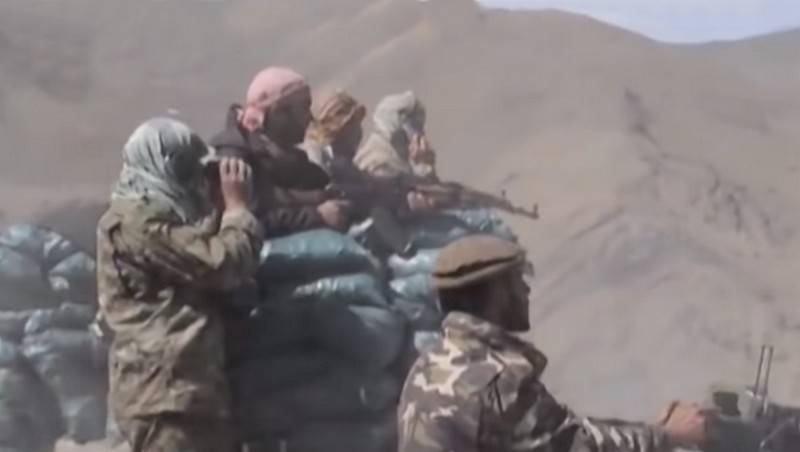 After the rapid seizure of Afghanistan by the Taliban [* terrorist organization banned in the Russian Federation], Panjshir province remains the only organized hotbed of resistance to the militants who have taken over power in the country.
It is a mountainous region with a small monogenic population: about 170 thousand people live here, of which 98,9% are Tajiks. From the Dari language, Panjshir is translated as "five lions". A native of this region, Ahmad Massoud, who stood at the head of the resistance to the Taliban *, was also nicknamed "the lion".
The militants have blocked the only road linking the valley with the outside world and are trying to break through the mountainous terrain into the interior of Panjshir. Allegedly, the battle with them by local militias was captured on video. The Taliban *, while crossing the gorge, were ambushed and found themselves under enemy fire from the commanding heights; The "control" shot was from the RPG-7.
Battle of the Panjshir resistance and the Taliban on the border of [pass] Hawak, [city] Andarab and Panjshir, 31.08.2021/XNUMX/XNUMX
- says the message of the rebels.
The fighting on the approaches to the valley unfolded on the evening of August 31 in three directions - from the north, south and west. In the western sector, the main task is to break through the Havak pass, the Taliban attack from the Andarab, while the Panjshiris hold control of the city. According to the resistance, the attack was repulsed, the Taliban lost 40 fighters, another 10 were captured; on the opposite side - one dead, two seriously wounded. If the Taliban succeed in breaking through in this direction, the region will be cut into two parts.
It should be understood that battles are fought not only on the battlefield, but also in the information space. Therefore, there is no certainty who exactly and where the uploaded video was filmed.