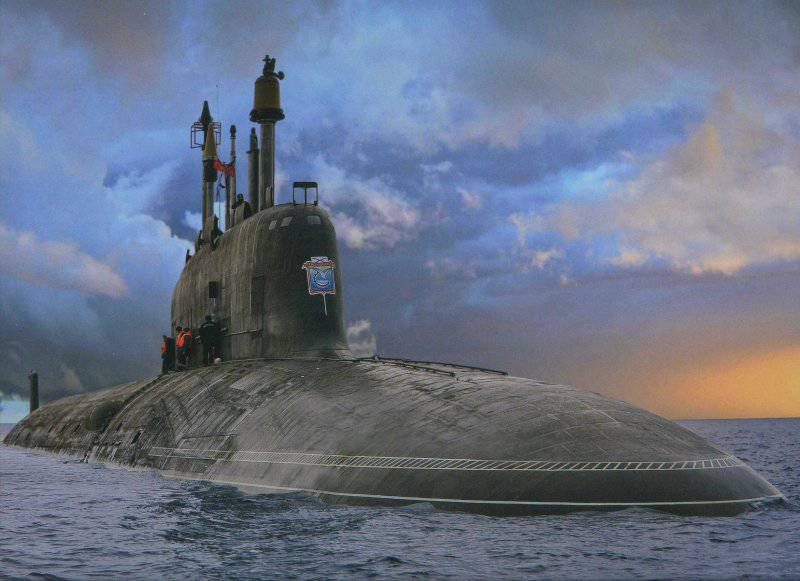 The head modernized multipurpose nuclear submarine (NPS) Kazan, an advanced 885M project (cipher Yasen-M), being built at Sevmash for the Russian Navy, will be the first 4 generation submarine with a completely new technical equipment that has no analogues in the Russian military shipbuilding. This was announced today by ITAR-TASS by a source in the military-industrial complex.
"Unlike the 4-generation Yuri Dolgoruky and Alexander Nevsky upcoming strategic submarine rocket carriers of the Navy (955 project, Borey cipher), for which for the first time applied technical stuffing is no more than 40 percent, all systems, components and mechanisms will be completely new, never and never used before. This is a completely new high-tech equipment, which has no analogues in the Soviet and Russian military shipbuilding, "said the source.
"Kazan" submarine in its tactical and technical characteristics will be comparable to the most high-tech and most expensive American multi-purpose submarine of the Sivulf type, and should even surpass it in noise level and some other parameters, recalling that Americans the high prices of these of their submarines stopped their further construction.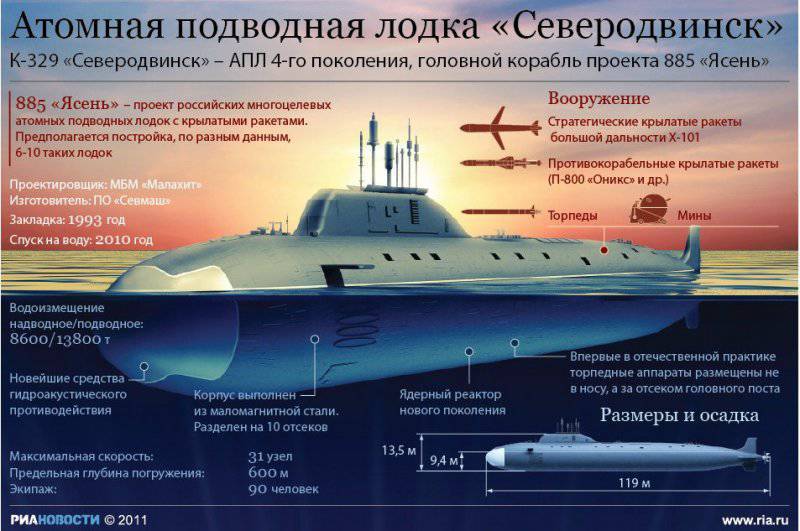 He explained that the improved 885M project provides for "the use of new elemental base of radioelectronic equipment and weapons, as well as an increase in the combat effectiveness of nuclear submarines" (ultra-low noise level and increased detection range of submarines and surface facilities, first of all submarines and surface ships). The tactical and technical requirements for the construction of modernized Kazan-type submarines also include the requirement to equip them with high-precision ultra-high-speed rocket armament. "
Another source in the Russian defense industry told ITAR-TASS that the construction of Kazan was complicated by the lack of contracts of the lead contractor of the order - the United Shipbuilding Corporation (USC) with allied companies - cooperation enterprises for the supply of components.
"USC is set up to sign contracts with about a hundred contractors, leading cooperation companies, as quickly as possible. During negotiations, USC, having reduced its profits, for its part, requires subcontractors to lower prices for their products so that everyone can meet the tight price parameters of the contract signed with the Ministry of Defense on the submarine. However, major suppliers of products for Kazan do not yet want to reduce their prices on the pretext that the contract with the Ministry of Defense, in which, according to their allegations, the military department, prices are indicated without Onomical justification, it was not they who signed, but the corporation, which should look for a way out of the situation. "
"Now the difficult process of USC negotiations with contractors, started back in November last year, continues. Negotiators need to quickly agree to catch up on the missed year and a half that went into the preparation of USC and Defense Ministry contracts on the 885M submarine, including on Kazan, - said the source.