Press: Russian patrol in Syria was stoned to protest Turkish bombing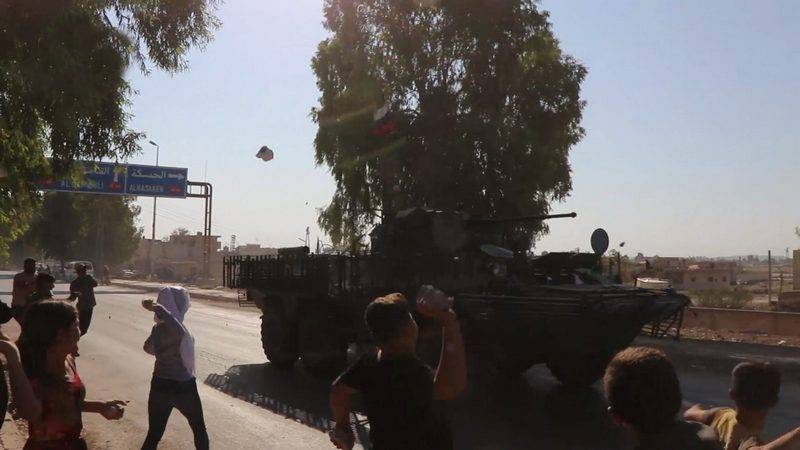 BTR-82AT, the serial production of which has recently been transferred to the company "VPK"
The local population of the town of Tel Tamra, located in the Kurdish enclave in northeastern Syria, threw stones at it during the passage of a convoy of Russian military equipment. Thus, they expressed their dissatisfaction with the Turkish bombing.
This is reported by the North Press Agency, which positions itself as an independent Syrian publication. The incident allegedly took place on 30 August. The population began to show open discontent in the area on August 19, when residents of three settlements staged a sit-in at the military base in Tel Tamra, where Russian units are stationed. Thus, they demanded an end to the incessant Turkish bombing.
As explained, the last straw was the actions of the Turkish side, which cut off the town from the supply of water and electricity. It is not possible to restore communications, since the repair brigades are fired upon by Turkish troops.
At the same time, according to residents, the Russian side has undertaken to promote a ceasefire. Similar actions by the local population against the RF Armed Forces in this area were already carried out in October 2019.
Tel Tamra and its surroundings have been at the forefront since the end of 2019. Since that time, Turkish troops and associated Syrian militants have continued to shell areas near the front line, despite the existence of a Russian-Turkish ceasefire agreement.
- indicated in the press.
Dozens of locals from # Syria #Tel_Tamr pelted a Russian patrol with stones to protest their silence over repeated Turkish bombardment of their areas and the resulting cutoffs of water and electricity.
Read more: https://t.co/QiHEphZmuG pic.twitter.com/yyhhyhydcil

- NORTH PRESS AGENCY - ENGLISH (@NPA_English) August 29