"Saiga" on the basis of "Toyota" instead of UAZ-469: in Ukraine presented an SUV to replace the Soviet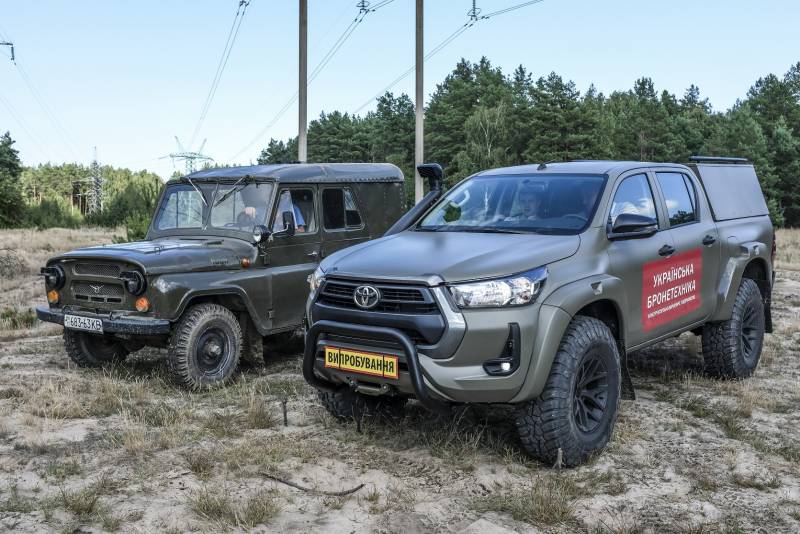 The tender announced by the Ministry of Defense of Ukraine for the development and supply of an off-road vehicle for the Ukrainian army, which will replace the Soviet UAZ, has come to the stage of providing ready-made samples. According to the Ukrainian media, the first to cope with the task was the company "Ukrainian armored vehicles".
The company's specialists did not bother too much with the creation of their own car, taking the Japanese Toyota Hilux SUV as a basis and modifying it under the terms of reference. It is reported that the new car, created within the framework of the ROC "Saigak", namely, this name will be given to the SUV that won the competition, "adapted for use by the Ukrainian military."
It is emphasized that when it was created, the experience of the countries of Eastern Europe, which had already replaced the Soviet UAZ-469, was taken into account, and the requirements of the Ukrainian military stationed in the Donbas in the JFO zone were taken into account.
According to the Ukrainian edition "Militarny", specialists of the Czech company Glomex, which supplies vehicles to the Polish and Czech armies, had a hand in the creation of the new "Saiga".
According to the general director of "Ukrainian armored vehicles" Vladislav Belbas, the new SUV fully complies with NATO standards and is ready for state tests.
"Ukrainian armored vehicles" became the first company out of six that managed to submit its own development for the competition within the timeframe specified by the Ministry of Defense - by September 1, 2021. However, potential competitors have two more days before the specified date, so we are waiting
News
from Ukraine on new SUVs designed to replace the Soviet UAZ-469.
Ukrainian armored vehicles