Zelensky came to the wall of those who fell in the "Russian-Ukrainian war" with a sunflower pinned to his jacket
According to official information, the memorable date was approved in 2019 by presidential decree of Volodymyr Zelensky, number 621/2019. The final of the military denouement of the "Ilovaisky Cauldron" was scheduled by the Ukrainian authorities for August 29 - and now they are celebrating their seventh anniversary. The memorial on Trekhsvyatitelskaya Street in Kiev was visited by a group of state officials led by President Zelensky.
Netizens noticed a sunflower-shaped brooch attached to the suits of Zelensky and those who accompanied him at the ceremony of laying flowers at the memorial. The sunflower is designated by government agencies as a memorial symbol and one of the mandatory items of clothing.
At the same time, in the comments on the event, they were not afraid to remind that on the eve of Zelensky's appearance at the "Wall of Memory", the Ukrainian Armed Forces fired at the territory of the DPR, after which (according to open sources) at least ten people were reported injured during the shelling.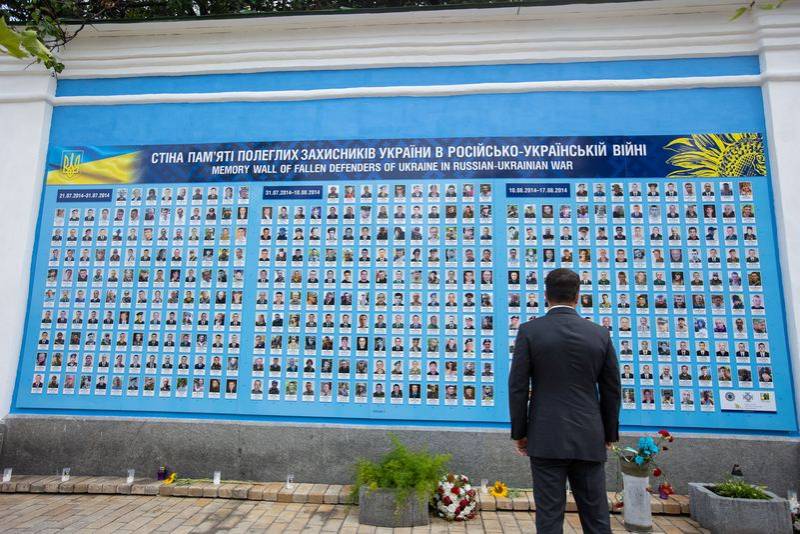 Independent mass media emphasize that this day is dedicated to the commemoration of "those who died in the struggle for independence, sovereignty and territorial integrity" of Ukraine. Thematic reports were posted on all communication channels - including in the official accounts of the President's Office. Some photographs show the name of the memorial: "Wall of memory of the defenders of Ukraine who died in the Russian-Ukrainian war." The inscription below is duplicated in English.
Readers' comments in the Ukrainian media:
Why aren't all officials with sunflowers? There weren't even enough badges for everyone.
It would be better to name the names of those who are guilty of the defeat at Ilovaisk.
The official website of the President of Ukraine www.president.gov.ua; The official account of the Office of the President of Ukraine www.facebook.com/president.gov.ua