Green Wars and One-Time Communication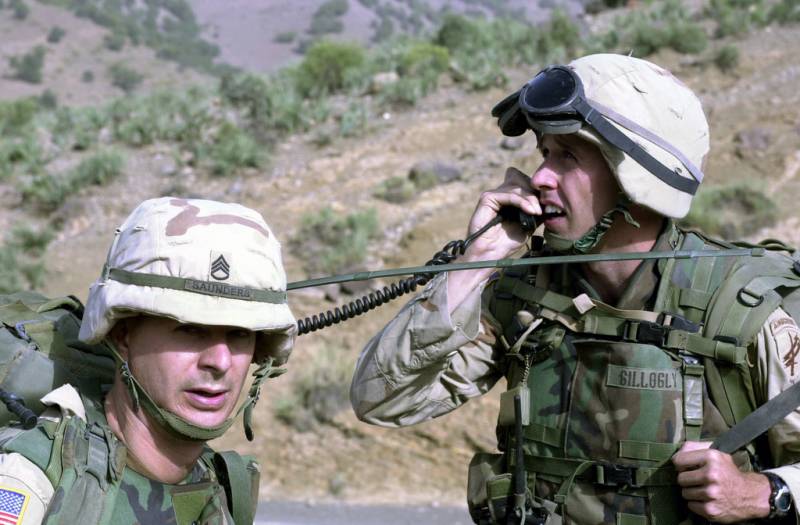 That's how I talked to my commander, and then ... well, let's say, you were taken prisoner, and this radio was taken away from you. However, if the next DARPA program is successful, the enemy will not be able to use it! Photo The US National Archives
Green Wars.
All
story
human relationships, one way or another, but comes down to the destruction of their own kind, and with the greatest possible efficiency. But humanism is developing at the same time. So if earlier, for example, during the Second World War, those killed per day were counted in the thousands, and this did not surprise anyone, now it has come to the point that even 2-3 people are reported by all the leading media outlets. That is, the price of human life has increased many times over.
And maybe, when it grows even more, the wars will end by themselves, as economically unprofitable?
Green trend
It is unlikely that anyone can answer this question so easily. However, there is indeed one curious trend in the evolution of modern weapons, the strengthening of which may well become dominant in the very near future. This is an increase in the environmental component of modern weapons. That is, in the future, developed countries may well take a course towards the creation of high-tech types of weapons, with their use causing minimal damage to the environment.
Accordingly, such types of weapons will not be affordable for underdeveloped countries. And this will be very important, because "green
arms
"For" green wars "may well be given the green light, but all other types of it can easily be declared a weapon of terrorists and banned for use. That is, the situation will be as follows: you use a "green weapon" - it means you are a peacemaker, if you have something else in your hands, then, accordingly, you are a terrorist and by virtue of this alone you are subject to destruction.
And such a division into friends and foes can be very convenient, as well as the search for all those who can be classified as terrorists and destroyed with impunity to the delight of the inhabitants of all countries and peoples. "They" and "we" are their favorite subdivisions. And here it is, in the very near future, it may well find its embodiment in a variety of weapons systems.
However, the Defense Advanced Research Projects Agency (DARPA) of the US Department of Defense has already been doing this, and for quite some time. So, today it is working on a new and very interesting project, according to which it is required to create such military electronics for the battlefield, which would be fragile, that is, it would function for a strictly defined time, and then would self-destruct.
In Soviet times, a similar situation with fragile things was described with great humor by science fiction writers Boris Zubkov and Yevgeny Muslin in the story "A fragile, fragile, fragile world ...", published back in 1966! However, everything that they wrote there, including the universal trading principle that they themselves invented: "They buy fragile things more often!" But today we are all witnesses of the triumph of this principle in practice. For example, household appliances that would have served for decades have long been replaced by products that, at best, last 1–3 years, after which they are ruthlessly thrown away and replaced with new ones.
Practically the same is the case with sophisticated military electronics, which are used by all modern armies, from portable tokivoki to all kinds of remote sensors and telephones. Once upon a time, these were very expensive devices that had to be protected. But today they are collected at such a low cost that, firstly, they no longer need to be protected, as before, and secondly, there are so many of them that it is easier to replace them with new ones.
And, by the way, a similar situation already took place during the Second World War.
Then the British Stan-gun submachine guns were produced at such a cheap price and, in addition, were produced in such huge quantities that no one was involved in repairing them. If something broke in them, then they were simply put under the tank in order to break it down completely and immediately write off, and get new ones from the warehouse.
A very similar situation is currently taking place in military electronics. Now it is almost impossible to deal with the restoration of every electronic device: it has exhausted its resource or has broken down. There are simply too many of them. In addition, repairing them requires high professionalism and a stock of components. That is, it is easier to throw out such a device than to waste time and energy on repairing it. Moreover, such a device may well fall into the hands of the enemy, and he will take and use it!
DARPA specialists note that on the battlefield after conducting military operations, combat electronic devices lost by soldiers are often found (in this case, we are talking exclusively about the US army and the armies of its allies), and all of them can fall into the wrong hands, and the consequences can be very unpredictable.
Disappearing programmable resources
That is why DARPA believes that it is necessary to make sure that the combat electronics, after the need for it has passed or the soldier simply lost his electronic device, disappears. Therefore, the program is called so: "Disappearing Programmable Resources" (VAPR). And its goal is nothing more and nothing less than to cause another revolution both in military affairs and in electronics itself, since it, this very electronics, will have to dissolve in the environment.
At the same time, the VAPR devices themselves should not be inferior in strength and functional characteristics to conventional electronic devices, but if necessary, new devices "will have to partially or completely destroy themselves." Such electronics will be useless for any enemy, however, commercially, such developments will certainly find use for themselves.
And here's what Alicia Jackson, VAPR program manager, said about the new trend:
"DARPA is looking for a way to make electronics that are needed for as long as they are needed. Such devices can be disabled by a remote signal sent by a special command. "
Note that the prospects with the development of this direction are indeed opening up the most impressive.
So, the offensive of the same Basmachi in Central Asia in the 30s of the twentieth century was largely suppressed after the NKVD began to supply their bandit formations with dynamite cartridges instead of gunpowder! They exploded at the most inopportune moment, crippled and killed people, but most importantly, they undermined confidence in their weapons. After all, how will you fight when you only think about how your weapon would not explode in your hands?
The first direction in the development of such disposable devices is associated with the use of miniature charges with remote control, which can be placed in mobile phones, electronic binoculars, "indestructible" army laptops and even in electronic sights for small arms. All these seem to be valuable trophies that the enemy, especially one belonging to the "poor army", will immediately want to use. But he does not know that it is enough just to give a prearranged signal, and all his trophies will turn into a heap of trash. And maybe (and this is quite possible), they will also inflict damage on him! You can also make these devices become unusable after a certain number of operations.
For example, a mobile phone can fail when trying to change the memory card on it, or even just from one touch of a person who, well, say, is not microchipped, like a soldier of the US Army. There is a microchip implanted under the skin at the base of the thumb - the device works. There is no microchip - and it will not work, and after some time it will also light up, and besides, it will burn out without a trace!
Well, in order to provide their own soldiers with new disposable devices on time, all the data about who received what, and when, will be stored in the memory of computers, which will take timely care of delivering new equipment to them to replace the lost or released out of service.
And the DARPA program is also aimed at developing such sensors that would be able to interact with users of various military electronics at a distance and, if necessary, turn it into worthless scrap. This is a difficult task, but there is still work to be done. In addition, it is also a very profitable direction for military industrial corporations. After all, fragile things are really bought more often!