A dog's life in the American army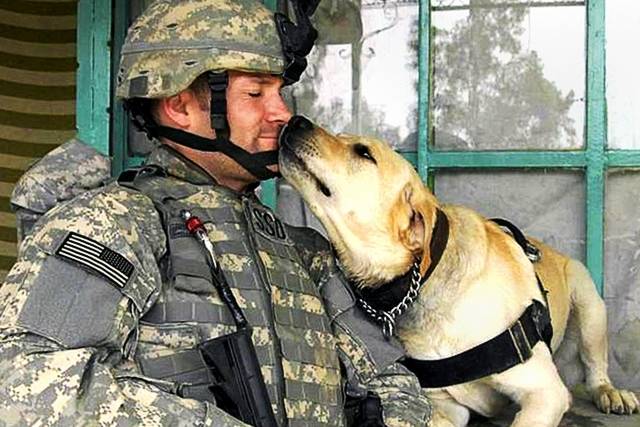 For the second week, the domestic media has been haunted by the evacuation of their service dogs from Afghanistan by the Americans. Some are ironic, others are indignant.
Why were the dogs taken out and the loyal American henchmen left to be devoured by the Taliban?
I explain
All service dogs in the US Armed Forces are full-time military personnel with the rank of sergeant or higher.
All dogs on duty are non-commissioned officers. This practice began as a means of deterring curators (guides, handlers) from mistreating them, as they are assigned a higher rank than their partner.
Because they are superior to their handler, disciplinary action against anyone who mistreats them will be significant, which will help ensure that service dogs are well cared for.
Dogs are not equipment, they are partners, although they are federal property.
Therefore, of course, according to American law, dogs have priority for evacuation from a war zone in comparison with Afghan or other other civilians, foreigners.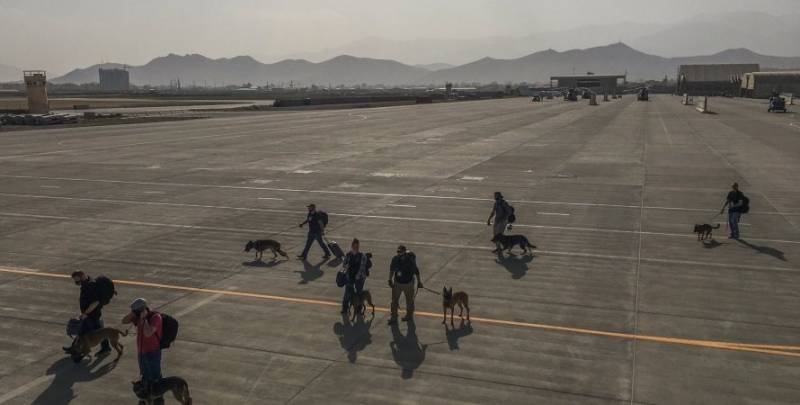 Photo: ABC News. Evacuation of dogs from Kabul
Moreover, the dogs were evacuated even before the mass crush of people, clinging to the landing gear and wings of aircraft, began at the airport of the capital of Afghanistan.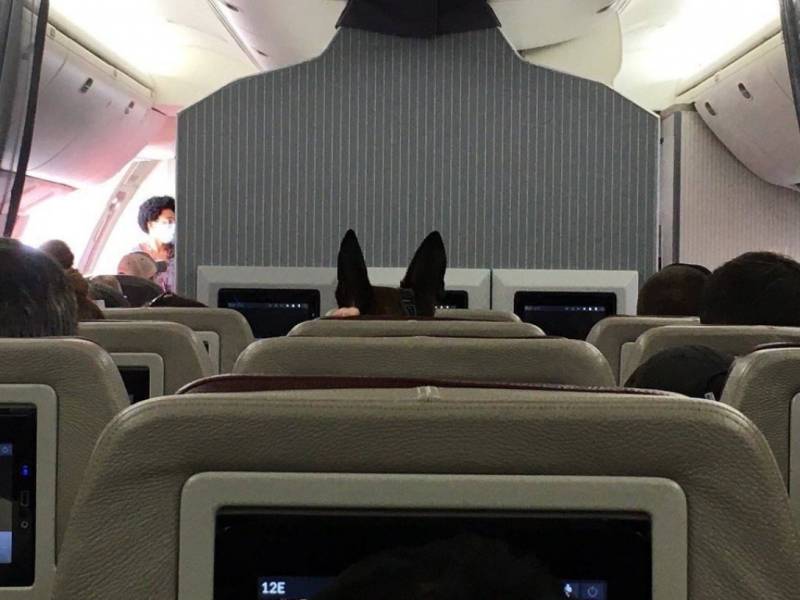 And they flew formally, in accordance with their military position, in chairs on board a special flight between servicemen and employees of the embassy.
History
After the attack on Pearl Harbor, the US Army received the first nine American-trained guard dogs.
Of these nine dogs, the United States Army Canine Corps (K-9) was formed. Before the end of the war, its population increased to more than 10 dogs.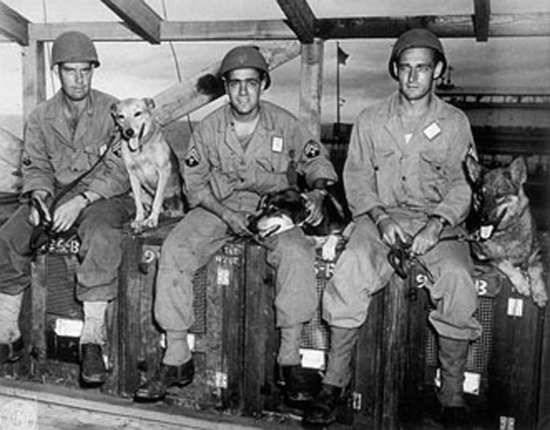 K-9 Division, Hampton Roads Military Police, World War II. Military Service Dogs first entered service in March 1942 for the K-9 Army Corps.
World War I, World War II, Afghanistan, Iraq, Iran, endless protests and demonstrations - there are many wars and conflicts in the world where American fighting dogs can carry out their mission. Too many. There were heroes in these wars, and these are not only people.

The world knows almost nothing about many heroes; about heroes who save the lives of soldiers at the cost of their lives; about heroes who melt rough male hearts, hardened by war; about heroes who inspire the soldiers with inspiration and courage with their devotion and loyalty.
They have a long and varied history of service in the United States.
When most people think of modern military service dogs, they can imagine the Belgian Malinois sniffing out mines and bombs at a forward operating base somewhere overseas. This is one aspect of the job, but it is far from the only task that military service dogs perform, and it is far from the only type of military service dogs that serve the American state.
For service dogs, this task is similar to a game. Their goal is to please their owner or partner and receive a reward for a job well done, whether it be detecting explosives, finding an object, or any other task, even working on a figurant.
Facts
Dogs have long served in the US military.
During the First World War he became famous
Stubby the dog is the living mascot of the 102nd Infantry Division
... With his bark, he warned of approaching enemies and gas attacks. For this, the dog was promoted to sergeant and awarded a medal.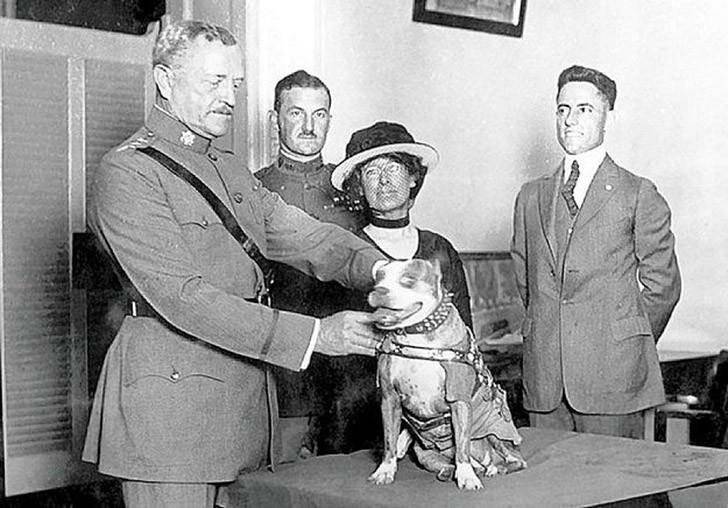 The Heroic Dog receives the award from General John Pershing. The newly minted sergeant looks very solid.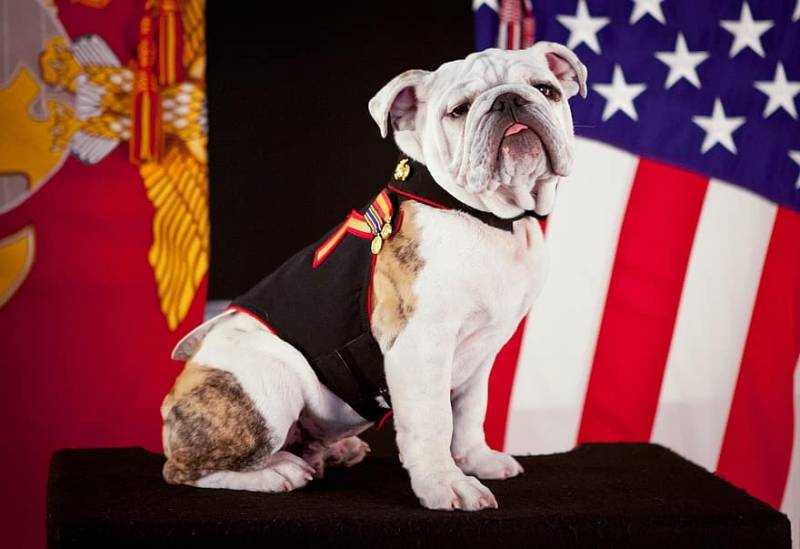 And after the First World War
the mascot of the United States Marine Corps is the bulldog
.
Traditionally, the American military prefers to recruit dogs of several breeds.
In the US Army, Labradors and Shepherds are most often served - German, Dutch and Belgian, and in the Air Force and
navy
- small dogs with a keen nose, such as beagles and fox terriers.
Initially, the rule was introduced that
all dogs on urgent service receive a military rank:
the army accounting department counted them as privates.
Today, there are about two thousand dogs in the US military service. The cost, for example, of a sapper dog who has completed a full training course, reaches 150 thousand dollars. However, the military believes that they are invaluable: after all, such dogs are capable of detecting up to 98% of explosive devices.
All military service dogs and their handlers are trained by the 341st Training Squadron located at Lackland Air Force Base in San Antonio, Texas.
The Department of Defense's Military Veterinary Service for Service Dogs is a subordinate unit of the Army Public Health Center, which is responsible for the medical care of approximately 900 dogs / puppies at Lackland Air Force Base. This team includes 14 veterinarians, 23 technicians and six non-medical support staff.
About 10 percent of the Department of Defense's military service dogs are bred in Lakeland. The rest were purchased from about 30 suppliers in the United States and abroad.
Irreplaceable
Why not replace them with humans or machines?
In short, it would be practically impossible.
These dogs are a terrific asset.
Many scientists over the years have tried to replicate the abilities of these dogs. In vain! Their olfactory glands are 10 times more sensitive than any piece of equipment we've been able to develop. So the job of looking for explosives or drugs will never be replaced.
robot
.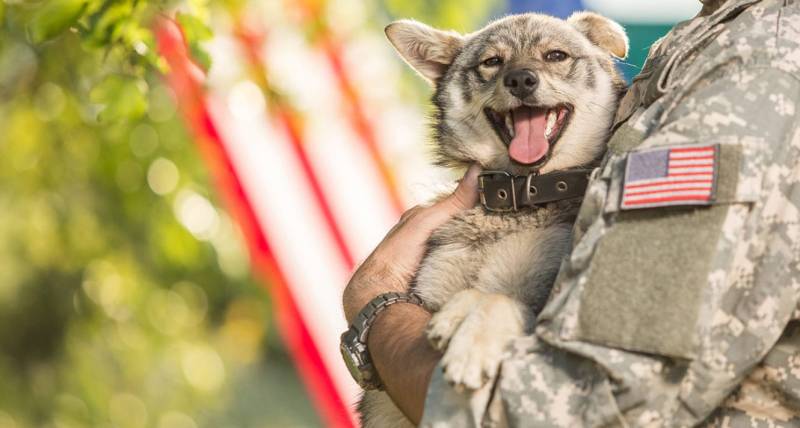 There are also intangible considerations:
Military service dogs are valuable companions for their trainers and compatriots, and the bond they share with their fellow humans often lasts long after the dog has completed its service life.
Breeds and specialties
While German Shepherds and Belgian Malinois are the two most common breeds of working dogs, there are other breeds in the K-9 program to suit different tasks and conditions.
The two main targets of military service dogs
- is the detection of drugs, explosives or people; and patrolling. Many dogs in the Department of Defense program have a dual purpose and can perform both basic tasks.
Of course, this is not the only thing military service dogs are trained for. From time to time, military service dogs are even trained to skydive with parachutists or on their own.
Prepare
The Military Service Dog Program is based at Lackland Air Force Base in Texas with the 341st Training Battalion, where puppies receive intensive training in obedience and military skills, as well as working together with their owners. Only about 50% successfully complete their studies.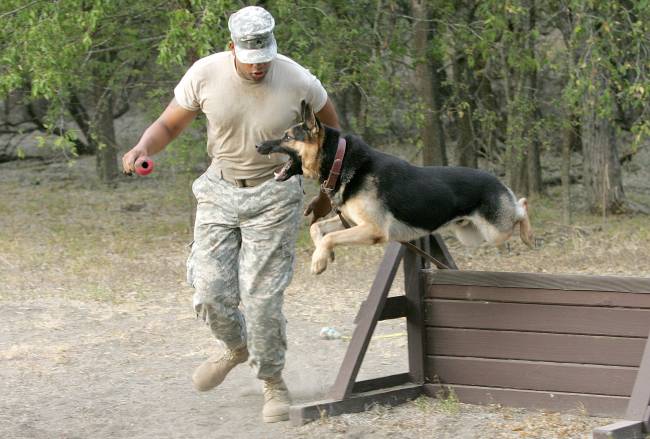 Lackland Air Force Base in San Antonio, Texas has trained guard dogs since 1958.
Today more than 1 dogs are trained at any time by a staff of 000 from all branches of the military. Sophisticated training methods are designed to use dogs' natural abilities for concentration and aggression to your advantage. German Shepherds and Labradors can detect
weapon
, bombs, gases and drugs more accurately than any military equipment available.
Military service dogs are not only chosen for their breeding or keen sense of smell, they must possess several other qualities. They should not have physical problems (such as hip dysplasia) and be motivated to reward.
Dogs suitable for military service
Military dogs should have an optimal level of aggression and excitability. They also need to be able to attack on command.
Heroic achievements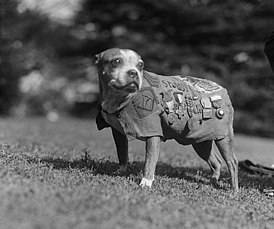 Sergeant Stubby, the most decorated military dog ​​of the First World War with his medals
As with all areas of the American military, there are certain individuals who have achieved fame for their heroic and intelligent service. War dogs are no exception.
One of the most famous military service dogs is the German Shepherd Laika, which protected its trainer from an explosion and lost a leg but survived.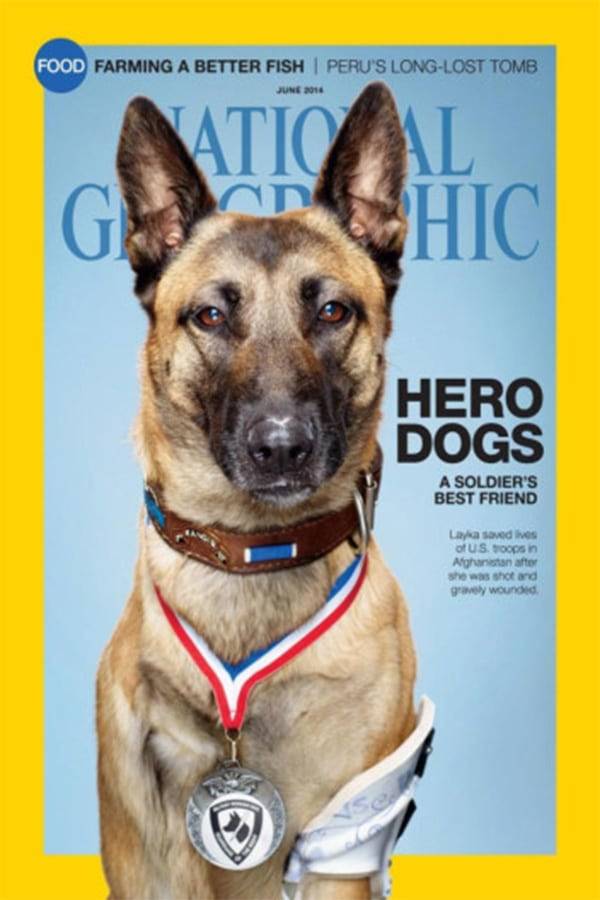 Laika on the cover of National Geographic
Against terrorists
In 2011, another war dog was attached to a bulletproof vest and taken by helicopter to a secret complex in Pakistan. There, the dog helped the Navy SEAL team put an end to one of the largest human hunting cases in
stories
humanity and kill Osama bin Laden.
The dog was not alone, but it was she who distinguished himself.
According to military experts, the dogs were wearing special body armor, into which a shock-resistant night vision camera, a special sensor, which can be used to monitor the movements and location of the four-legged fighter, was mounted. The armor of the vest allows you to protect the dog from bullets with a caliber of 9 to 45 mm. Such a vest, according to experts, costs at least 30 thousand dollars.
In addition, the Americans received the first pictures of the mansion in Abbottabad with the help of another highly sensitive video camera mounted in a dog's helmet and allowing people to see everything that the dog sees.
Another dog pursued ISIS leader Abu Bakr al-Baghdadi in 2019
which led to the death of al-Baghdadi when he detonated the suicide vest he was wearing. The dog was injured in the explosion, but has since returned to service. The dog's identity is kept secret, even though the dog is called a hero, and a picture of it was tweeted by President Donald Trump, who named him Conan.
Donald Trump, speaking with a statement on the elimination of the leader of the Islamic State terrorist group Abu Bakr al-Baghdadi in Syria, separately dwelt on the "beautiful dog", which, according to him, did an excellent job with the combat mission. On his Twitter, he also declassified a photo of a dog.
But where is Trump and his account now?
There is also a photo not found by the author. Therefore, I bring a photo archive, with another hero.
US Army Sergeant with Malinois Service Dog
After that, dog breeders in the United States reported a rapid rise in prices for the Malinois breed, one of which participated in a special operation to destroy the number one terrorist.
Innovative equipment
Dogs serving as part of the elite army rangers may soon receive new tactical vests and additional equipment for completing tasks.
The US Army Special Operations Command is looking for ideas to equip the dogs of the 75th Ranger Regiment with improved vests, wearable sensors and video cameras.
This dog training program is called Multipurpose Tactical Gear (MPC).
Command is committed to giving dogs tactical vests
, which, for example, will help them carry out missions with the rangers in a helicopter.
They will also be designed to help leverage support for lower-level missions, such as compatibility with a new wearable video camera system that can provide real-time footage.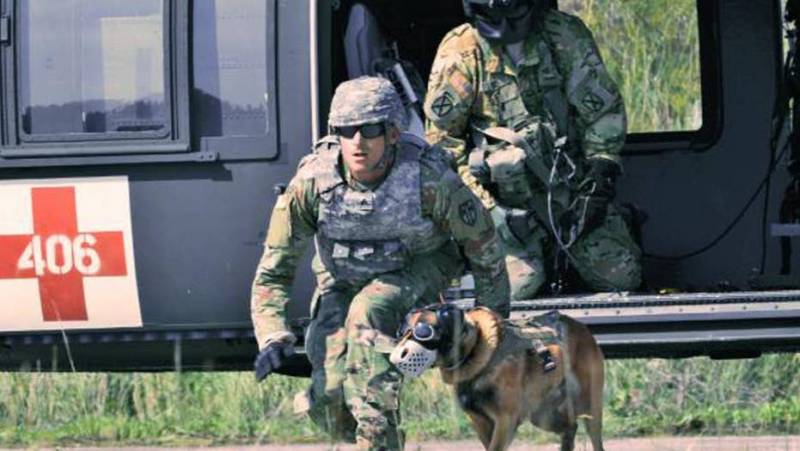 The Rangers Regimental Canine Program trains versatile dogs and their trainers. They possess a range of skills to support vital ranger combat operations in often challenging environments.
Military service dogs are used for a variety of roles including tactical operations, patrolling, detection, and specialized search.
Hearing protection
Until now, available hearing protection systems have been rigid, cumbersome, and difficult to install on a dog, with limited effectiveness in canine hearing protection testing.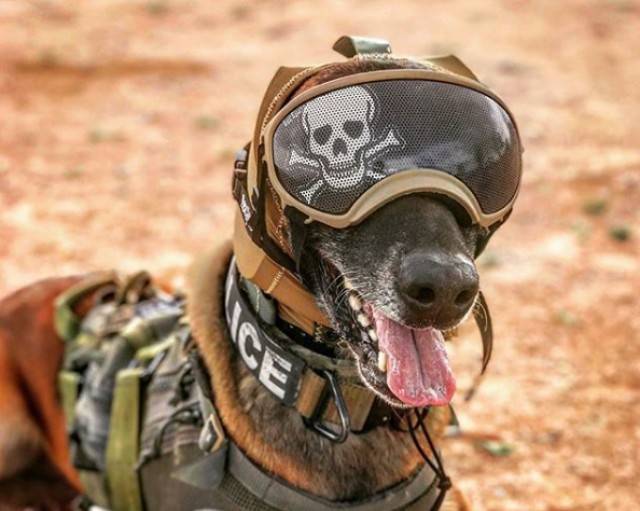 The Dog Hearing Protection System, which resembles a tight-fitting hood, evenly distributes the pressure needed to keep the dog hearing protection in place.
The system uses lightweight, high-quality sound-absorbing materials to block unwanted sounds. Unlike conventional canine hearing protectors, this solution is made from flexible materials that conform to the unique shape of the dog's head. This flexibility ensures proper sealing around the ear and maximum noise cancellation.
The headgear, which resembles a tight-fitting hood, evenly distributes the pressure needed to hold the hearing protector in place, avoiding the problems of harness. It is also compatible with other equipment used by service dogs, such as goggles.
Virtual reality glasses
Trainers give commands to dogs using commands, gestures or a laser pointer, but in all these cases, a line of sight between the person and the dog is required.
Command Sight has developed augmented reality glasses for service dogs under contract with the US Army Research Laboratory.
The development of the Command Sight company is intended to eliminate this disadvantage. The new technology is based on augmented reality glasses that simulate control by means of a laser pointer. Thanks to this device, the trainer will be able to remotely give commands to the dog by remotely indicating the target on the camera glasses.
Universal combat harness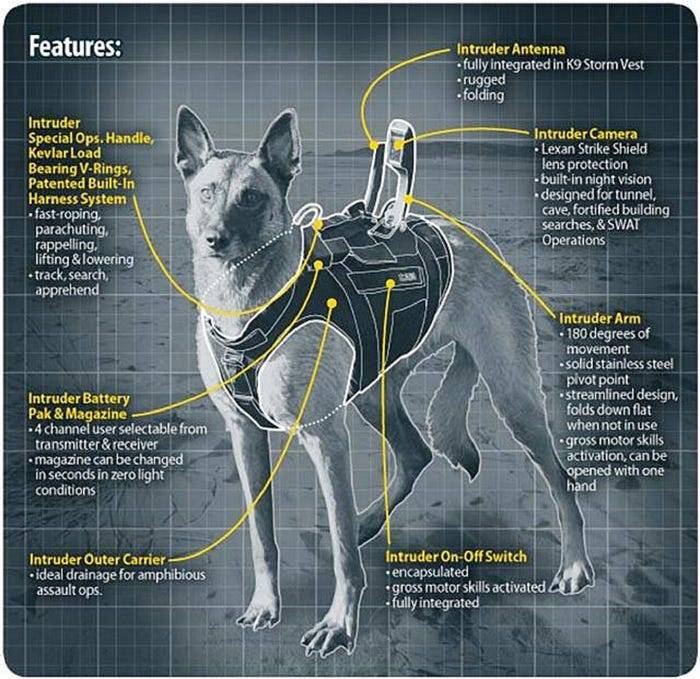 The harness was specially designed by K9 Storm, Inc. Besides the ability to parachute, the harness provides the dog with Kevlar armor and many other benefits.
Combat service
Army.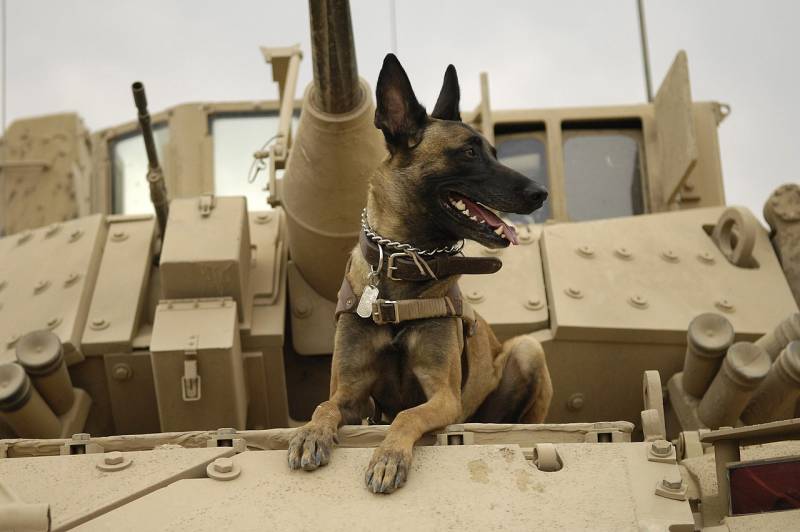 United States Air Force. Belgian Malinois in an M2A3 Bradley combat vehicle Iraq, February 13, 2007
Aviation.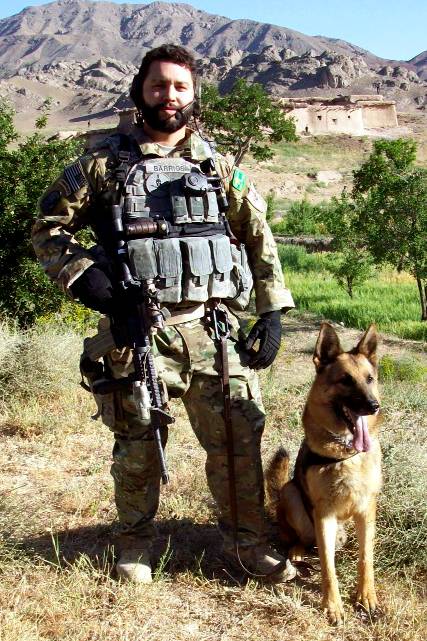 Eric Barrios, canine handler of the 36th Security Forces Battalion, received a Combat Medal for his actions during an ambush on his patrol team while serving with U.S. Army Special Forces, 3rd SWAT Team, Task Force Alpha from Fort Bragg, North Caroline. After the battle, Sergeant Barrios and his military service dog Rex discovered a small weapons cache of five AK-47s, an ammunition vest containing 200 rounds of ammunition, and a bag containing six RPG missiles.
Navy, marines.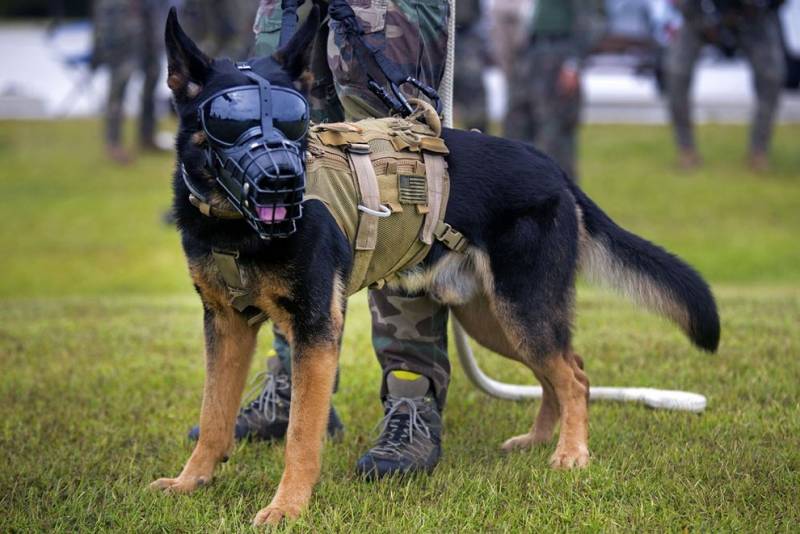 Marines and their service dogs during special training at Marine Corps Base Camp Lejeune.
Special Forces.
What is special about the canine squads used in fur seals is the way they are trained.
All Navy SEAL dogs undergo intensive training to meet the challenges of their fellow humans.
Special Operations Forces dogs are overwhelmingly chosen from one breed - the Belgian Malinois. Only 1% of candidate dogs are fully trained.
The elite seals of the US Navy use the Belgian Malinois, a breed similar to the German Shepherd Dog but smaller in size. These dogs are incredibly compact and fast, with 40 times more sense of smell than humans. Their small stature makes them ideal for skydiving and repelling missions with their handlers.
• Malinois are especially prized for their targeted aggression, speed, agility and ability to survive in extreme heat.
• These dogs are trained to shoot, descend from helicopters, ride a Zodiac boat or even skydive.
• In total, dogs and their training cost up to $ 40 each.
War dogs and their trainers play a vital role, especially in covert operations. But when these missions take place a few miles from the base, you have to jump with a parachute.
Drop landing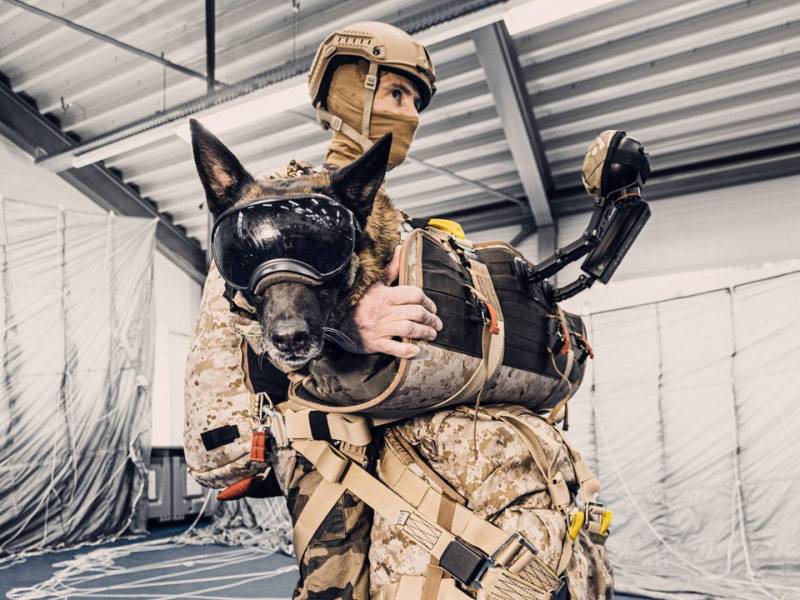 The dog is in a bag called a flight capsule. This capsule rests on a shell-shaped tray.
The bag is made with a soft lining for comfort. It opens evenly, and the dog lies down on it, folding both hind and front legs underneath - this is how military dogs are taught to lie down so that they can jump out faster when landing. The collar is closed with a special magnetic lock, which can activate the handler, but the dog cannot.
Once on the ground, an extremely ingenious system allows the flight capsule to "open like a flower and release the dog in less than 10 seconds after landing."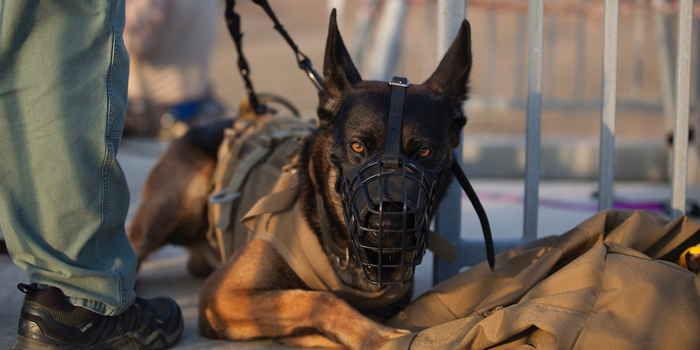 Partners are preparing to attack. Photo by the United States Marine Corps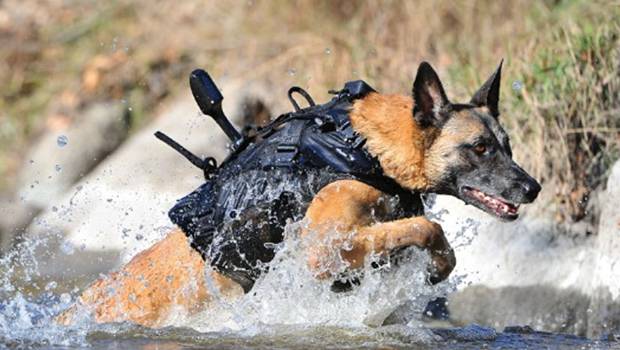 And this fighter is already going to the defendant.
Military medicine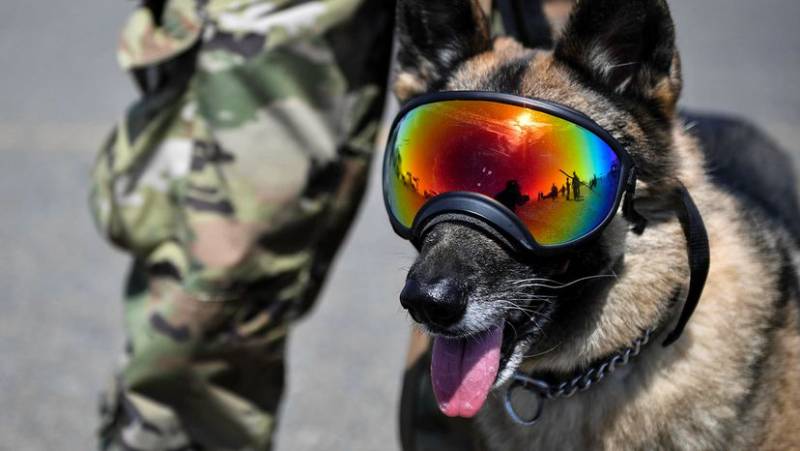 A U.S. soldier trains with a military service dog during a joint medical evacuation exercise involving pilots, sailors and soldiers at Ali Al Salem Air Force Base in Kuwait.
Fighting covid
Scientists from the CBC Combat Capability Development Center are working in partnership with the University of Pennsylvania and various dog training institutions to continue research on how dogs can help combat COVID-19 and other chemical biological threats.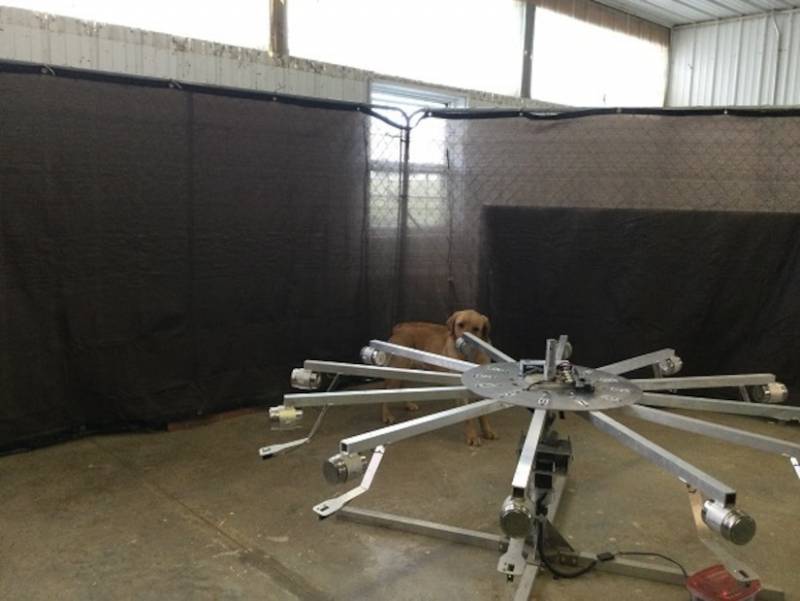 COVID-19 Search Training Simulator
The center's scientists say these dogs are capable of detecting a COVID-19 positive person a few days before a rapid test does.
"We are using this ability to detect odors and figuring out how far we can go into their detection limits," said Jenna Gadberry, a research associate at the center. "So far, the levels they've found have been amazing."
In the fall of 2020, a team of employees completed the first phase of the study, during which they collected urine and saliva samples from a person who tested positive and negative for COVID-19.
The scientists needed to find dogs that were agitated and motivated enough to smell VOCs, but focused enough to get the job done. At the beginning of the project, eight dogs were selected and entered the second phase. There are seven Labradors and one Belgian Malinois between the ages of 2 and 7. Dogs come from all over the United States, and there is even a dog from Mexico.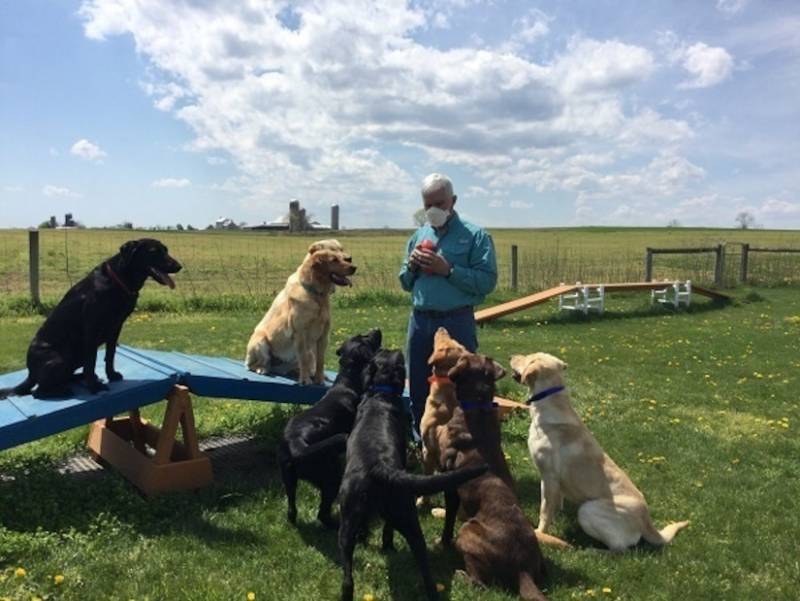 Collecting honors in the search for COVID-19
Detector dogs were selected based on a number of criteria, one of which was how motivated they were to smell COVID-19 (some other dogs did not want to do this in principle).
Scientists at the center hope to harness the power of dogs in an environment where large groups of people gather, including large ships, educational institutions, and events such as the graduation ceremony at the United States Military Academy.
"Using this opportunity would be beneficial for the army in many ways, especially when they have exercises over large areas or a large number of people who need to gather in one place. We are looking for a way to improve the safety of militants in large swarms by testing them while they are in this element, "said Dr. Patricia Buckley, one of the work's leaders.
Titles and awards
In addition to titles, dogs are awarded some of the most impressive medals and military honors. One of the highest ranking dogs sergeant (this is the rank) by name
Major Fosco
(this is the nickname), who was one of the first to perform a tandem jump from the air with his handler, 1st Sergeant Lalonde on September 18, 2009.
Sergeant Yeager
, an explosives detection dog for the Marine Corps, took part in nearly 100 combat patrols and was given a Purple Heart following an IED blast in Afghanistan in 2012.
Pension
Traditionally, as in World War II, American K-9s returned home after the war to their former owners or new adopters.
The Vietnam War was notable for the fact that American fighting dogs were "designated as disposable equipment" and were either euthanized or transferred to the Allied army prior to the US withdrawal from South Vietnam.
Thanks to the lobbying efforts of Vietnam War veteran canine handlers, Congress passed legislation allowing US K-9 veterans to be used after serving in the military. In 2000, President Bill Clinton signed legislation authorizing the "adoption" of these dogs, making the Vietnam War the only American war in which American fighting dogs never returned home.
Since the Robbie Act was passed in 2000, all war dogs are eligible for adoption at the end of their service life.
In 2016, new laws obliged the DoD to pay for the return home of all military dogs after service, which means that no dog will be left out of the homeland.
Adoption of a military service dog
Retired military dogs or those not fit for life in the military make excellent pets and are available for adoption.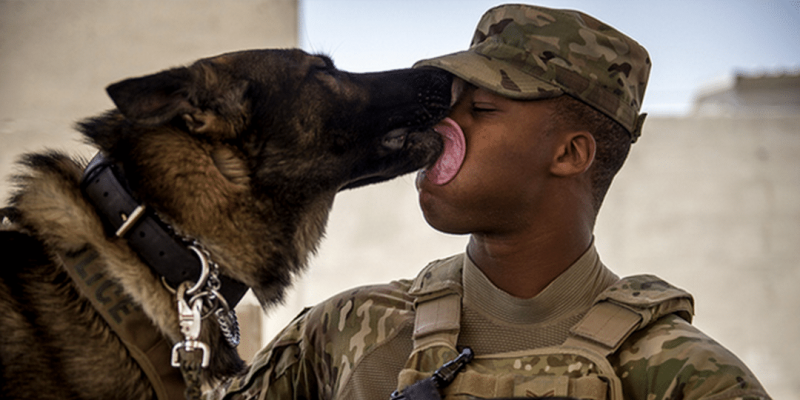 Fortunately, they are very popular and over 90% of them have been adopted by their former curators. There is a waiting list, but those who wish can contact the US Combat Dogs Association.
The United States Fighting Dog Association exists to provide lifelong practical support for military service dogs; their curators and foster families.
There are now long lines of civilians who want to give these veterans a loving home in which to retreat.
Memory of heroes
A U.S. Navy trainer with a military service dog at the National Fighting Dogs Cemetery, Naval Base Guam
The inscription from the memorial in memory of the fighting dogs of the Second World War ...
25 Marines warhounds gave their lives liberating Guam in 1944. They served as sentries, messengers, scouts. They explored the caves, found mines and booby traps. - Semper Fidelis Kurt, Yonnie, Coco, Banks, Skipper, Poncho, Tabby, Hobo Ni, Prince, Fritz, Emmy, Missy, Cappie, Duke, Max, Blitz, Arno, Silver, Brokki, Bursh, Pepper, Ludwig, Ricky, There (buried at sea at Cape Asan).

Created in their memory and on behalf of the surviving soldiers of the 2nd and 3rd platoons of sea battle dogs, many of whom owe their lives to the courage and self-sacrifice of these brave animals.
End of the road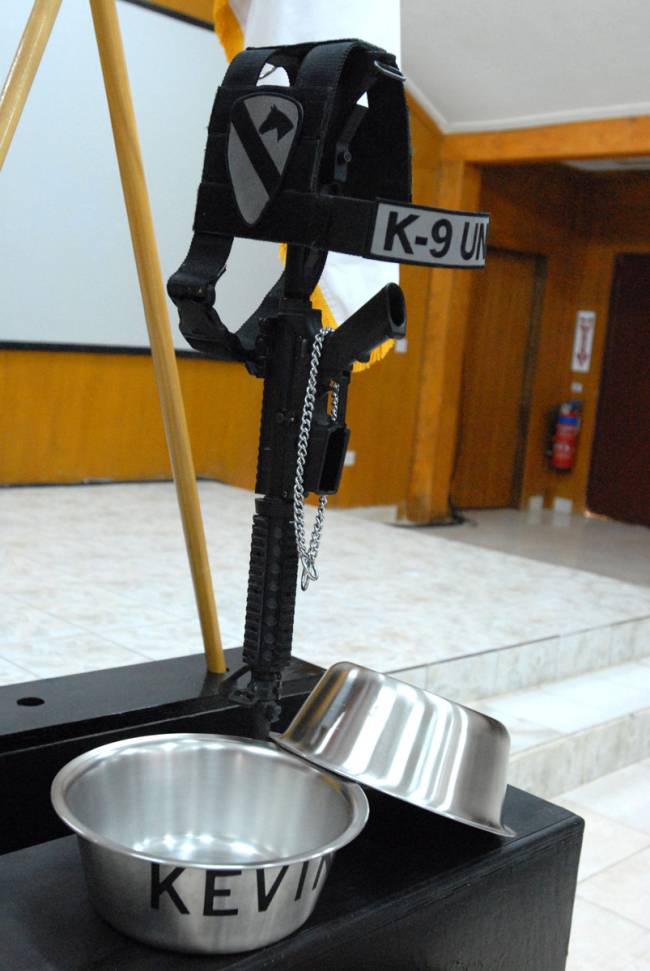 If a war dog dies in battle, he is honored by the entire squad. The feeding utensils are symbolically placed upside down, and the poem "Guardians of the Night" is read in their honor ...
Trust me, my friend, because I am your comrade.
I will protect you until my last breath
when everyone else leaves you and the loneliness of the night draws near
I'll be there for you.

Together we will overcome all obstacles and find
those who wish to harm others.
All I ask of you is compassion, caring touch
your hands. For your sake, I will give my life unselfishly ...

My days are measured by your comings and goings.
I wait for them every time I open the door.
When I am sick, you are the voice of caring. The voice of authority
when I did wrong.

I will quietly listen to you and not make judgments, and your
the spoken words will not be repeated.
I will always be silent, always alert, always faithful.
And when our time together is over and you continue your journey through the world,
remember me with good thoughts ...
ABC News, wikimedia.org, popsci.com, barkpost.com, media-be.chewy.com, sandboxx.us, army.mil, insider.com