"Now only BTR-82AT are being made": the Ministry of Defense made a choice in favor of protection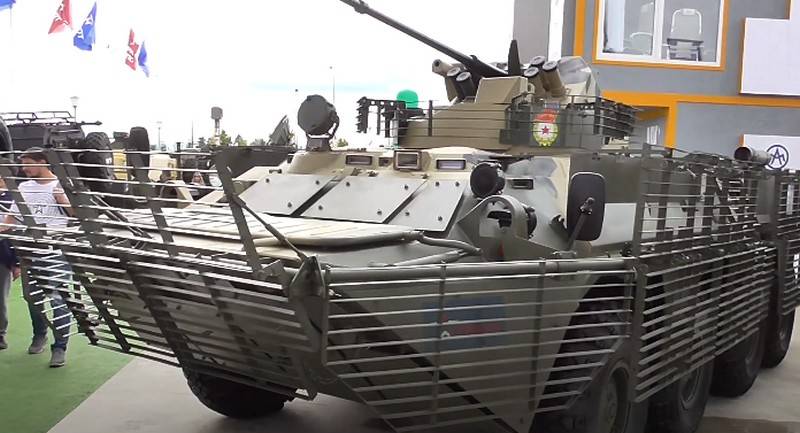 The Military Industrial Company has launched mass production of the newest armored personnel carrier BTR-82AT, which replaced the previous models at the production site.
"MIC" now makes only such machines for the Ministry of Defense [...] Thus, the standard BTR-82A is being changed and updated, and this is already being done in series
- said the head of the company
TASS
.
According to him, the new product has additional protection and is equipped with lattice screens, which allows it to withstand the effects of rocket-propelled grenades and guided projectiles. The new sighting system makes it possible to detect targets around the clock at a distance of up to 3 km at night and up to 2 km during the day. The new machine has an independent line of sight with stabilization, a rangefinder, a thermal imager, and it is possible to capture and track a target.
The BTR-82AT was created in the process of modernizing the BTR-82A. For firing at highly armored targets, such as a tank or a heavy armored personnel carrier / infantry fighting vehicle, the new vehicle is equipped with portable Kornet ATGMs. The new remotely controlled weapon station is an initiative development. It includes a 30 mm automatic cannon and a 7,62 mm PKTM.
The combat crew consists of 9 or 10 people. The turbo diesel engine has a power of 300 hp. The maximum speed on hard surfaces is 80 km / h. The weight of the updated car reached 17 kg, which actually deprives the BTR-250AT of buoyancy (dismantling of protective and lattice screens is required).
In terms of the composition of weapons, protection and the ability to solve tactical and fire missions, the BTR-82AT actually becomes an infantry fighting vehicle
- believed in the western edition of Army Recognition.
Previously, "VPK" was responsible for the production of new BTR-82A and the modernization of the old-built BTR-80 to their level. Judging by the stated statement of the head of the company, the release of this modification has been curtailed, the Ministry of Defense has made a choice in favor of the more protected BTR-82AT.