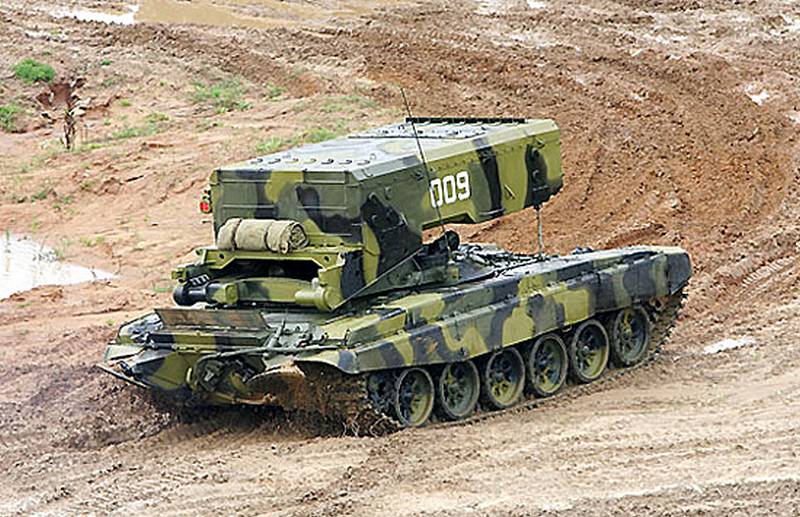 The heavy flamethrower system TOS-1A "Solntsepek" will undergo modernization, the modernization option is being developed by the specialists of "Omsktransmash" (part of UVZ), the work is nearing completion.
According to the general director of the enterprise, Igor Lobov, the creation of a modernized version of the TOS-1A "Solntsepek" will be completed in the near future, after which work will begin on the modernization of combat vehicles. It is emphasized that the modernized version of the TOS will differ significantly from the basic one, changes will affect security, communications, fire control, etc.
The fact that the Ministry of Defense made a decision to modernize TOS-1 "Buratino" and TOS-1A "Solntsepek" was reported last year.
Modernization of flamethrower systems was required due to changes in tasks for TOS and increasing range. The modernized vehicles will receive modern digital communication facilities, as well as equipment for a closed data transmission segment, which will allow them to be integrated into automatic control systems (ACS) of the tactical level. In addition, long-range ammunition from TOS-1 (Tosochka) will be adapted for TOS-1 and TOS-2A, thereby increasing the range of TOS to 15 km instead of the currently available 6 km.
At present, the RChBZ is armed with about a hundred heavy flamethrower systems of two modifications: TOS-1 "Buratino" based on
tank
T-72 and the improved TOS-1A "Solntsepek" on the T-90 chassis. All complexes in service will be modernized. The combat vehicles will undergo mandatory modernization during the repair process.