In Germany, campaign posters appeared with the Kaliningrad region included in the Federal Republic of Germany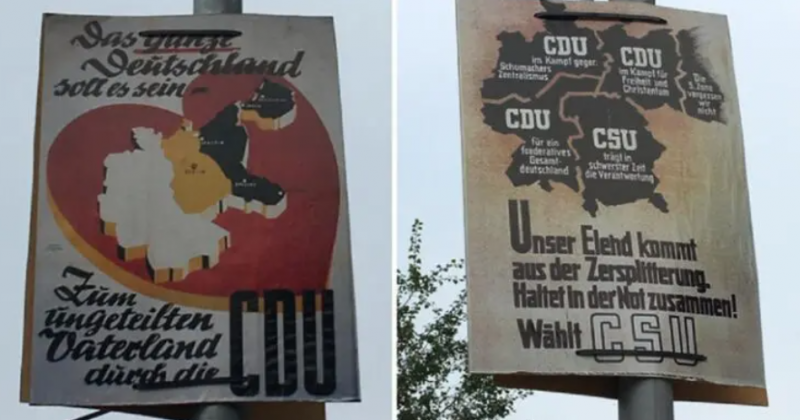 A loud political scandal erupted in Germany on the eve of the parliamentary elections. In one of the German cities, propaganda posters of the Christian Democratic Union (CDU) with the Russian Kaliningrad included in Germany were hung.
72-year-old propaganda posters, campaigning for the Christian Democratic Union (CDU), appeared on the streets of the city of Teterow in the federal state of Mecklenburg-Vorpommern. The posters depict the territory of Germany before the war, i.e. with the territory of Russian Kaliningrad and Polish Elblag. The inscription on these posters says that "the whole of Germany must become the undivided Fatherland through the CDU."
It is noted that these are copies of propaganda posters from 1949, when the CDU, created in West Germany in 1945, tried to attract voters by demonstrating "
historical
connection of generations ".
It is not known who hung these posters, but the CDU party itself has already disowned such "advertising". As the representative of the party Hannes Dettmann said, the CDU has nothing to do with this.
They are misleading and should be removed because they are not approved by the CDU.
- the media quoted Dettmann's statement.
The Rostock Prosecutor's Office will investigate the fact of "provocative agitation". In the meantime, Christian Democrats are being criticized with might and main, and this is on the eve of the parliamentary elections, which will be held on September 26. Apparently, someone does not want Merkel's party to remain in power. Although another option is possible: in Germany recently, a lot of people have appeared who support the ideas of the National Socialists, who brought Hitler to power.