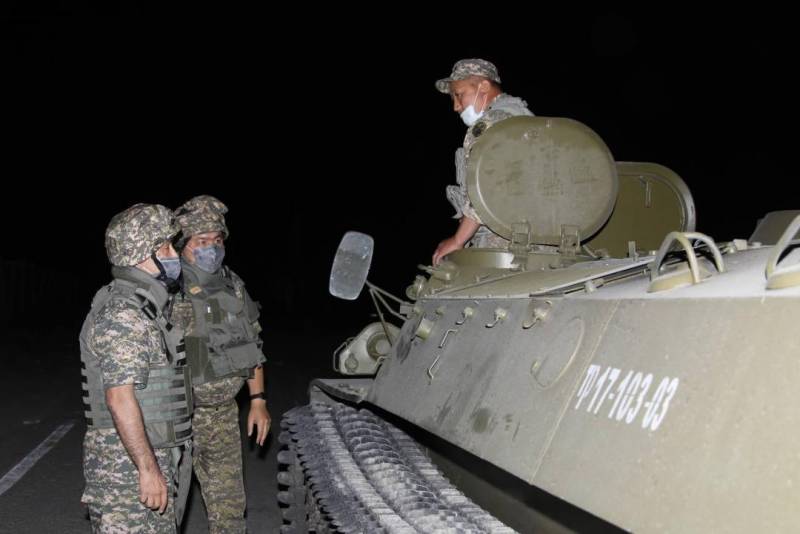 The explosions at the military warehouses of the Ministry of Defense of Kazakhstan, located in the Zhambyl region of the republic, stopped, but the fire could not be extinguished. This was reported by the press service of the Kazakh military department.
A fire in the military depots of one of the military units, where engineering ammunition is stored, broke out yesterday, August 26. According to the Ministry of Defense of Kazakhstan, at least six explosions thundered. At the moment, the detonation of ammunition has stopped, but a strong fire cannot be extinguished. Residents of the surrounding villages were evacuated.
According to available information, 66 victims were taken to hospitals, of which 28 people remain in hospitals in the morning. It is reported that four people were killed during the extinguishing of the fire, and another six people are in serious condition. In addition, several people were declared missing, and their search was organized.
Unfortunately, four servicemen were killed during the liquidation of the consequences.
- said the Minister of Defense of Kazakhstan Nurlan Yermekbayev.
A criminal case has been initiated into the explosions in warehouses, and the Ministry of Defense is considering several versions of what happened.
We do not exclude various reasons - this may be a violation of safety requirements, spontaneous combustion, a chemical reaction, deliberate arson or sabotage is also not excluded.
- added the head of the Kazakh military department.