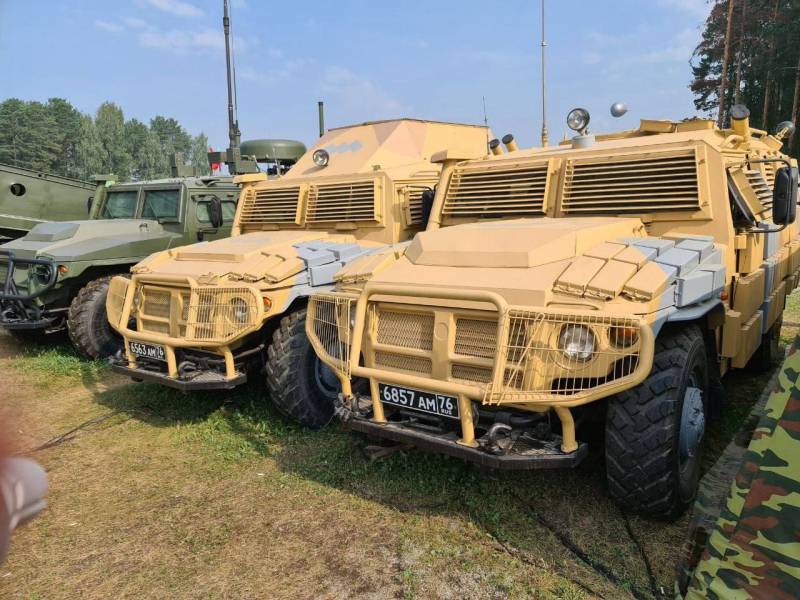 Military equipment of Russian origin performs tasks in various theaters of military operations, serving various armies of the world. Each user uses it at his own discretion, equipping the machines with themes
weapons
and systems that are preferable to him. This is the reason for the wide variety of models typical for one type of equipment. For example, the Shot BA has many modifications, being equipped with a wide variety of weapons.
However, installation on Russian armored vehicles can be called a rare occurrence.
tank
dynamic protection. As indicated on the Serbian resource Zoka, an armored car "Tiger" was seen, "dressed" in the DZ "Contact-1". She covers the sides of the armored vehicle, going a little on the hood.
The number of the armored car is marked with the number "76", which indicates that it belongs to the Central Military District. This means that the protection of this vehicle was strengthened by the efforts of the Russian military; it is possible that the work was carried out in the garrison workshops. Judging by the flag standing behind, the equipment belongs to the signal troops.
"Contact-1" is the first generation remote control. It was put into service in 1985 and was regularly installed on a number of tanks, in particular T-64BV, T-72B, T-55AMV, T-62MV. DZ blocks contain an explosive that counteracts the course of the cumulative jet.
"Tiger" with "Contact-1" ... I don't even know what to say about this
- noted on the Zoka resource.