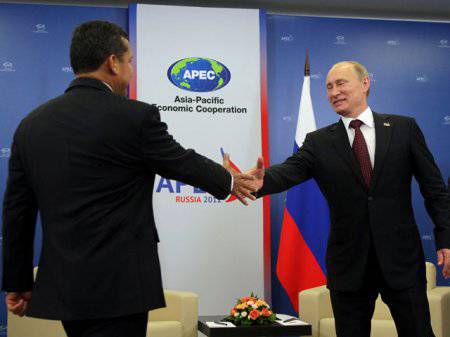 At the APEC summit in Vladivostok, Vladimir Putin held a meeting with the President of the Republic of Peru, Ollanta Umala. The heads of the two countries agreed to train 200 Peruvian military personnel in Russian military schools.
"There are interesting areas of possible collaboration - energy, fisheries, military-technical cooperation, education. At our universities, 89 students from Peru are currently studying. Training for more 200 military personnel in universities of the Russian Ministry of Defense is agreed," Putin said at a meeting with the president Peru.
"Unfortunately, we don't have such a turnover as we would like, although we have seen growth last year," Putin said.
The Peruvian president expressed confidence that currently there is an opportunity to bring relations between the two countries to a "new quality level."
In 2011, Russia's trade with Peru almost doubled and exceeded 700 million dollars.
Earlier on the second day of the discussions, participants in the APEC summit Putin met with Hu Jintao. The meeting discussed the partnership in the energy sector. This included a joint venture in Tianjin, where there is a refinery. This is the first joint venture with foreign capital to which Beijing has allowed export deliveries.
Another meeting with the Russian president took place with the Sultan of Brunei. The heads of state also discussed energy. Vladimir Putin noted that there were good prospects for cooperation in other areas. For example, countries are going to actively cooperate in the military-technical sphere.
On Saturday in the morning 5: 00 Moscow time will be a live broadcast of the discussion with US Secretary of State Hillary Clinton. The topic of discussion is "Human resources as a basis for development". In 10: 00 Moscow time, see the live broadcast of the closing ceremony of the APEC 2012 summit of the year.