A compact military weather station was demonstrated at the Army-2021 forum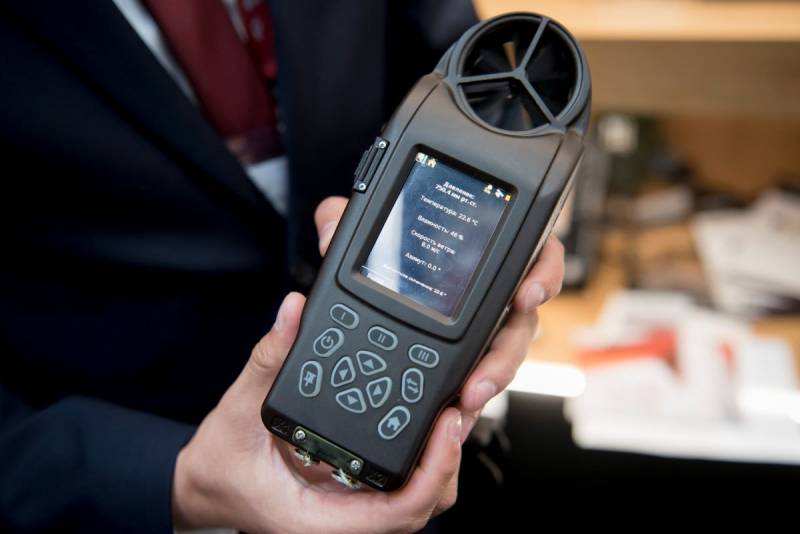 The Russian state corporation "Rostec" during the forum "Army-2021" demonstrated the compact military weather station SMP-1. Its main feature is the ability to work in any climatic conditions, so it is not afraid of either the Arctic frosts or the heat of the deserts.
This was reported by the press service of the state corporation "Rostec".
The issue of such stations is the concern "Radioelectronic Technologies" (KRET).
This portable device resembles a smartphone in appearance and size. It can be used to measure atmospheric pressure, temperature, wind speed, wind direction and air humidity. The design of the device includes GLONASS and GPS receivers, which makes it possible to bind measurements to geographic coordinates, and also to use the station as a navigation device.
Since the weather station is capable of operating even in 50-degree frost, it will be indispensable for participants in polar expeditions. This versatile device has a dual purpose; therefore, it can be in demand by both military and civilian specialists.
The device can be used in the Armed Forces to adjust shooting taking into account the wind, as well as the temperature and humidity of the air. This allows you to fire more accurately and efficiently.
In total, KRET presented about 140 positions at the forum. A significant part of them are intended for military and civil
aviation
.