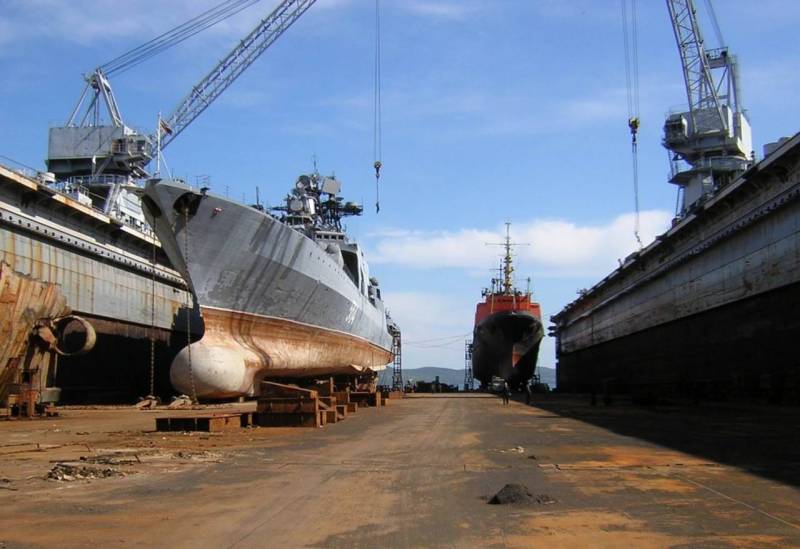 The creation of this material was prompted by the opinion of Sergei Marzhetsky on one of our resources, who, in a rather arrogant style, explained to "all these sectarians" how much Russia needs four aircraft carriers tomorrow. Without which we simply cannot live, since the Russian naval strike group simply must necessarily clash with the American AUG in the battle.
In general, it makes no sense to evaluate the entire article, there is nothing new in essence, but there is one point that was worth mentioning. The article is replete with "we can," "we must," "we can do it," and all that stuff in an uncertain future tense. And now we will talk about this "we can".
So we can ...
Well, for starters, it is worth noting that we can repair and bring to condition the old "Admiral Kuznetsov". The ship is only 30 years old, he still has to serve and serve. And to threaten two dozen of the same old MiG-29K air groups from the Nimitz. It's funny, of course, but true. Can. We have an aircraft-carrying ship that can go out on an equal footing against ten US aircraft carriers.
But it is impossible to repair "Kuznetsov", because the dock has sunk, which for some reason we cannot raise. And for some reason the dry dock is not ready either. In general, everything is as always, the terms are "shifted to the right" and one can only guess how much they will be shifted.
What is the essence? In fact, we have an old Soviet-built ship, which required an old Soviet-built dock for repair, which the Northern Fleet safely drowned and was unable to raise. This is a very optimistic alignment, once again proving how much we need aircraft carriers to fight the Americans.
But for this you need nothing at all: a plant (instead of Nikolaev, where TAVKRs were built), docks for maintenance, and other infrastructure. Yes, I read all these arguments that we have where to build, except for laughter, they do not cause anything else. Because they also abound in vague "if we build", "we just need ..." and so on.
The Soviet aircraft carriers essentially remained there, in Ukraine. At Ukrainian enterprises, which have become the same integral part
stories
, as well as aircraft carriers of a non-existent country. All these conversations that "You can build in workshop No. 55 at Sevmash, you just need to alter it a little ..." - this is nonsense, because Sevmash builds submarines there.
Not, of course, if we are satisfied with the pace of "one ship in 15 years" ... That is not a question.
Moving on.
"We need new planes." Well, yes, we do. Marzhetsky speaks about two models at once. The recently presented Su-75 and the necromantic dances of the Yakovlev Design Bureau around the Yak-141.
Concerning the Su-75, it is worth talking only when the plane starts flying and shows its real, not advertising potential. That is, how much he can even become deck. But until this moment, it will still take about the same amount of time as before the "Admiral Kuznetsov" turns into a normal ship.
As for the project with the Yak-141, this is generally ridiculous. To squeeze something out of a Soviet development forty years ago ... Yes, this machine was outdated on paper twenty years ago. Yes, the Americans completely failed to cope with the implementation of the F-22, bought some of the developments on the Yak-141 and as a result have something very similar to a normal aircraft. That is, the F-35.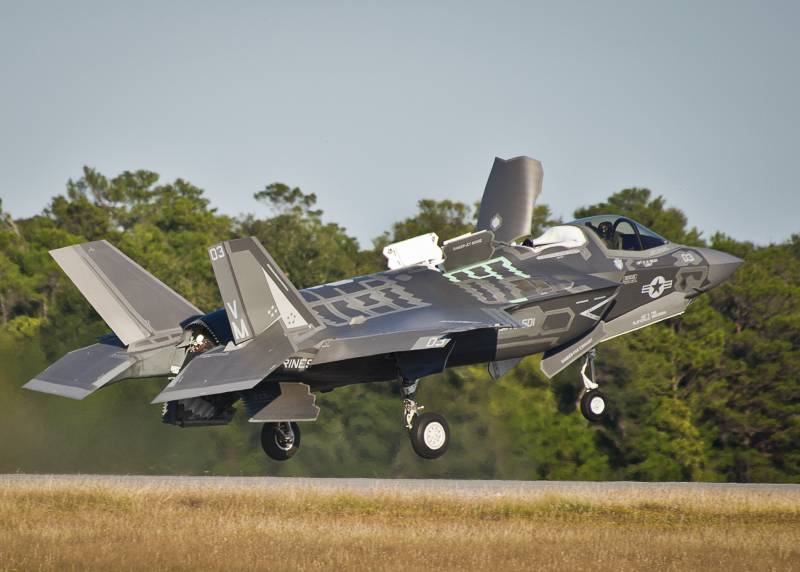 But sorry, these are Americans. With their potential in terms of manufacturing firms and budget. Probably, it is not worth comparing the capabilities of the same Boeing and Yakovlev. Yakovlev showed all its capabilities when it could not bring the MS-21 to mass production. The lack of imported components and the complete inability to replace them prevented it.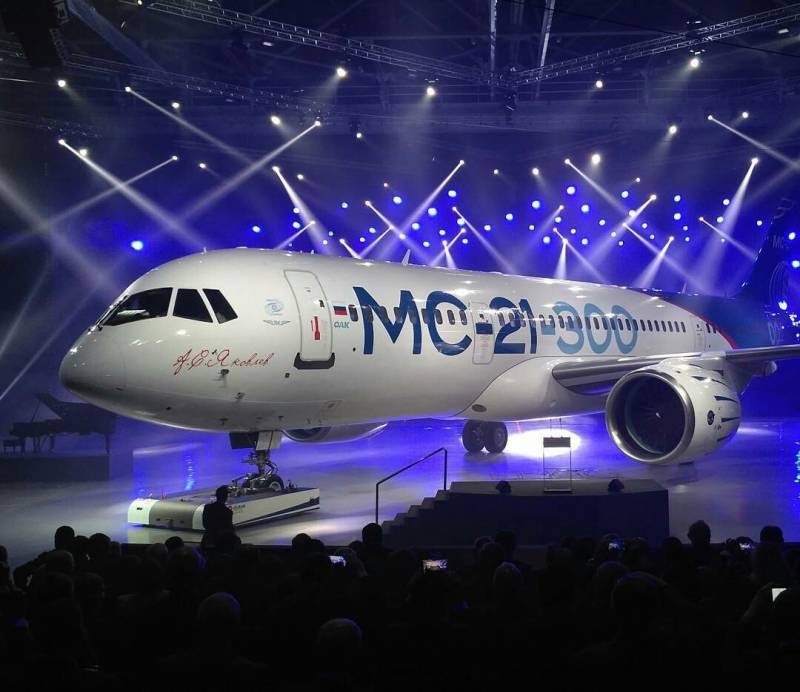 And, by the way, at Yakovlev itself they openly say that the MS-21 is nothing more than a deep modernization of the Yak-42, which has been flying since the 70s of the last century. Interestingly, the Yak-42 still flies in several small airlines, but the MS-21 does not.
Total: new strike aircraft
naval
aviation
until it shines. The MiG-29K is the day before yesterday, but unlike the Su-33, it can at least rise not with half the load. Which, however, does not make him a dangerous opponent for the F-35 and F / A-18.
Aircraft AWACS. It also does not exist and is not expected, since there was no such carrier-based aircraft in the USSR. Hence, there is even nothing to copy. Yes, Marzhetsky points out that we have Ka-31 helicopters that could ... Yes, they cannot replace the plane. Wrong speed, wrong altitude, wrong range. And if you look at the number of Ka-31s in the Russian fleet, it is simply awful. As many as 2 (TWO).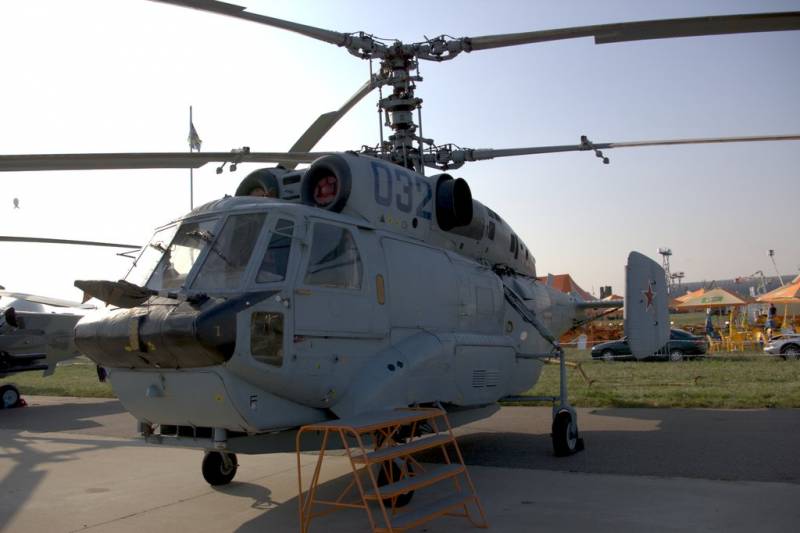 But there are also problems with them, about which a little below.
The USSR also did not have deck-mounted electronic warfare aircraft, like the United States had. Accordingly, Russia has nowhere to take them. Accordingly, it is necessary to design from scratch.
And one more machine, without which it will be difficult to carry out all operations in distant seas. This is a carrier-based transport aircraft capable of delivering all necessary and urgent cargoes on board the so-called Russian aircraft carrier. Engines and spare parts for aircraft, out-of-order equipment, flight personnel, but you never know what is needed on a campaign?
There was no carrier-based transport aircraft in the USSR either. So there is nothing to copy from.
In general, Marzhetsky had a very sensible idea in the article. Also from the realm of fantasy, but sensible. This is the Yak-44.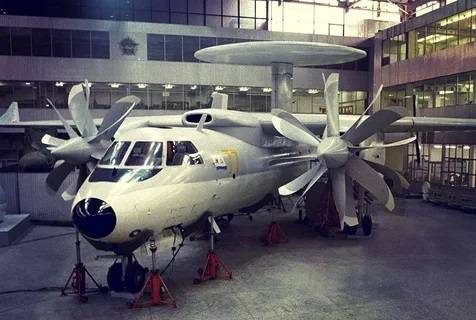 Marzhetsky suggests pulling out all the developments on the Yak-44 from the archives and finishing the plane. So it seems that it is possible to solve the problem of the AWACS aircraft, and the electronic warfare, and the transport aircraft.
On the one hand, yes, you can. In theory. On the other hand, in practice, the aircraft was developed in the 70s of the last century, in the USSR. And for him today, for example, there is no engine. Because the Zaporozhye D-27, alas, is no longer available to us.
And I am sure that in many other particulars, everything is about the same. And it is worth remembering that the Yak-44 did not go further than the plywood model.
It is very easy to take and shout loudly: give us aircraft carriers! We'll pick ... Well, or with a high degree of probability ... In short, shiver, USA! Russians are coming!
But in fact, when you begin to understand what is really happening, not with a hooray shout, but with your mind, you understand that from such populism and hurray-patriotic cries there is only harm. Because everything is very smooth on paper, but in reality ...
But in fact, like this: the United States has 10 aircraft carriers, which are located about 1000 planes and helicopters.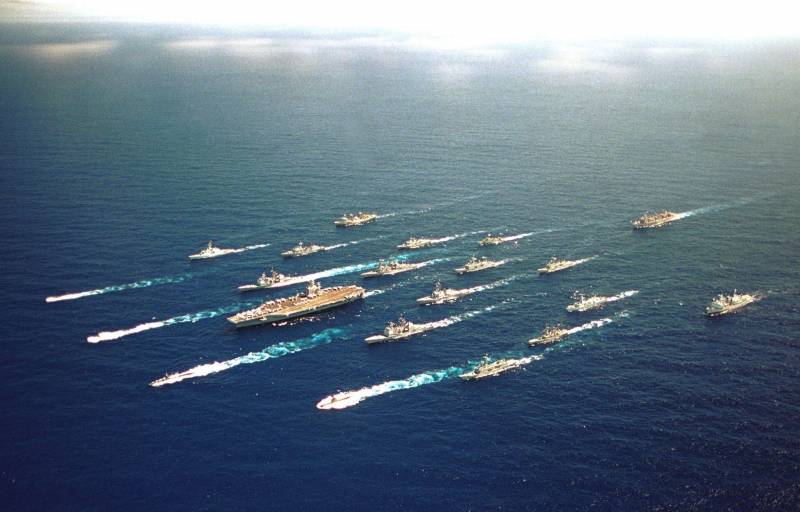 We have 0,4 aircraft carrier, which may be able to carry 50 aircraft in the future. If it gets repaired after all.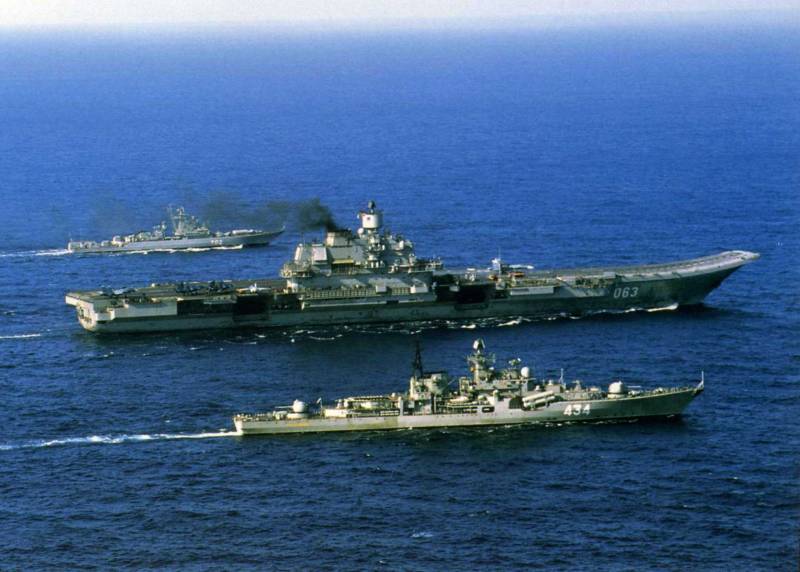 The Americans have an F / A-18 attack aircraft that can be used both as a fighter-bomber and as an attack aircraft.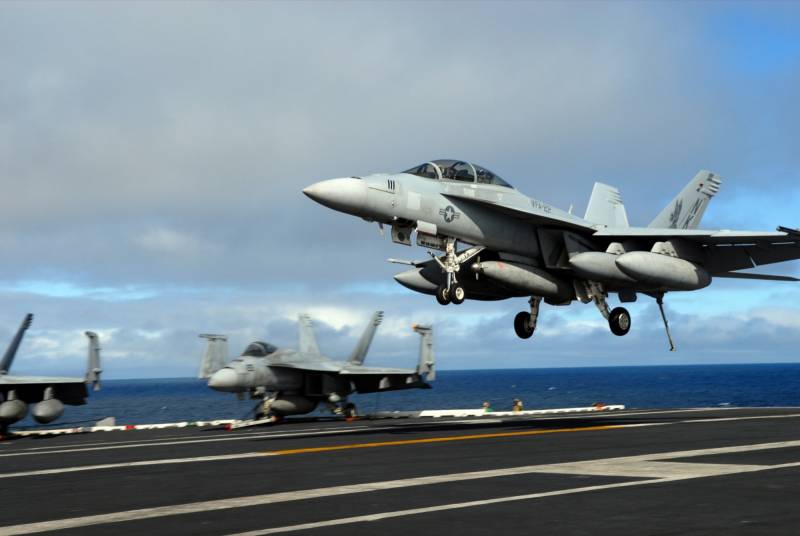 We have the MiG-29K, a fighter that can be used as a strike aircraft with about the same efficiency.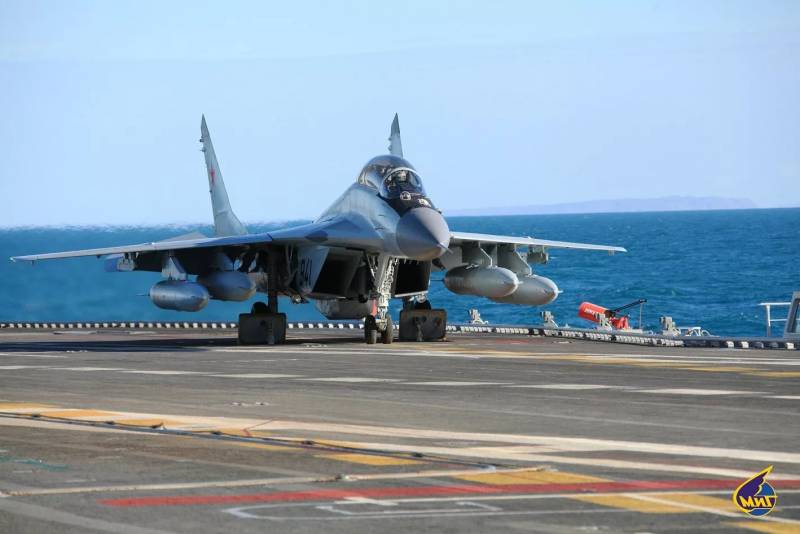 There is also the Su-33, which takes off badly and sits even worse, but which takes more
weapons
in theory. So - almost parity.
The Americans have deck-based AWACS aircraft that will provide the Americans with early detection of everything flying and sailing.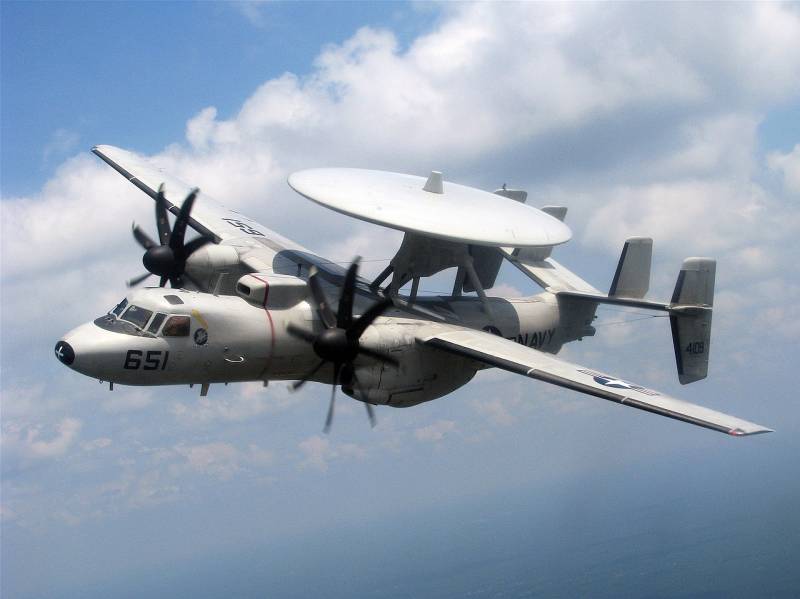 We do not have such an aircraft and is not in the plans.
The Americans have electronic warfare aircraft, the importance of which on the battlefield is very important. We don't have such planes.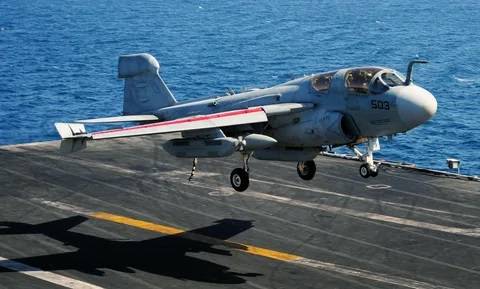 Grumman EA-6 "Prowler"
The Americans have transport planes capable of carrying any urgent cargo on board an aircraft carrier.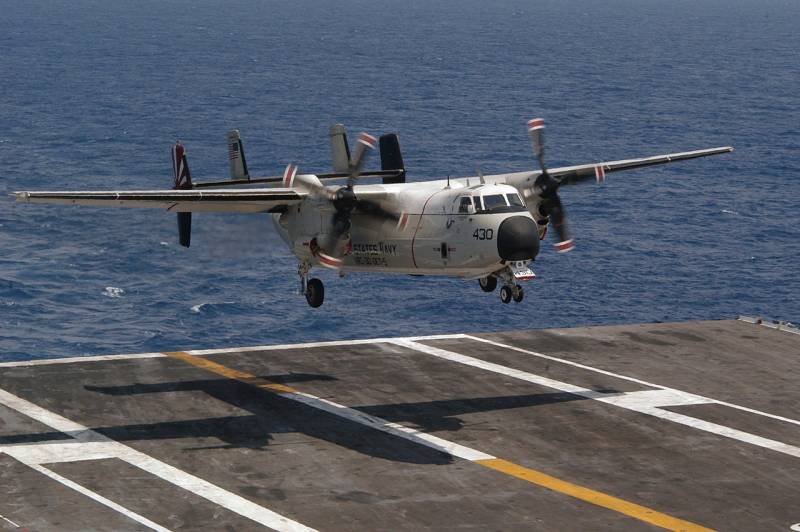 Plus, there are now modified Ospreys, which will be able to deliver aircraft engines to aircraft carriers if necessary. We have neither the first nor the second.
And the Americans have aircraft carrier escort ships that can protect them from many problems. And the number of destroyers alone is several times greater than the number of combat-ready Russian ships.
It is with great regret that we can state the fact that many people who write today simply do not understand the essence of things. And that even a hypothetical conflict at sea is a rather complex thing, consisting of many components.
Of course, it is very easy to fight on paper, as Marzhetsky does. Indeed, after all, the Americans will put up one AUG against our KUG, well, how can it be otherwise, we have a knightly tournament, not a war ...
But I would send three groups and the Russian group would be left with water bubbles. But in fact, if you look at what advantage the Americans prefer to fight, they will send four times as many ships to a heap of old Soviet junk. And still they will sink. Well, they are used to fighting, by numbers. I am not inventing anything, history keeps everything.
So Mr. Marzhetsky, although on paper, is rather mediocre enough to send Russian citizens to death. Well, he doesn't like them, apparently.
But I can't resist, I'll give you a quote.
"But what if we finish the Soviet carrier-based AWACS aircraft Yak-44, which could take off from the deck of the" Admiral ", albeit half underfuel? And what if, on the basis of the Mi-31, we make a tiltrotor AWACS that can take off and land on TAVRK and UDC of project 22390 and also be able to give target designation to our Zircons, Onyxes and Caliber? But what if the announced plans for the revival of the Yak-141 SCVVP are implemented and a dozen of such aircraft are placed on each UDC, giving it to help the "Admiral Kuznetsov"? Then the vertical wing will be able to focus on the anti-aircraft cover of the domestic AUG, freeing up additional fighters to fight American aircraft and even for a retaliatory missile attack on the Nimitz.

But what if you don't bother and immediately make a positron blaster, install it on the Petrel and plant it all over the United States? Or a neutron blaster, install it on the Poseidon and shoot American ships from under the water?
Ideas, in my opinion, are no worse than those listed above. However, the Internet today is filled with such "analytical" fabrications. It's sad, but there is nothing you can do about it.
However, let's think about this: really, if Kuznetsov is suddenly repaired, if docks and factories for the construction of new aircraft carriers are built, what will happen to what is on the decks?
And there are only two options: either start dancing necromancers over Soviet developments 40 years ago, or ...
In general, we do not have so much in the assets of the second part. Carrier-based fighter from the Su-57. I would like to. Some experts, however, very carefully, say that theoretically there is such a possibility. And this is encouraging, because the MiG-29K is everything. It is only Hindus who can exploit it, because it is more difficult for them to trust the technique, it is simply not worth it. They break.
Regarding the Su-75, I repeat that "when it flies, then we'll talk." So far, this is a mockup, which means that any conversations are premature.
Modification of the Yak-141 is most likely possible. In theory. It's hard to say how in practice. After all, you will have to change the entire "stuffing" of the aircraft, and this is not an easy task.
But everything else based on the Yak-44 is fantastic. There was no plane, there was a model. That is - consider, it is necessary to create from scratch. The recent example of the Il-112V is impressive exactly the opposite. If the Ilyushin Design Bureau was unable to make an airplane in 20 years, then the Yakovlev Design Bureau has, perhaps, even less chances.
Today, the Russian Armed Forces use 90% of the weapons that were created by Soviet engineers. And this applies to everything: aircraft,
tanks
, artillery, ships. There is nothing shameful in this, the same "Borey" began to be created in the 80s to replace the "Sharks" and in the end went into series, only benefiting from the use of the latest technologies.
But what to do with what was not created in the USSR? Including the carrier-based aircraft in question? The construction of an aircraft carrier in general is doubtful, but its functioning with an inadequate grouping of aircraft on board is even more doubtful.
And one more problem. Many aircraft duties on our ships have been performed by helicopters since Soviet times. And today they continue to carry it. All the same Ka-27, Ka-29 and Ka-31. Helicopters come from the 70s of the last century, which, nevertheless, continue to serve. On all the same Ukrainian-made TV3-117 engines, which are supposed to replace TV7-117, but with which not everything is smooth either.
And then tiltrotors from Mi-31 ... It's good when you have a rich imagination. But what to do if hands have not yet reached the tiltrotor, because there are many other problems?
And here a very sensitive question arises. Yes, of course, 3 or 4 aircraft carriers for the Russian fleet - perhaps they are needed as air. Perhaps, without them, the Russian fleet will lose the very battle that the supporters of the aircraft carriers are so fiercely talking about. Perhaps.
But what to do with the problems mentioned above? Where to get everything you need to equip normal air groups if these developments were not carried out in Soviet times? And how effective will such an air group be in general in the event of a military collision?