Press of Ukraine: Yemen is interested in Ukrainian 14,5-mm long-range rifles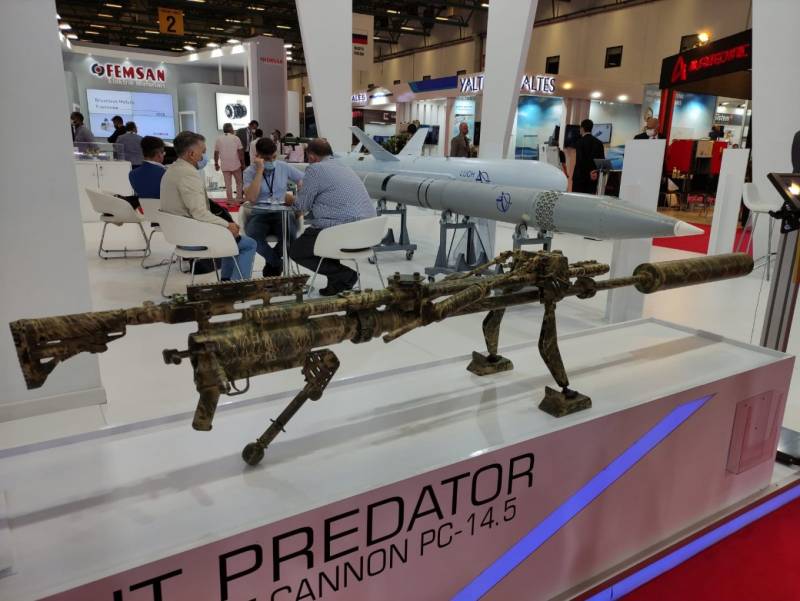 The Ukrainian anti-material sniper rifle PG-14,5 Dezert Snake, presented at the international exhibition IDEF 2021 in Turkey, aroused great interest from foreign customers. The Ukrainian edition of Defense Express writes about this with reference to the press service of Ukrspetsexport.
As the newspaper writes, the Ukrainian "infantry gun" of 14,5 mm caliber was developed by the "Mayak-Perspektiva" company, which is part of the "Mayak Plant" JSC. The new sniper rifle was first presented at an international exhibition in Istanbul and immediately attracted great interest from foreign delegations.
According to the representative of "Ukrspetsexport", a number of countries have expressed their readiness to purchase this
weapon
and negotiations are already underway with them. In particular, Yemen showed great interest in the rifle, whose representatives were shown weapons and proved the advisability of using this particular "infantry gun" as a budget solution to repel threats from the sea. PG-14,5 Dezert Snake offered to the Navy and the Yemen Coast Guard.
According to the director of Mayak-Perspektiva, Alexander Gordeev, who is also the chief designer, the conditions of a contract with the Yemeni military for the supply of long-range rifles are currently being discussed. As part of the agreement, it is planned to open a training center on the territory of the republic, in which the Yemeni military will take training courses "Tactics and strategy of modern anti-material combat based on the combat experience of the PG-14,5 infantry cannon."
How many Ukrainian long-range rifles are going to buy Yemen is not reported.