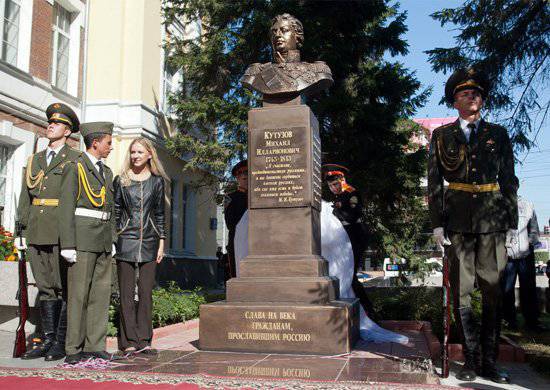 Today in Novosibirsk, at the garrison House of Officers, the grand opening of the bust of Field Marshal Mikhail Kutuzov was held. The event was attended by representatives of the Novosibirsk All-Arms Command Command, the city administration, cadets of the Novosibirsk Higher Military Command School, war veterans and students of military-patriotic clubs.
The bust installation initiative belongs to the museum staff
stories
troops of the Siberian Military District, located in the Officers' House of the Novosibirsk garrison. They found in the archive a decision by Novonikolayevskaya (the former name of Novosibirsk) of the city duma to install the monument to field marshal Mikhail Kutuzov, dated July 8, 1914. It was not possible to bring it to life then, because in a few weeks the First World War began. Now, after 98 years, these patriotic intentions were realized.
According to military historians, about 1812 thousands of Siberians took part in World War 30 of the year. The largest military formation - 24-I Siberian Division - 17 numbered thousands of soldiers and officers.
Almost all her soldiers fell on the battlefield.