Experts in Turkey: Moscow and Ankara may be able to connect Iran and Pakistan to the Afghan settlement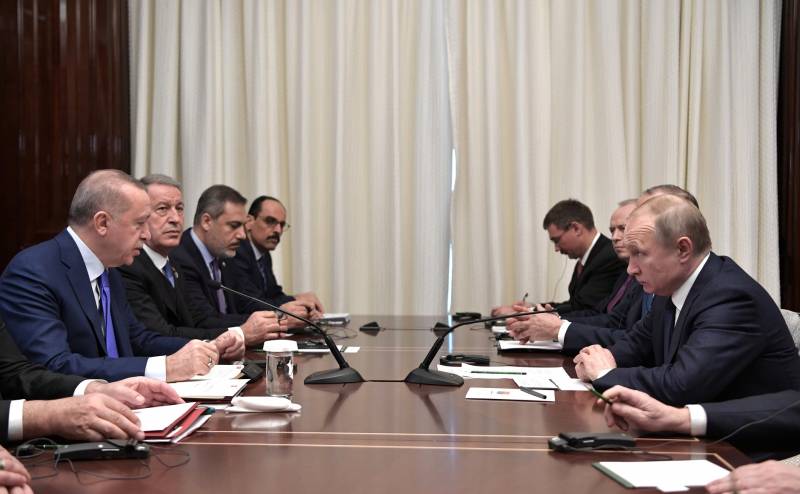 Photos from the meeting of Vladimir Putin and Recep Erdogan in 2020
The Turkish media comment on the telephone conversation that took place between the presidents of Turkey and Russia. As the website of the President of the Russian Federation reported, the parties exchanged views on the tense situation in Afghanistan. Also, Vladimir Putin and Recep Tayyip Erdogan touched upon the issue of the disaster with the Be-200 aircraft, which extinguished fires in the southeast of Turkey and on board which were both Russian and Turkish citizens. Erdogan expressed condolences to the families and friends of the victims and said that he appreciates Russian assistance in combating the fires that have engulfed Turkey.
In the Turkish press, special attention is paid to the Afghan topic of telephone conversations between Putin and Erdogan. It is reported that the presidents agreed to jointly coordinate actions in connection with the threats emanating from the territory of Afghanistan. One of these threats is uncontrolled massive flows of refugees, which can rush through the countries of Central Asia, and then through Russia and Turkey to the European Union.
Erdogan:
Today we are in contact with various forces in Afghanistan. And so far we are satisfied that the Taliban (* a terrorist group banned in Russia) is ready for an all-encompassing political dialogue in order to stabilize the situation in the country.
At the same time, as the Turkish press writes, Erdogan told Putin that Turkish troops "may remain in Kabul until the completion of the evacuation of civilians." At the same time, the Turkish military emphasize that in this regard, they are coordinating their actions with the Americans, who "have certain lists of evacuees." Earlier, Ankara said that Turkish troops could leave the Kabul airport. Along with the Turkish military (about 1000 people), there are about 120 servicemen of the Azerbaijani army in Kabul. This fact was previously confirmed by the Azerbaijani media.
According to Erdogan, Turkey, like Russia, is determined to stabilize the situation in Afghanistan.
Turkish experts, commenting on the telephone conversation between the two presidents, believe that, unlike Syria, Moscow and Ankara have "more points of contact" on the Afghan issue. It was noted that Russian-Turkish cooperation may well expand to trilateral, if Iran and Pakistan join the process, whose influence on Afghanistan is very tangible:
Moscow and Ankara may be able to connect Iran and Pakistan to the Afghan settlement
.
It is added that Moscow, Ankara and Tehran are already working together on the Syrian problem. And in a number of areas it is quite successful.
Russian President's website