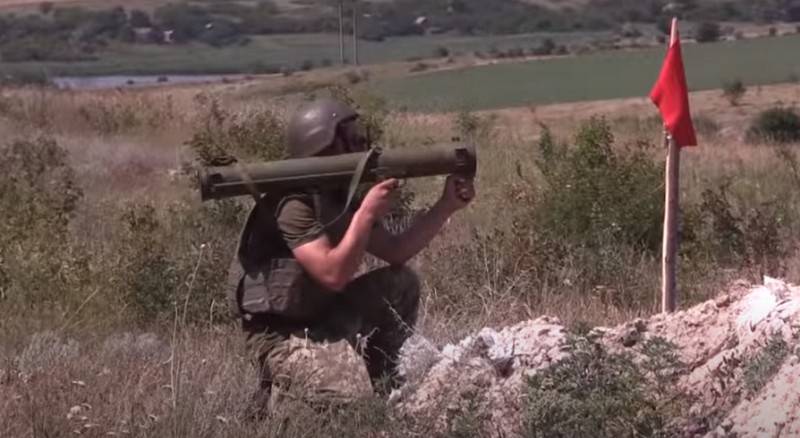 Turkey hosts an exhibition of military products IDEF 2021, at the site of which the Ukrainian defense industry showed some of its products.
Introduced RPV-16 infantry rocket flamethrower equivalent to Russian RPO Bumblebee
- noted in the edition of World Defense News.
It is designed to defeat closed enemy firing positions and vehicles with weak armor. RPV-16 is equipped with a diopter sight (sighting through a hole on the front sight, an optical one can optionally be installed), which makes it possible to fire at a distance of 100 to 600 m.The coverage area at the target point ranges from 75 to 120 square meters. m. The trigger is electrically controlled. The container with a 93 mm warhead weighs 11,8 kg.
Also, this publication drew attention to the long-familiar Skif ATGM system, which makes it possible to direct anti-tank missiles from closed firing positions. The complex is equipped with 130-mm and 152-mm ATGMs with tandem charges (RK-25, RK-2M-K) and a high-explosive fragmentation warhead (RK-2OF, RK-2M-OF).
Among other products of the Ukrainian defense industry, the model of the multifunctional ship "Kaira-150" was singled out. It is powered by two diesel engines and can reach a top speed of 27 knots. The ship is supposed to have a steel hull and an aluminum or, alternatively, composite superstructure; artillery armament can be installed in the bow, including a 30-mm cannon, Igla-type MANPADS and two 12,7-mm machine guns.
The platform will be equipped with an American-made gyroscope, the operation of which, unlike conventional analogues, does not depend on the speed of the ship; it is able to stabilize the position of the vessel during deceleration or even at anchorage.