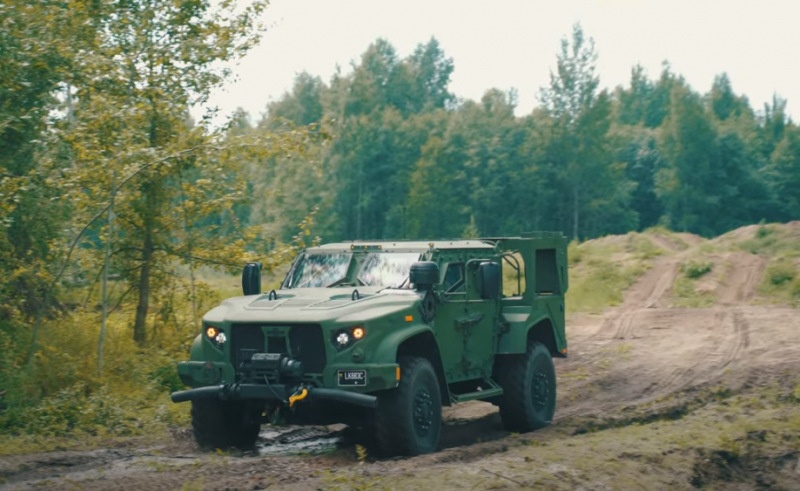 Lithuania received the first batch of American light tactical vehicles Oshkosh L-ATV 4x4 (JLTV). This was reported by the press service of the Ministry of National Defense of the republic.
In the first batch, the Lithuanian military was supplied with 50 light armored vehicles without weapons. According to the report, the rest of the armored cars will go already with
weapons
, which was chosen as a 12,7-mm M2 QCB machine gun mounted on a turret, although it was previously reported that armored cars supplied to Lithuania should be armed with a remote-controlled module M153 Common Remote Weapon Stations (CROWS) with 12,7-mm M2 QCB machine guns and round-the-clock sighting systems M230 TAC-FLIR.
The equipment was delivered from the USA to Germany, after which it was transported by road to Lithuania. All armored cars were transferred to training units for the training of drivers and service personnel. When the remaining 150 SUVs will arrive, it has not been announced.
The fact that Lithuania intends to purchase 200 light armored vehicles JLTV became known back in 2017. In 2019, the US State Department approved the delivery of 500 Oshkosh L-ATV 4x4 light tactical vehicles (JLTV) to the Lithuanian Ministry of Defense, although Vilnius requested only 200. The contract for the supply of vehicles was signed on November 21, 2020.
The agreement involves the handover of 200 JLTVs for € 145 million, with deliveries starting in 2021. The agreement also includes weapons, personnel training, spare parts and service until 2024.