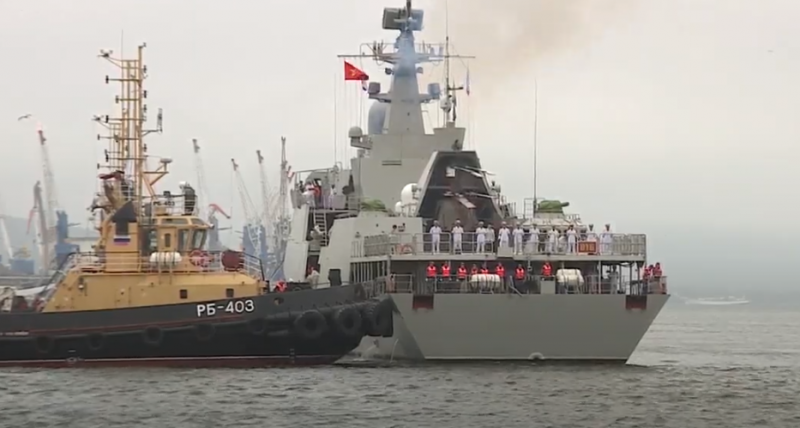 Two frigates "Gepard-3.9" Project 11661E of the Vietnamese Navy arrived in Vladivostok. Russian-built ships will take part in the Sea Cup competition as part of the ARMI-2021 international army games.
Vietnamese frigates "Tran Hung Dao" and "Quang Chung" moored at berth 33, where a solemn meeting of the ships' crews took place. It is noted that this visit for these frigates to Vladivostok this year is not the first, the ships participated in the celebration of the Navy Day in Vladivostok on July 25 this year.
The "Sea Cup" maritime training competition starts on 22 August. The Russian fleet will be represented by the Corvette "Perfect" project 20380 of the Pacific
fleet
, PLA Navy will present the ship "Guanyuan".
In total, the Vietnamese Navy is armed with four frigates of the Gepard-3.9 project, built at the Zelenodolsk Shipyard in two pairs. The first contract for two frigates was signed in 2006, in 2011, both ships, built in the shock version, were transferred to the Vietnamese Navy. The second contract was signed in October 2012, the ships in the anti-submarine version were handed over to the customer in 2016 and at the end of 2017, respectively. Chan Hung Dao and Quang Chung represent the second pair of ships.
The frigates of the project "Gepard" are export versions of the patrol ships of the project 11661. Ships with a displacement of 2,2 thousand tons are armed with missile and artillery,
aviation
and anti-submarine weapons, as well as radio engineering, mine and anti-sabotage
weapons
. A ship can carry a helicopter.
The main purpose is to fight against air, underwater and surface enemies; the setting of minefields, as well as active and passive jamming. The ships of this project can accompany and guard convoys, patrol borders, fight smugglers, poachers and pirates.