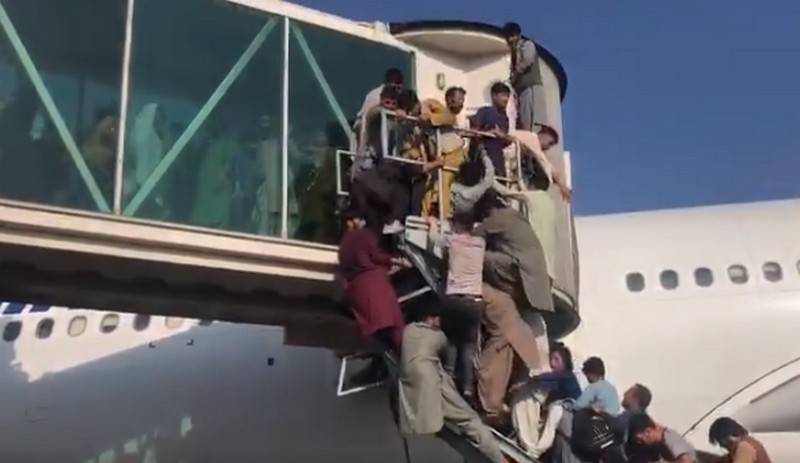 The US military stationed at Kabul airport opened warning fire into the air to stop the crowd trying to block the runway. This is reported by local media.
A difficult situation has developed at the airport in the Afghan capital. Currently, the airport. Hamid Karzai is controlled by the American military, entrenched not only along the perimeter, but also inside. The defense is provided by about 3 thousand US military and about 600 British. In the next 48 hours, the number of the US military will grow to 6 thousand people. As stated in a joint statement by the Pentagon and the State Department, this is being done to ensure the "safe departure of US and allied personnel" from Afghanistan.
Meanwhile, the roads to the airport are blocked by the Taliban (traffic is prohibited in Russia as terrorist), helicopters are patrolling the sky, and chaos reigns at the airport itself. Civilian flights are prohibited, evacuation is carried out by American military transport aircraft, as well as military
aviation
Canada and Great Britain.
Latest pictures from Kabul Airport. People are on their own now while the world watches in silence. Only sane advise to Afghan people… RUN pic.twitter.com/RQGw28jFYx

- Sudhir Chaudhary (@sudhirchaudhary) August 16
The US military had to open warning fire when the crowd began blocking the runway. The airport building itself and the airfield are filled with people wanting to leave Afghanistan.
More pictures from Kabul Airport. People want to just leave Afghanistan for whatever it takes for an air ticket. pic.twitter.com/MU46GhI0PZ

- Sudhir Chaudhary (@sudhirchaudhary) August 16
According to reports, the American ambassador has already left Afghanistan, and the evacuation of American diplomats continues. In Washington, 72 hours are allotted for the complete evacuation of the diplomatic mission, as well as the removal of the allies. The Americans promise to expedite the evacuation of "Afghans eligible for special immigration visas." What will happen to those who do not have such visas is not reported.