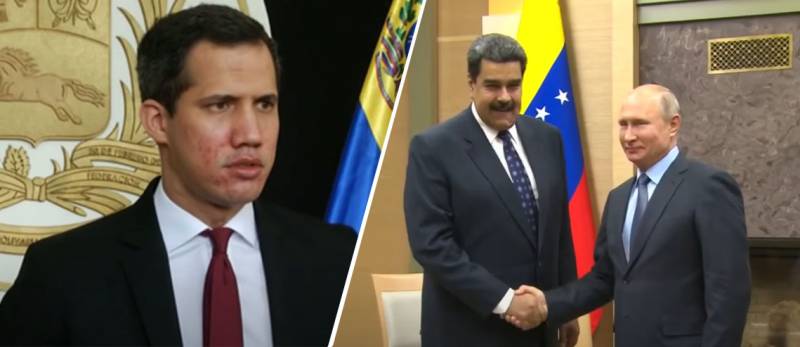 Western political analysts and representatives of the press are commenting on the first direct negotiations between the government and the opposition that started in Venezuela in several years. And we are talking about the very opposition that at one time did not recognize Nicholas Maduro as president and was focused on the full and unconditional support of Juan Guaido, who proclaimed himself the head of Venezuela on one of the streets of Caracas. As you know, then the large cities of Venezuela were engulfed in mass demonstrations, the "irreconcilable" opposition openly wished for a foreign invasion, Guaidó spoke to the American congressmen in Washington with applause.
Then the opposition's activity began to decline, and outside support became less and less emphasized. It got to the point that the European Union has withdrawn the recognition of Juan Guaido as "interim president of Venezuela" since January of this year. Support for the Venezuelan opposition from the United States of America also dwindled.
Now - a new milestone in Venezuelan political life. For the first time since the beginning of the political crisis, the opposition found themselves at the same negotiating table with representatives of the Venezuelan government. The negotiation process began in the capital of Mexico. And Russia plays one of the leading roles in the dialogue of political opponents. It was on the initiative of Russia, which in this regard was ultimately supported by several states in Europe and Latin America, including the Netherlands, Turkey, Mexico and Bolivia, that an open dialogue began in Mexico City.
The German press could not ignore this information. German political analysts note that "on the diplomatic front, Russia is doing well everywhere."
From comments in the German press:
A political dialogue on the Venezuela issue has begun. Who do you think initiated it? Answer: Russia. And there is Russian diplomacy ...
The German edition of Der Spiegel indicates that the first round of talks between representatives of the Venezuelan authorities and the opposition took place in Mexico City last Friday. It is noted that it is important that this meeting, being the first, will definitely not be the last. The parties, including the representative of the opposition movement Gerardo Blyde, agreed on the next round of negotiations, which will take place on 30 August. The authorities and the opposition agreed to work together to build the country's political life and signed a memorandum of understanding.
German experts:
Until two years ago, it was impossible to imagine. It seemed that the Maduro regime was doomed. Now representatives of the Venezuelan opposition proclaim their demands not on the barricades, but at the negotiating table, and the Venezuelan government takes on certain obligations in this regard.