The Ukrainian athlete, under pressure, agreed that "there is a war between Ukraine and Russia"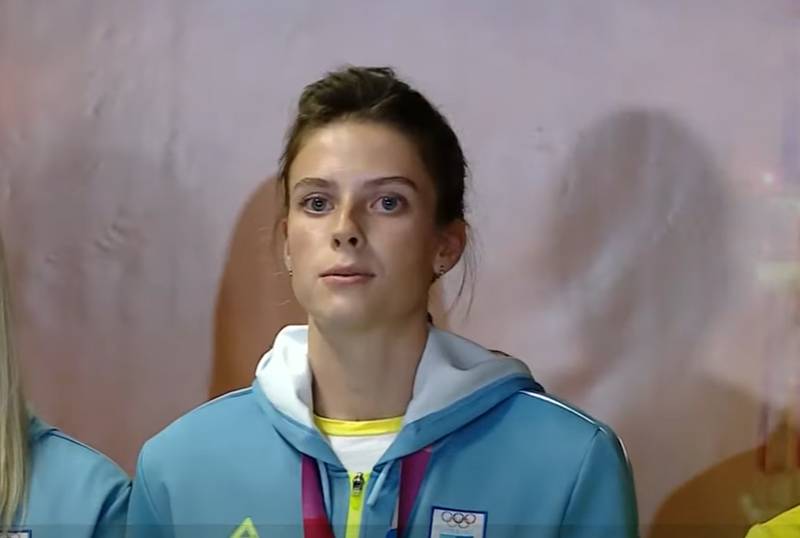 Ukrainian athlete Yaroslava Maguchikh commented on the "scandalous episode" that took place at the Tokyo Olympics to the local sports publication. According to the bronze medalist, she hugged the Russian athlete Maria Lasitskene "out of emotion." The girl referred to her youth (she is 19 years old) and the joy caused by the achieved result.
Maguchikh said that before being sent to the Olympics, all Ukrainian athletes underwent detailed instructions on how to behave with representatives of the ROC (the Russian Olympic Committee - it was under this logo that Russian athletes performed). In addition, the athlete stressed that she is well aware of the fact that "there is a war between Ukraine and Russia, and she immensely respects the soldiers who are fighting for her country."
It should be noted that Yaroslava Maguchikh is herself a junior lieutenant of the Armed Forces of Ukraine. Thus, it is quite clear that the athlete expressed such an opinion under pressure. After all, immediately after the "Olympic incident" her act was condemned by the Deputy Minister of Defense of Ukraine Anna Malyar, saying that an explanatory conversation would be held with the Maguchikhs.
Recall that a photo appeared on the network in which Ukrainian and Russian athletes, dressed in national flags (the ROC flag), greet each other with a hug. This gesture has long been an unspoken Olympic tradition. Nevertheless, the Ministry of Defense of Ukraine hastened to "politicize" this sporting behavior and condemn the act of Yaroslava Maguchikh, for which the girl now had to make excuses.
Against this background, many Ukrainian athletes, including the only Ukrainian Olympic champion of the Tokyo Games, Zhan Beleniuk, demanded that the authorities and the National Olympic Committee lag behind the athlete, noting that sports should remain outside politics. But in modern Ukraine it is impossible today.